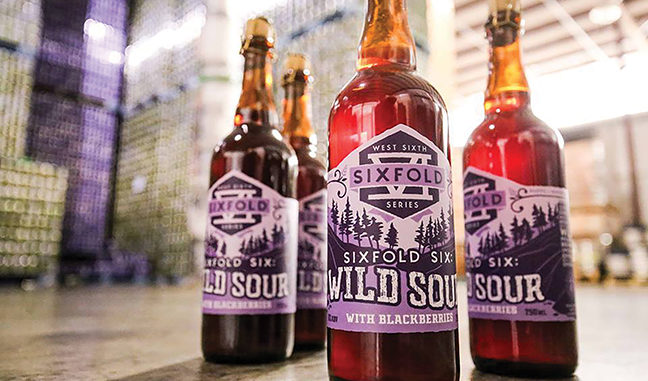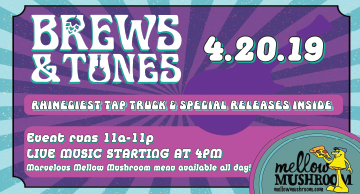 Get your phone out and make a note because who still uses physical calendars anymore? There is something to look forward to later this month, April 20 to be exact, when Mellow Mushroom will be hosting yet another edition of Brews & Tunes. Twice a year since opening the restaurant a handful of years ago, the Bowling Green Mellow Mushroom has put aside a day dedicated to beer and music. The event will still take place rain or shine, but weather permitting, the parking lot will be closed off to make plenty of space for tables, tents full of brewery gear to be given away, a stage with live music for most of the day, and a cornucopia of beer.
The full lineup hasn't been released yet, but all 32 taps in the bar will be replaced that morning with rare and limited edition beers. Some of these have never been available before, or never will be again, and others may be barrel aged versions of the breweries' staple beers. It's hard to say at this point, but know this: they will be the best of the best and you don't want to miss out on them. Some of the breweries to be showcased are local such as Milewide, Against the Grain, Blue Stallion, Goodwood, West 6th, and Country Boy. Some are based out of state like Rhinegeist, Sweetwater, 3 Floyds, Deschutes, and Founders. There will be a number of representatives in attendance from the breweries who will be more than happy to tell you anything you'd like to know about their beers on tap.
Moving outside, in addition to the 32 crazy beers on tap in the bar, there will also be many beers available under the tents in the parking lot. The outside beers will vary, and while they may not be quite as adventurous as what you would find inside, they will still be good crafts and only cost $4 each. There will be a tent serving a limited selection of food, mostly slices of pizza, and another tent with an assortment of stickers, keychains, koozies, and maybe even some hats or shirts for anyone who gets there early enough. If there is rain that day, the music will probably take place inside, but the outside area has been covered by a large all-encompassing tent in the past, so if you're worried about it getting cancelled for that reason, fret not.
One of the more well known beers scheduled to make an appearance is 70K by Against The Grain. They basically took their 35K, which is a sweet milk stout, and doubled the recipe. They also aged the beer, giving it an even more complex flavor profile. Black, malty, roasty, chocolatey, everything you could ever hope for in a super stout. This big boy stands at 13 percent alcohol by volume, and even without knowing the full beer list that day, I can safely say that this won't be the heaviest beer on tap. There will be many powerful stouts on that day such as a cocoa porter from West 6th and a collaboration imperial stout between Prairie and Evil Twin, but if beers as dark as motor oil aren't your thing, don't worry. Mellow Mushroom is pretty good about having a variety of options.
One such beer I'm personally looking forward to is the Sixfold VIII: Blackberry Sour from West 6th. It's only got an ABV of 5 percent so it's very light and drinkable. Along with blackberries, you may also taste cranberries, raspberries, apples or white grapes. The sweetness doesn't linger too long and the sourness is clear, but not overwhelming. Another lighter beer available that day will be Founders Blushing Monk. This one is berry strong at 9.2 percent ABV, but is completely hidden by the flavors of raspberries and spices from the Belgian yeast. Excellently representing the raspberries, Blushing Monk is juicy and lightly tart. For anyone who has had and enjoyed Founders Rubeaus, this beer is like the older brother visiting from college on break.
To sum the day up, Saturday April 20 is the day for beer drinkers to go to Mellow Mushroom. The hours are normal, from 11 to 11, with the live music starting around 4 in the afternoon. The beers both inside and outside will be available all day until they run out, but once the day is ended, everything still on will remain, so if you aren't able to stop by on April 20 specifically, you should still be able to come by another day and find something great.
-by Josh Helton