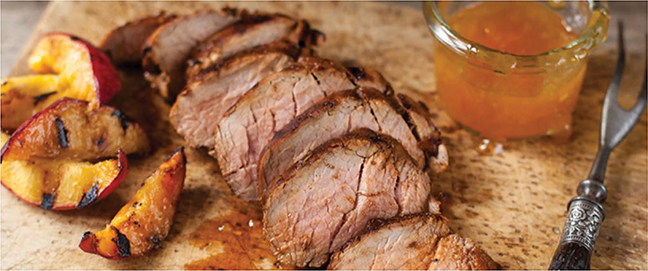 By Rachel Riley Martin
Bourbon Glazed Pork Tenderloin with Grilled Peaches
Ingredients
1 tsp smoked paprika
¼ tsp cinnamon
1 tsp salt
2 tsp olive oil
½ cup peach preserves
2 tbsp bourbon
2 (1-pound) pork tenderloins, trimmed and silver skin removed
5 peaches, unpeeled and cut into quarters
Instructions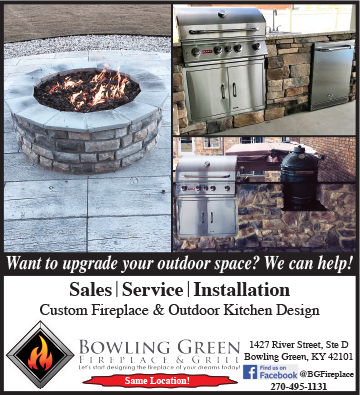 In a small bowl, combine paprika, cinnamon and salt. Rub tenderloins with olive oil and sprinkle with spice rub. Set Big Green Egg for direct cooking (no convEGGtor) at 400°F. Grill pork, turning as needed, until lightly charred and meat thermometer inserted in thickest part registers 135°F, about 9 minutes. During the last few minutes of grilling, brush pork with peach glaze to finish. While pork is grilling, place peach quarters on Big Green Egg for about 2 minutes per side, until lightly charred. Allow pork to rest 10 minutes before slicing. Serve with grilled peaches.
Serves 4-6
Recipe provided by Big Green Egg. For more information, please visit Bowling Green Fireplace & Grill.
Big Green Egg Roasted Broccoli Salad
Ingredients
1 head of broccoli, broken into bite size pieces
½ yellow onion, diced
1 tbsp minced garlic
1 cup crumbled bacon
3 tbsp olive oil
1 tsp salt
1 tsp pepper
Dressing Ingredients
1 cup mayonnaise
1 tbsp red wine vinegar
1 cup blue cheese crumbles
½ tsp ground black pepper
½ tsp Kosher salt (or to taste)
Method
Set the EGG for indirect cooking with the convEGGtor at 400°F. Toss broccoli in the olive oil and season with salt and pepper. Roast the broccoli for 25-30 minutes or until tender in the Big Green Egg Cast Iron Skillet. While the broccoli is cooking, make the blue cheese dressing. Mix all ingredients together until smooth. Remove the broccoli from the skillet and place in a bowl to cool. Add bacon to the skillet and cook for 5 minutes, until slightly crispy. While the bacon is cooking, add onion to the skillet and cook for 3 minutes. Remove the skillet from the EGG and add garlic to the pan, stirring to mix. Mix bacon mixture and broccoli together. Once broccoli is at room temperature, stir the dressing into the salad. Cover and let cool for 4 hours.
Serve and enjoy!
How Does the EGG Work?
The Big Green Egg is a blend of ancient tradition, modern technology, and proprietary processes, resulting in a far superior product that is stronger, more durable and provides better heat insulation than any other outdoor cooker on the market.
Know what you're buying. If it doesn't say Big Green Egg, it isn't!
Simple to Start
The Big Green Egg reaches perfect cooking temperature and is ready to use in just minutes. Our 100% lump charcoal is made in the USA from only the best cuts of natural oak and hickory for superb performance and results. Lighting the charcoal is always quick and easy, as the design of the Big Green Egg allows air flow to circulate efficiently. Use our natural charcoal starter or an electric starter … and never buy lighter fluid again!
Precise Temperature Control
Grill, smoke and bake on your EGG at exact temperatures by easily adjusting the patented air flow systems. You have total control over temperature at your fingertips, maintaining accuracy within a few degrees! The Made in USA temperature gauge provides precise readings to 750°F/ 400°C. Many indoor ovens cannot match the accuracy of the EGG's temperature control!
Patented Technology
Among many features that make the Big Green Egg by far the best cooking device of its kind are the patented components and state-of-the-art ceramic technologies that provide unrivaled thermal properties, material quality and cooking performance! The materials used in each and every EGG have performed flawlessly in extreme conditions for decades, and many EGGs are passed down to the next generation. The Big Green Egg comes with a Best-In-Class limited lifetime warranty. It's all about quality and performance.