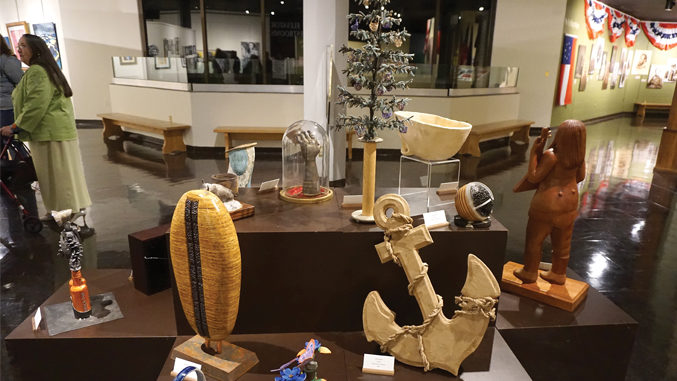 by Jennifer Wilson
 Pablo Picasso once said, "Art washes away from the soul the dust of everyday life," and Edgar Degas said, "Art is not what you see, but what you make others see." It's fair to say that Picasso and Degas were both on to something. As we enter the 31st year for the US Bank Celebration of the Arts open art exhibition, I can't help but agree with both of these famous artists' sentiments. Not only do I leave the show each year with a renewed feeling, but I also believe each artist is sending a message. It may be direct or indirect, but it's for the viewer to decipher, in his or her own way and terms. Every year, there are new images for our brains to explore and figure out; the US Bank art show never gets old.
The art show planning committee has been busy organizing this year's show, which is scheduled to open to the public on Saturday, March 3, and continue to April 7, 2018. One of the assets of this particular art exhibition is the fact it is open to all who enter. An outside judge is brought in each year to review the artwork, giving his or her professional opinion with the award placements. Whether you are an amateur or a professional, whether your specialty is oil and acrylics or wood, ceramic and glass, there is a place for your artwork in this art exhibition. Amateur and professional categories are judged separately. The deadline for entry and payment is quickly approaching on February 9. Visit wku.edu/kentuckymuseum and click on the Celebration of the Arts button on the main page for entry details. Any Kentucky resident, 18 years or older, who lives within 65 miles
of Bowling Green, is encouraged to enter.
Sara Volpi, literary outreach coordinator for WKU Libraries, has participated in the professional art category for the past three years. Her intricately detailed sketch of the state of Kentucky earned her an honorable mention by the judge for her work on paper last year.
"This art show is a one-of-a-kind opportunity for artists in the area to meet, see each other's work in person, and discuss art in a beautiful environment," Volpi said. "The reception is always a highlight of the year, and I love being able to see the hundreds of varied art pieces of all media from artists of all ages. It's such a cool show to be a part of, and I'm so thankful that it exists."
Artists can enter a maximum of two works in any of the eight categories: painting, watercolor, works on paper, fiber arts, ceramics and glass, sculpture, mixed media and photography. Amateur and professional categories both have first, second and third award placements in addition to Bestof Show, World's Greatest Studio Tour Merit Award, Purchase Award and this year a new award is given from the public called the Viewer's Choice Award from the most votes at the opening reception.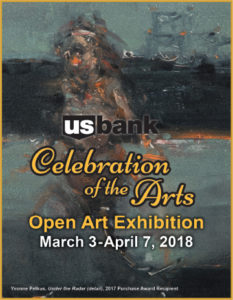 Kentucky Museum Director Brent Bjorkman said this show continues to be a community favorite.
"Over the years, we at the museum feel, as do so many artists and fans of this exhibit who can also attest, that community-centered shows like this helps artists to grow as they challenge themselves to achieve greater heights in an exhibit environment that honors their evolving talents," Bjorkman said. "The Kentucky Museum remains grateful for the ongoing support from U.S. Bank and all our sponsors who share the belief that art elevates community."
For more information on entering or visiting the US Bank Celebration of the Arts exhibition, go to www.wku.edu/kentuckymuseum/artshow.php
About the Author:
Jennifer Wilson is the communications coordinator for WKU Libraries and has been helping with the art show for over nine years.