Lynn Robertson: Artist for life
I'd rather paint than write.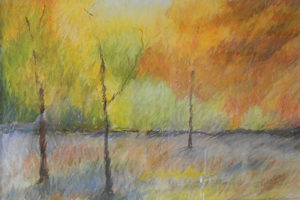 About my background in art, I became an artist in the second grade when the art teacher declared my ice skaters as the best in the class. I had given them bodies, shapes and action, not sticks with skirts. I remained the "class artist" throughout high school creating art works, posters, helping to paint a mural in the cafeteria, etc. During my senior year, a friend and I painted "senior cords," light yellow corduroy pants or skirts worn by members of the senior class to sports events and special days. The cords were customized with paintings of each of their interests, sports activities or organizations. I never had the time to create my own.
I went to Indiana University in Bloomington the next year. I didn't know what I wanted to be when I grew up, but I loved art so I took art and art history courses as well as freshmen requirements. I returned home after that year and began classes at the regional campus. IUSB did not offer a fine arts degree at that time so I stopped taking courses.
Fast forward – I worked, got married, and had two children. I worked some of the time doing interior design for an office furniture company. When both children were solidly in school, I decided to go back to school at IUSB, taking one art course and one academic course each semester. IUSB had, by then, added a fine arts degree. For years, I took those courses until – surprise!! – I graduated with a bachelor's in fine arts.
I worked in advertising and marketing for a couple of years then went to work for Memorial Hospital in South Bend. My job was cultural arts coordinator. Finally, back to the art world! I arranged for and installed two exhibitions each month featuring local and regional artists in two public spaces. I also arranged for entertainment each Wednesday evening in the cafeteria. The program was open to all patients, visitors and staff who could attend. All along I continued painting.
After moving to Bowling Green, my first entry into a competition was the Medical Center's Women in the Arts exhibition; I won a merit award. I have been entering competitions ever since, occasionally winning some awards. In 2002, I got the position at the Capitol Arts Center as gallery director. I loved that job! I was responsible for securing art exhibits for the Capitol Arts Galleries. We would invite local and regional artists to exhibit their work. We also hosted Jerry Baker's Alfred Lunt Exhibition featuring some prominent artists from around the state. And we hosted the All Kentucky Juried Exhibition each year. I spent ten years there until the dissolution of the Capitol Arts Alliance.
My art reflects my background as I was enamored with colors and shapes, landscapes and still life. Having spent my childhood on a farm in Indiana, sometimes I would sit for hours on a fencepost watching the clouds, the wheat or corn, the animals – colors and shapes constantly changing. Those things inspire my current work, especially the Plano Exit series where the sky, the field, the foreground, and the colors change. I enjoy working on square canvasses. They are a challenge to compose in a pleasing relationship. The Plano Exit series are sized from 12" X 12" to 30" X 40".
Although I can paint portraits, I prefer landscape or still life as the models don't move and the colors of fruits and vegetables are astounding. Sometimes, especially on vacation, I will photograph an appealing scene and use it as reference for a painting.
Oil is my usual medium; however, I like playing with other materials such as tissue paper, pastels, computer boards and found objects. Using these media adds variety to the work and a sense of play. Often when I struggle with a painting, starting something new and different allows solutions to the painting problems to emerge. It is also useful to spend time looking at other artwork locally and in museums elsewhere.
I share a studio with my husband, Claude, and we are participants in the annual World's Greatest Studio Tour where we invite people to our home and studio to see our work and where we create. It is a fun weekend in November, this year November 3 and 4, and has 17 artist spaces to visit. It is free and open to all.
Over the years, my work has been exhibited in South Bend, Ind., Estes Park, Col., and Shelbyville, Ky., as well as Scottsville, Franklin and Bowling Green, during the ArtWorks Exhibitions, the Women in the Arts, and the US Bank Show.
My art can be seen regularly at Ellis Walker Gallery here in Bowling Green.