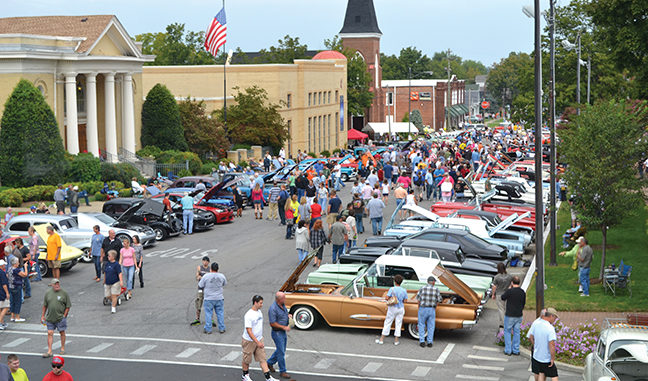 What do you get when you take a piece of Allen, Logan and Warren County and a bucket of water from Drake's Creek poured into a fake well? You get the founding of Simpson County and the city of Franklin, Ky. That's right, 200 years ago a piece of those three counties was carved out to create what is now known as Simpson County. During the year 2019, our community celebrates the founding of the county, and in 2020 we celebrate the founding of the city of Franklin. During both years, the community will celebrate "This Place We Call Home" with many activities designed for the entire family to enjoy. This year, organizations throughout the community are planning their activities around the county bicentennial celebration. While activities began in January with the official founding date of January 28, the real celebrations will take place beginning this summer. A few of the activities include: Fireworks at Kentucky Downs (June 30 at dusk); Bicentennial Parade (July 4 at 10 a.m.); Simpson County Historical Society's First Families of Simpson County Certificate Presentation (July 4 at 2 p.m.); Quilt Exhibits (July 4-5); Historical Society Tours (July 4-5); Exhibits on the History of Local Businesses, Civic Groups, Churches, Schools & Government (July 4-5); FS Renaissance Summer Nights Concert – Black Widow Band (July 5 at 7 p.m.); Firecracker 200 Kiddie Parade (July 5 at 6 p.m.); Franklin Downtown Merchants – Step Back in History (July 1-7, regular business hours). Community Day at Jim Roberts Community Park (July 6 from 10 a.m.-6 p.m.) will include a Living History Area, Vintage Baseball Game: Bluegrass Barons vs. Franklin Duelers, FS Community Arts Council Play This Place We Call Home (6 p.m.) and Hot Air Balloon Rides (early evening).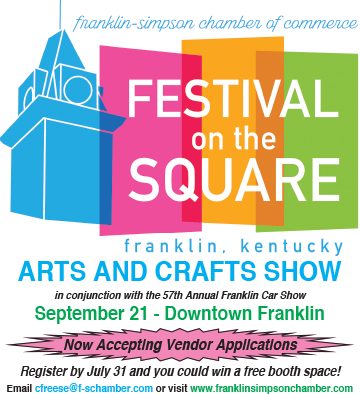 The fun doesn't end in July! Additional activities during the rest of the year include…
AUGUST – FFA Alumni Antique Tractor Show & Pull (Aug. 2) ,Franklin-Simpson Chamber of Commerce Garden Spot Run presented by Med Center Health/The Medical Center at Franklin Rehabilitation Services (Aug. 10).
SEPTEMBER – FS Chamber of Commerce Festival on the Square presented by Graves Gilbert Clinic & 57th Annual Franklin Car Show (Sept. 21 from 9 a.m.-4 p.m.), Franklin-Simpson Flower Show (Sept. 18, from 3 to 6:30 p.m. at the Old Favorite, 118 W. Kentucky Ave.).
OCTOBER brings the Historic Cemetery Walk & Downtown Tours ( Oct. 5-17).
NOVEMBER – Dedication of Veteran Plaza (Nov. 11 at 11 a.m. at the Franklin Post Office, 619 N. Main St.), Sponsored by the Franklin Garden Club.
DECEMBER – FS Renaissance Small Town Christmas & Kiwanis Christmas Parade (TBD); New Years Eve Celebration (December 31).
Of course, the schedule is always subject to change and certainly we will be adding events as the year progresses.
Garden Spot Run/Walk
This year marks the 37th running of the Franklin-Simpson Chamber of Commerce Garden Spot Run/Walk presented by Med Center Health/The Medical Center at Franklin Rehabilitation Services. The annual event, set for August 10, brings over 1,000 runners and walkers to downtown Franklin. With challenges for industry, churches, schools and community organizations, as well as 14 age categories for both men and women in the run and walk, this event has become a premier running and walking event in south central Kentucky. With the start/finish line located at the historic square, the course travels through a mostly residential area and has been described as flat to gently rolling.
Festival on the Square
For the past 15 years, the Franklin-Simpson Chamber of Commerce has coordinated the Festival on the Square, set for September 21. For the second year, we are pleased to have Graves Gilbert Clinic as our corporate sponsor. Over 75 arts and crafts booths as well as market booths will line Kentucky Avenue, while a dozen or more food vendors will temp you with everything from funnel cakes to barbeque, lemonade to ice cream. Booths open at 9 a.m. and remain open until 4 p.m., so come early and stay late. In the handcrafted area, find everything from jewelry to wooden toys, bird feeders to hair bows, and much more. Come even earlier and enjoy a Pancake Breakfast benefiting the Franklin-Simpson High School Cheerleaders. The breakfast is held in the Cornerstone Building at the Presbyterian Church on the square just a few steps from all the action. Pancakes start flying off the grill at 7 a.m. and continue to 10 a.m.
Take a walk through the various booths, settle down in the shade of the 100-year-old maple trees in the courthouse yard and enjoy a refreshing treat before moving into the area of fascinating cars. While resting, travel down memory lane with music from the bandstand as they play songs from the different eras represented by the cars displayed. To kick the weekend off, join us on Thursday night for the annual cruise-in. Enjoy food from vendors representing non-profits in the community and groove to the 50's and 60's music of Sons of the Beach as they play from 7 to 9 p.m.
Franklin and Simpson County, always a good place to visit, but especially during our bicentennial celebration. The celebration won't be the same without you, so make plans to attend many of the events being held.