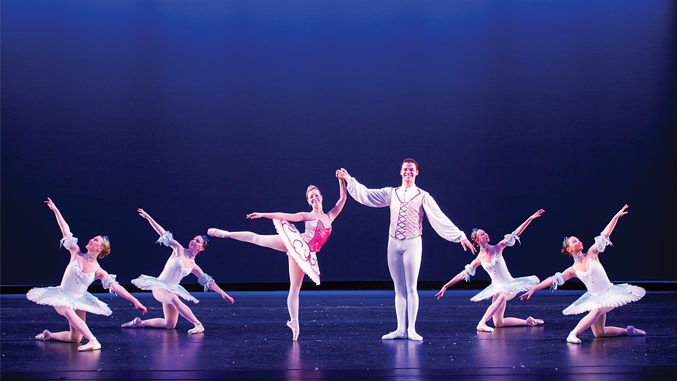 Oh the excitement! Oh the anticipation! Christmas will soon be here and what better way to begin the season's festivities than with WinterDance: 'Tis the Season. This family-friendly concert, just over an hour in length, encompasses the various traditions we have leading up to the holidays, from Black Friday shopping to hanging Christmas lights, seeing the Nutcracker and more.
Feel the anticipation of the holidays as you enjoy a fun, lighthearted dance playing with the fidgety nature of the last day of school before Christmas break. Feel the wonder when you look up at the lights from under the tree.
Feel both the frustration and merriment in a humorous piece about holiday shopping on Black Friday. Also funny is a piece about three dolls that come to life after the toyshop closes. The two boys are fighting for the affection of the fairy doll.
It isn't the holiday without the dances of the Nutcracker. See the classic Waltz of the Flowers performed beautifully on pointe and also a humorous version that begins peacefully and dissolves into a battle that get progressively out of control.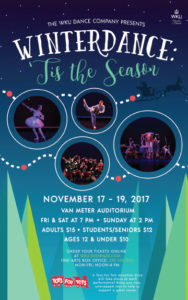 The hour-long concert features diverse music ranging from the music of Pentatonix to Yakety Sax, and the French Cancan, including some of your Christmas favorites from The Piano Guys, and Casting Crown's beautiful version of "I Heard the Bells." The show will mesmerize audiences of all ages with a variety of ballet, jazz, modern, and tap dance choreography. The show will include photo opportunities with the performers at intermission and a Toys for Tots drive. Make WinterDance a new holiday tradition for your family!
WinterDance: 'Tis the Season runs November 17-19 in Van Meter Auditorium at WKU. Tickets are $15 for adults and $12 for students and senior citizens and $10 for children under age 10. Tickets can be purchased in advance at wku.showare.com or by calling the box office at 270-745-3121, taking calls noon to 4 p.m., Monday through Friday.
Over 15,000 people were entertained by the WKU Department of Theatre and Dance last year. The department presents over 20 different productions every year including four Mainstage productions, two Mainstage dance concerts, three student-choreographed dance concerts, a Children's Theatre Series, a Studio Series of student-directed works, a Before Broadway Series featuring a staged reading of a new musical, and a Next Stage Series of showcases and works in progress.
More information about the WKU Department of Theatre and Dance can be found at www.wku.edu/theatre-and-dance on Twitter@WKUTheatreDance or by calling the department at 270-745-5845. You can also like us on Facebook to see upcoming events and department news.