Guess who? Revealed
Our November Guess Who is a person who works hard to keep our city running and growing. Bowling Green City Manager Jeff Meisel has worked for the city since 2002 serving as city treasurer and chief financial officer. This BG native was named city manager in May of this year. Having spent his whole life here, Meisel has served on many committees and boards and been active in the community. These days he spends most of his time working for the city and spending time with his wife and children, boy-girl twins who are now 13 years old. Read on to find out more about our November Guess Who.
What was your favorite TV show when you were a child? The prime time show I remember on Friday nights that I would want to be home to watch was "The Dukes of Hazard."
When you were in elementary school, what did you want to be when you grew up? Why? Didn't have a clue. I didn't really think about it.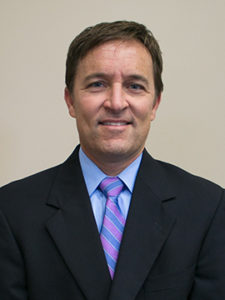 Where did you go to high school? BGHS
What is one of your best childhood memories? Building a tree house with my brother and several cousins at my grandparents' house with no adult assistance, one scrap of wood at a time around three sturdy trees. The tree house ended up being two stories after a couple of summers' worth of work, and even had a partial roof for a while. The aesthetics of it were pretty bad, but it was ours and we had lots of fun being up high in the trees.
What was your first job? Walmart – Bringing in shopping carts out of the parking lot at the old Walmart (when it was across from JC Penney's) during Christmas season my senior year in high school. No other job duties were ever assigned which made it the most boring job I've ever had. I think I made $3.35/hr which was minimum wage.
How many states have you been to? Almost half – 23 I think. Which was your favorite to visit? Arizona
How many countries have you been to? Three Which was your favorite to visit? Aruba (just off north coast of Venezuela).
Which country would you most like to visit that you haven't and why do you want to go there? Maybe Australia because of the opposite seasons and climate.
What do you do to relax? Go for a walk or play golf by myself.
What stresses you out? Running late for an important meeting or event.
What hobby would you get into if money and/or time weren't an issue? Travel (if that counts as a hobby).
What is your book, and why is it your favorite? Besides the Bible (the greatest book of all time), I would say it's the book "Telling Yourself the Truth," which is about how much the conversations you have with yourself in your head influence the way you think about yourself and react to people and situations in life.
How long have you lived in south central Kentucky? Since birth.
What do you enjoy doing around town or in this region? Trying out new restaurants, going out to eat with friends and family.
What are some local organizations you are involved in? None right now. Too busy with kids' sports and activities and work.
Describe your most embarrassing moment. Probably the time I got in trouble in elementary school and had to go to the principal's office.
Describe the most frightening thing you've ever done. When I was about 24, after some coaxing from a buddy, I slid down a very tall natural waterfall that flowed over a smooth rock wall in a river in North Carolina. From what I remember, it seemed like it was at least 50-60 feet high. I went down without any injury, but instead of swimming across to the other side and walking back up the trail, I tried the shortcut of pulling myself up the side of the wet rock by a rope. My feet slipped and I face planted on the side of the rock. I ended up with a busted chin and a very bloody mess that required two layers of stitches in my chin. I don't remember the name of the river, but the area was nicknamed "Bust Tail Falls." This may also count as the stupidest thing I've ever done, too! I still have the scar on my chin as a reminder.
If you could have dinner with anyone (alive or dead), who would it be and why? My four grandparents (deceased) so I could catch them up on my life and the family I have now.
Tell about something in your life that you are proud of. My immediate family (wife and two kids) as well as my extended family.
What's one thing most people don't know about you? I'm a fairly private person and don't want or need a lot of attention. That's why I'm not on social media, except for Twitter, and that's just to keep up with what's going on.
-by Pam Cassady