SOKY Citizen: Janette Boehman
Looking back at the path her life has taken, Janette Boehman would never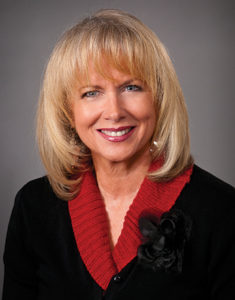 have imagined it leading her to where she is today. "Each step, I never dreamed I'd be in sales and marketing.," she said. But her outgoing personality – "I just like to talk to people" – make her a natural for the job. Boehman is a TV and digital marketing specialist at WBKO, where she has worked for 22 years.
"It's the best thing I ever did," Boehman said of coming to work at WBKO. Even though she wasn't looking for a job at the time, when a friend told her about the position, she knew it was something she'd be interested in.
"I've been blessed," Boehman said. "I haven't ever had to go looking for a job." Instead, her connections in the community have led her down the path she is on.
Boehman's path began in Springfield, Ky., where she was born and raised, the sixth of seven children. Her mom stayed home, her dad ran a little grocery store, and their home was always a bustling place filled with family, friends and even visitors from around the world. Her father was very involved in Rotary International, and they would host other Rotarians in their home for weeks or even months.
"It really opened my eyes to the world," Boehman said.
After graduating from Washington County High School, Boehman was ready to head out into the world, and so she headed to Western Kentucky University.
"I came to Western in 1975 and just fell in love with the community," Boehman said. Except for spending a bit of time in Florida, she's been here ever since then.
Boehman came to Western to major in art and become an art teacher. However, as funding for arts education was cut, she decided to focus on public relations. Although she wasn't able to pursue art as a career, Boehman is still involved in the arts. She enjoys painting and has recently been painting pictures of people's homes on ornaments.
Boehman also tapped into her creative side when she was owner of Royal Barn Florist for several years in the 1980s. She was a floral designer and continues to do freelance floral design for weddings and other events.
Although Boehman's job and artistic endeavors keep her quite busy, she always makes time to volunteer in the community.
Since her father was such an active Rotarian, it was only natural for Boehman to become a part of that organization. She's been a board member since 2008 and will serve as president in three years. When she joined Rotary, Boehman's father, who is now deceased, pinned her, and she said she is proud to carry on his love for Rotary.
Boehman has also been involved with the Bowling Green Area Chamber of Commerce for over 25 years and is currently a Chamber Ambassador. She's also a board member for Crimestoppers of South Central Kentucky, has gone through the Citizens Police Academy, did Leadership Bowling Green and is a greeter at her church.
Because of her dedication to and involvement in the community, Boehman was the Athena Award Winner for 2018. "It was such an honor," Boehman said of the award, adding that it meant a lot to her to know that people recognized her for what she has done over the years. But to her, being active in the community she loves is simply part of who she is.
"There's that something in me that I just want to help," Boehman explained. "Bowling Green is such a positive community that you just want to be part of the good things."
"There are so many people that are willing to give of their time and money," she added. "That's why this community does so well."
-by Pam Cassady
About the Author: Pam Cassady is editor and calendar coordinator for SOKY Happenings Magazine. A graduate of Western Kentucky University, she has been writing and editing for various publications for over 20 years.