As the July SOKY Happenings hit the stands, our July Mystery Man began new phase in his life. Dr. Gary Ransdell will no longer be the president of Western Kentucky University, a position he's held since September of 1997. After a brief sabbatical, he will officially retire from WKU on Dec. 31, 2017. Dr. Ransdell said that serving his alma mater has been a dream come true, and he and his wife, Julie, will always be huge supporters of the university. The two will be inducted into the WKU Hall of Distinguished Alumni this fall.
After retiring from WKU, Dr. Ransdell will assume a new role on Jan. 1, 2018, when he becomes president and CEO of the Semester at Sea program, in which students from many different campuses spend a semester on a ship that travels around the world. Dr. Ransdell plans to stay with the program for five years and then return to Bowling Green where he will continue to support all things WKU, and perhaps have more time to read and cook.
What was your favorite TV show when you were a child?
The Andy Griffith Show. Gotta love Mayberry!
When you were in elementary school, what did you want to be when you grew up?
Ad designer. I wanted to create advisements. Then I wanted to be architect.
Where did you go to high school?
Durrett High School in Louisville.
What is one of your best childhood memories?
Sitting in a dirty, dusty blacksmith shop in the small farming town of Maquon, Ill., where my grandmother lived. I was fascinated by Hack the Blacksmith's skill, the hot forge, and the horses on which he worked. He called me Cotton Top because I came to visit from the South and I had blond hair.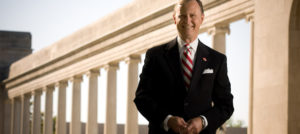 What was your first job?
I was an usher at the Kentucky Theater on 4th Street in downtown Louisville. I was only 14, so I had to take to city bus to get there. Closer to my home that same year, I walked horses at Kentucky Downs, a trotter track in Louisville. Those were the start many different high school and college jobs around Louisville from construction, to night shift work at a local foundry, to custodial crews, to paint crews, to grounds work at a cemetery.
How many states have you been to? Which was your favorite to visit?
I've been to most states. The exceptions are Maine and North Dakota. So far, my favorite to visit would be Florida, but I'm looking forward to learning more about Colorado!
How many countries have you been to? Which was your favorite to visit.
I've been to dozens of countries. My favorites to visit were Africa, Austria and Greece.
Which country would you most like to visit that you haven't, and why do you want to go there?
Morocco, Spain and Uganda. History, culture, art and food for Morocco and Spain; to see gorillas in Uganda.
What do you do to relax?
Read, travel and I plan to do a lot of cooking in retirement!
What hobby would you get into if money and time weren't an issue?
More travel. Maybe a yacht with a crew!
What is your favorite book, and why is it your favorite?
Poor Richards Almanac. Ben Franklin had wisdom and wit. Most any book involving American history.
How long have you lived in south central Kentucky?
33 years all totaled –1969 to 1976; 1978 to 1981 and 1997 to 2017.
What do you enjoy doing around town or in this region?
WKU events from orchestra/theatre/dance productions to athletic events. Dining in BG's great restaurants.
What are some local organizations you are involved in?
Anything WKU. I'm proud of my work with the TIF District, and I also enjoy working with the Chamber of Commerce. And I enjoy my membership is one of BG's literary clubs.
Describe your most embarrassing moment.
Not many (I've been careful not to embarrass myself or the University); but crashing into a Diddle Arena basketball goal in a soap box derby car in front of several thousand people comes to mind!
Describe the most frightening thing you've ever done.
Skydiving into Houchins/ Smith Stadium, but it was also thrilling!
If you could have dinner with anyone (alive or dead), who would it be and why?
Two answers. First, my mother. She died at 52, when I was a junior at WKU. I would love to tell her what my life has included, for her get to know Julie (she was ill when Julie and I started dating), and see what her grandsons and their families have become. Beyond that, I would love to dine with Ben Franklin – again for his wit and wisdom, but I also would have a 1,000 questions about our nation's founding and its founding fathers.
Tell about something in your life that you are proud of.
Beyond my family, that would be WKU!
What is your greatest strength and/or weakness?
Strength – my capacity think boldly and confidently, and to sort through issues and solve problems. Weakness – lack of patience (although I have learned to sense when the time is right for things to happen, and when it is not).
What's one thing most people don't know about you?
I stretch aggressively for 40 minutes every morning. Gotta be flexible!