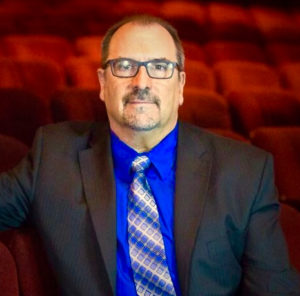 by Pam Cassady
Our August Mystery Man is still fairly new in town, but we're sure that SKyPAC president and CEO Thomas J. Carto will soon be a familiar face around Bowling Green. Carto has been at SKyPAC since June, and he was chosen because of his extensive experience working with other performing arts facilities. As you will see from his answers, he's an interesting person with a unique background. He's traveled quite a bit, and we're glad his journey has lead him to Bowling Green. Read on to learn more about Carto, and be sure to welcome him to our town if you see him around.
What was your favorite TV show when you were a child? Batman (The TV Series)
When you were in elementary school, what did you want to be when you grew up? Why? A symphony conductor, because my grandmother took me to see a symphony concert when I was very young – probably around 6 years old. I was hooked.
Where did you go to high school? Mansfield Senior High School. Mansfield, Ohio
What is one of your best childhood memories? Chasing and catching fireflies on the farm I grew up on.
What was your first job? Mowing fields on a tractor in the summer when I was 15 on our farm.
How many states have you been to? Which was your favorite to visit? At least 35 states. Florida was my favorite because my grandparents have a nice place in Pompano Beach right by the ocean. We've been going there now for almost 50 years.
How many countries have you been to? Which was your favorite to visit. Many in Europe. Also Mexico and Canada. Loved Tuscany and a small town named Lucca. We rented a beautiful villa there, but the owner loved nature and had no screens on the windows, so we were one with the bugs and the birds!
Which country would you most like to visit that you haven't and why do you want to go there? I would love to see China. I am so impressed with the culture and history.
What do you do to relax? I've played piano since I was very young. Takes me away from the problems of the world!
What stresses you out? Driving on I-71 from Cincinnati to Louisville!!
What hobby would you get into if money and/or time weren't an issue? Model railroading. I love trains!
What is your favorite book, and why is it your favorite? The Lobster Books by Richard Hatch. One of the first books I read as a child, and I still remember them well.
How long have you lived in south central Kentucky? Well I haven't – yet…
What do you enjoy doing around town or in this region? Trying to figure out your one-way streets!
What are some local organizations you are involved in? Well, I am very new, but I have been a Rotarian for 25 years, so I am looking to join locally.
Describe your most embarrassing moment. When I wrote the music for my wedding and the organist played it in the wrong key!
Describe the most frightening thing you've ever done. Survived a lightning hit and emergency landing in a jet taking off from Zurich when I was 16.
If you could have dinner with anyone (alive or dead), who would it be and why? Keith Emerson of Emerson Lake and Palmer. He's always been my keyboard idol.
Tell about something in your life that you are proud of. Earning a Masters and Doctorate in Music from Indiana University (Bloomington).
What's one thing most people don't know about you? I earned money as a ventriloquist when I was 13 to 16 years old – and I was pretty good at it!