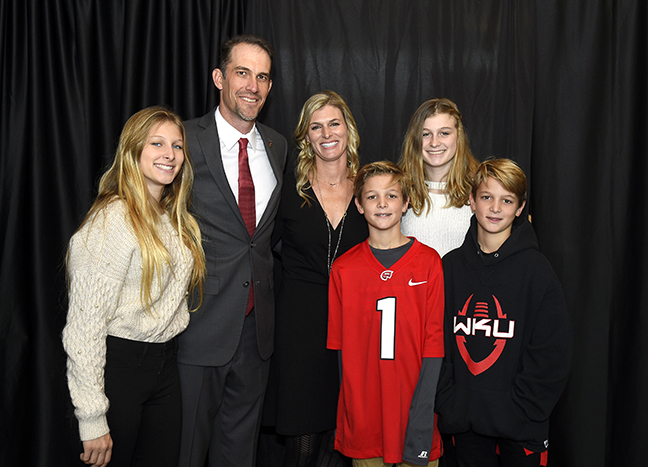 SOKY Citizen: Tyson Helton
When WKU football coach Tyson Helton decided he wanted to be a college football coach, he knew what he was getting into. He father, Kim Helton, had coached at the college and professional level.
"We moved around a lot," Helton said. "I've lived in a lot of different states and seen a lot of different places."
But football was in his blood, and even though he earned a degree in business from the University of Houston (where he played quarterback under his father, who was head coach), Helton still wanted to coach. It runs in the family; his older brother is currently head coach at the University of South Carolina.
"It's a great life," Helton said of coaching, while admitting it's not always easy. His first position was as a graduate assistant in Hawaii. While the part about being in Hawaii was good, the living conditions were a bit less than desirable. Helton and his wife, April, were fresh out of college and just married. A graduate assistant coach doesn't earn much money and Hawaii is expensive. The school told them they could live in the dorms while they looked for a place to stay.
"So there we were, in a dorm, with no AC and a cot," Helton recalled. "And we were both like, this is awesome!"
Helton said then he knew April would make a wonderful football coach's wife. Since then, they have moved around a bit, and had four children along the way. One positive of living in so many different places, Helton said, is "you know a good place when you see one."
Helton and his family knew the Bowling Green area was a good place when they first came here in 2014 when he was hired as offensive coordinator and quarterbacks coach.
"We just feel in love with the community," he said. So when Helton was offered the job as head coach at WKU, he and his family were all ready to return. "They all have great memories of Bowling Green."
Helton and April have two daughters – Shelby, 15, and Presley, 13 – as well as twin sons – Cole and Clay, 9.
"We're a big outdoors family," Helton said. " We love fishing, hiking, biking." And the kids all play various sports. Despite the strong family background in football, Helton said he is careful not to push the sport on his sons. In fact, he only let's them play flag football at this point, and encourages them to try other sports as well.
"I want them to be kids and play every other sport," Helton said. "There's so much time to play football."
As they settle into life here in Bowling Green, Helton said they look forward to being involved in more than just sports.
"I believe it's important that our players get out in the community," Helton said. "Myself and my family will be a part of that."
Helton said he's already started getting involved with events with his players. Recently he and some WKU football players helped out with the Jesus Prom at Hillvue Heights Church, an annual event held for the special needs community.
"I was really impressed," Helton said, adding that he believes he and his players got more out of it, perhaps, than the ones it was for.
And while Helton and his family are happy to be a part of and start getting involved in the community, he knows his main focus here is WKU football.
"We've got a great foundation moving forward," Helton said of the program. "We have more than enough talent to have a successful season."
Helton appreciates the history of the program as well as the vision for the future and the growth of the university. He recently hosted high school juniors who are football prospects and their families, and as he talked to the parents, he told them, "This place really speaks for itself."
"I've always thought Western Kentucky was kind of a hidden gem," Helton added. "And it's a great setting for football."
Helton, who was hired in November of last year, said he is looking forward to his first full season as head coach of the Hilltoppers, and he plans on giving the fans something worth cheering for and continuing the winning tradition he was part of when he was here before.
"We're gonna be an entertaining football team to watch," Helton said. "I want kids to be asking to go see the Hilltoppers play."
-by Pam Cassady
About the Author: Pam Cassady is editor and calendar coordinator for SOKY Happenings Magazine. A graduate of Western Kentucky University, she has been writing and editing for various publications for over 20 years.