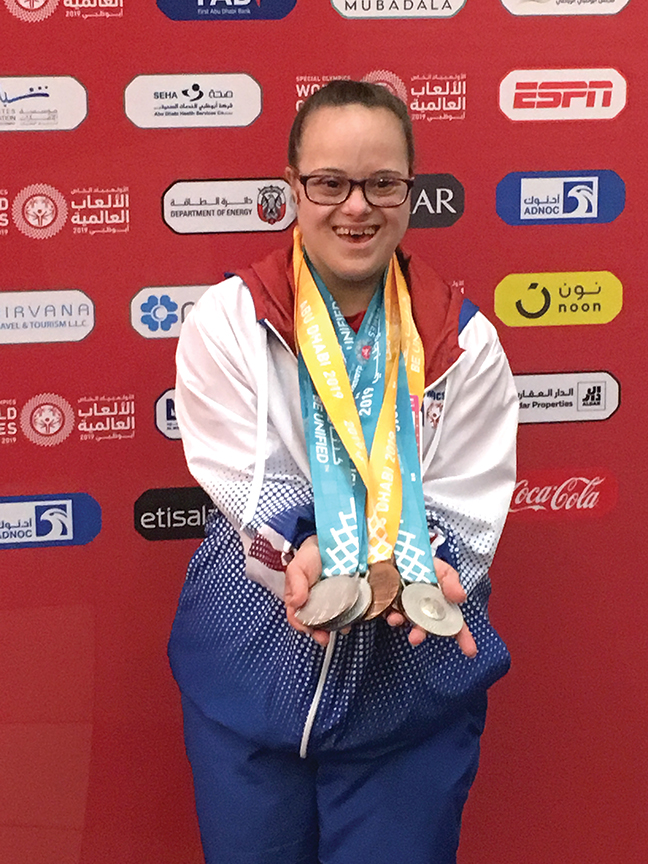 SOKY Citizen: Lee Dockins
                  When Russellville gymnast Lee Dockins walked into the Smithsonian National Museum of American History and saw a huge picture of herself, she was shocked.
                  "I thought, 'Oh my goodness, that's me!,'" she recalled.
                  The picture is part of an exhibit, "Special Olympics at 50," which celebrates the history of Special Olympics and highlights four American athletes. Lee's leotard from the 2007 World Summer Games in China and leather grips she used are also part of the exhibit.
                  Lee's mother, Sharon Dockins, said that when the family traveled to Washington, D.C., for the opening of the exhibit, they were overwhelmed when they saw the photo. "We were all just standing there, tears going down our faces."
                  "We just never dreamed any of this would happen," Sharon said.
                  Lee was born in 1987 with Down syndrome, but she and her family have never let that hold her back. Since she began competing in Special Olympics at the age of 8, she has won 232 medals, including 17 medals from the World Games, making her the most decorated World Games athlete in Kentucky.
                  Lee's gymnastic abilities showed up soon after she was born. Sharon remembers checking on Lee in her baby bed and seeing her sleeping in the splits position with her head down in front of her legs.
                  "I started gymnastics in the crib," Lee said.
                  "I think she was destined for this," her mother added.
                  Lee began taking gymnastics lessons at the age of 5, when Logan County Gymnastics opened in Russellville. "I just love it," Lee said of gymnastics. "It's so special to me."
                  Since she began competing in Special Olympics, Lee has accomplished things few athletes ever do. She's competed on the world stage and won and she's been featured in Sports Illustrated twice and on ESPN twice. Lee's first national competition was the USA games in Ames, Iowa. Since then she has traveled across the United States for competitions, as well as around the world. She competed in the World Games in China, Greece, Los Angeles, and most recently, Abu Dhabi in the United Arab Emirates.
                  Lee loves traveling with the USA team and taking part in the festivities surrounding the World Games. "It's so fun. You meet new people and meet new fans. And you get to watch other athletes. It's incredible."
                  But when it comes time to compete, Lee is all business. She says she gets just a little nervous, but not much because she just loves gymnastics. When she begins her routines, she shuts everything else out. "Don't worry about other people, just focus on yourself," Lee said.
                  That focus has helped Lee win medals in both artistic and rhythmic gymnastics. At the World Games in Abu Dhabi this year, she competed in rhythmic gymnastics for the first time and won five medals (silver in hoop, clubs and ribbon and bronze in ball and all around).
                  And while Lee loves winning, she knows that Special Olympics is about more than that. "It's not just about medals," Lee said. It's about meeting other people, doing your best, working hard, having fun and doing what you love.
                  Even after doing gymnastics for 27 years, Lee is still passionate about the sport. She continues to train at Logan County Gymnastics, and she also works there, helping coach the younger gymnasts. "I help the little kids," Lee said. "They just love me."
                  Lee has always been involved in her community. She was a cheerleader in eighth grade and all through high school at Logan County High. She was also the Cougar mascot for a while for football and basketball games. Lee is also part of the Rockerz Dance Team through Down Syndrome of South Central Kentucky.
                  In addition, Lee participates in the Global Messenger and Ambassador programs through Kentucky Special Olympics. These programs teach Special Olympics athletes about the social aspects of being an athlete such as meeting new people and public speaking. Lee said the programs "make people feel comfortable doing speeches."
                  Over the years, Lee has been interviewed many times and has spoken at meetings of several organizations. "I don't want to brag, but I'm famous," Lee said with a smile.
                  Sharon said Lee loves all the attention she's received since her latest trip to the world games, and she appreciates all the community support. Lee is always willing to take time to speak to groups and talk to her fans.
                  As Lee talks, her love for her sport is evident, and so is her determination. When asked how she has managed to achieve so much, Lee replied, "I just never give up."
– by Pam Cassady
About the Author: Pam Cassady is editor and calendar coordinator for SOKY Happenings Magazine. A graduate of Western Kentucky University, she has been writing and editing for various publications for over 20 years.