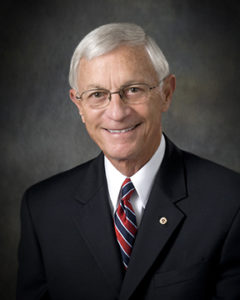 by Pam Cassady
Our January Mystery Man has many interesting stories to tell, and he tells them in many ways. Retired Air Force Brigadier General Dan Cherry has written a book, "My Enemy, My Friend," about some of his life experiences and often speaks to community groups and at schools. This Kentucky native spent many years away from this area, but since returning home 29 years ago, he's made quite an impact. Read his answers to our questions below to find out more about this outstanding community member and true American hero.
What was your favorite TV show when you were a child? Flash Gordon
When you were in elementary school, what did you want to be when you grew up? A soldier. Why? I was surrounded by World War II veterans.
Where did you go to high school? California and Georgia
What is one of your best childhood memories? Getting my first bicycle for Christmas.
What was your first job? Working after school and on weekends in a super market.
How many states have you been to? Which was your favorite to visit? I've been to most of them. Hawaii was my favorite.
How many countries have you been to? Which was your favorite to visit? I've been to over 30 countries. My favorites were Australia and Germany.
Which country would you most like to visit that you haven't and why do you want to go there? I'd like to visit Israel because of the Biblical history.
What do you do to relax? Read and work out.
What stresses you out? Not knowing what to do or how to handle a particular problem or issue.
What hobby would you get into if money and time weren't an issue? Travel to places I haven't been before.
What is your favorite book, and why is it your favorite? My Enemy, My Friend, a story of reconciliation from the Vietnam War is my favorite because I wrote it… just kidding! My favorite book is Unbroken by Laura Hillenbrand; it's an incredible true story of perseverance.
How long have you lived in south central Kentucky? Grew up here until age 6. Returned here 29 years ago.
What do you enjoy doing around town or in this region? Socializing with my friends, going out to eat, walking, working out.
What are some local organizations you are involved in? WKU College Heights Foundation, Aviation Heritage Park, XV Literary Club, The Walking Group, The Liars' Club.
Describe your most embarrassing moment. Drawing a mental blank on someone's name during a speech introduction.
Describe the most frightening thing you've ever done. Flying combat missions.
If you could have dinner with anyone (alive or dead), who would it be and why? My mom and dad. I miss them.
Tell about something in your life that you are proud of. My family. I have a wonderful wife, two wonderful daughters and four wonderful granddaughters.
What's one thing most people don't know about you? I was adopted.