Guess Who?
by Pam Cassady
Our November Guess Who subject is someone who does much of her work behind the scenes at a place many in our area are familiar with.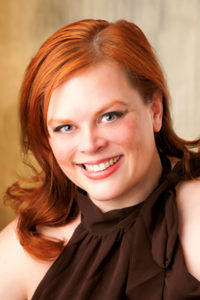 is currently in her second year as producing artistic director at the Public Theatre of Kentucky. An accomplished theatre professional, Turner brought a broad range of experience to the organization including hospitality management, non-profit administration, and communications/marketing. Turner, who is from the Mammoth Cave National Park area, said her love of the theatre was born when her grandmother took her to see a production of Macbeth at Horse Cave Theatre, where she later was a company member for five seasons. Turner received theatrical training at the prestigious SUNY Purchase Conservatory of Theatre Arts in New York, and received her bachelor's in performing arts with an emphasis in acting from Western Kentucky University,
 Professionally, Turner has appeared in regional theatres and tours across the country. Career highlights include appearing opposite film and television legend Andrew Prine in The Lion in Winter, and appearing as "The Guide" in MadART Creative's inaugural production of Life After Dreams in NYC. Film/television credits include the independent film Message Sent, the television series Backyard Oil, and the prime time television series Nashville. She was host of BG Mythbusters and has appeared in commercials for SOKY Hospice, Recreation.Gov, and SKyPAC. Turner is represented by Heyman Talent.
 In addition to her artistic pursuits and work on behalf of PTK, Turner enjoys volunteering and participating in charity events, and thanks the community for making the Public Theatre of Kentucky your local theatre!
 Find out more about Amber Turner in the Q&A…
What was your favorite TV show when you were a child? Gilligan's Island
When you were in elementary school, what did you want to be when you grew up? An astronaut or a singer Why? An astronaut because Space Camp was one of my favorite movies, and I liked science. A singer because I loved to sing and perform.
Where did you go to high school? Barren County High.
What is one of your best childhood memories? Any time with my cousins and brothers and sisters at either grandmother's is the best memory.
What was your first job? Babysitting.
How many states have you been to? Forty one? I think. Which was your favorite to visit? Rhode Island.
How many countries have you been to? As of right now, I have not been outside of the US.
Which country would you most like to visit and why do you want to go there? There are too many countries that I want to visit to narrow it down to one.
What do you do to relax? I work a lot, so when I can, I like to visit with family, friends, and my boyfriend – catching up over dinner. I love going to the movies. If I have a day off, I like to curl up with my dog and read or catch up on favorite TV shows.
What stresses you out? It's my job to make sure that things are coming together on time, under budget, and to make sure that everything is as high quality as possible. I hesitate to say that work causes me stress, but I put a lot of pressure on myself. Other things that stress me out? Lack of time, being limited by lack of funds….
What hobby would you get into if money and time weren't an issue? Traveling.
What is your favorite book (or play), and why is it your favorite? The Sun Also Rises by Ernest Hemingway. I love reading, but The Sun Also Rises is the first required reading that I actually read. It is not the happiest of stories, but I loved all of those lost souls, especially Lady Brett Ashley. I related to their gypsy-like lifestyle.
How long have you lived in south central Kentucky? I was born and raised in this area, but I have moved away numerous times. All together, I think I have lived here for about 26 years.
What do you enjoy doing around town or in this region? When I get free time, I like to visit the farmers' markets, hang out at a Vinyl Takeover event, frequent the local restaurants, and take in all of the local arts events.
Describe your most embarrassing moment. Nice try.
Describe the most frightening thing you've ever done. I do things that frighten me often. That's how I know I should be doing it. If I had to narrow it down? Deciding to accept the job that I have now when it was offered to me – to me, that was scary.
If you could have dinner with anyone (alive or dead), who would it be and why? Probably Tennessee Williams. He is my absolute favorite playwright, and he would be a colorful dinner guest.
What's one thing most people don't know about you? I am actually a very shy person. I'm not as extroverted as I appear to be.