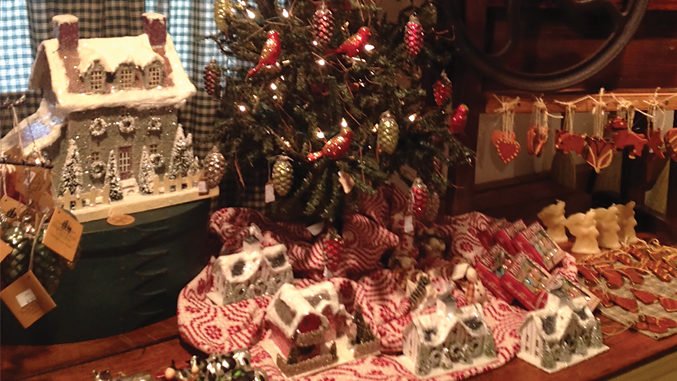 by Tommy Hines
The Christmas traditions with which we are familiar today evolved over a period of many years. Most Americans celebrated Christmas during the 19th century, but customs like Christmas trees, Santa Claus, and mistletoe were not commonplace until late in the century. In
fluences from European Christmas traditions took many years to be accepted in the United States. By the 1860s, however, more and more Americans were decorating trees in their parlors, hanging wreaths, and exchanging Christmas presents.
Within the confines of our country's Shaker villages, it took much longer for common traditions to be adopted. The Shakers
established 19 communal villages in the United States between 1774 and 1827. Situated from Maine to Kentucky, the Shakers espoused a socialistic approach to living, simplicity and function in everything they created, racial and sexual equality, celibacy for its members, and a desire to honor God in all aspects of their lives. This unique approach to life separated them from "the world" even though they welcomed outsiders into their villages and made constant efforts to market their products to people everywhere. Adherence to their religious ideals, laced with a good dose of American capitalism, occupied their thoughts and practices.
The Shaker Village at South Union closed in April of 1922, leaving a 115-year legacy of religious dedication in southern Kentucky. In 1960, Mrs. Curry Hall and others opened the Shaker Museum in Auburn, preserving South Union's history through artifacts, furniture,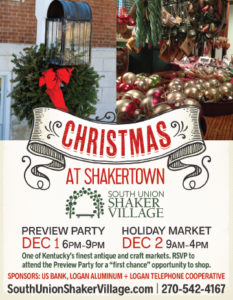 photographs, and manuscript records collected from the region. In the early 1970s, the museum organization began to purchase some of the historic buildings that were once been a part of the village. Today, South Union Shaker Village is made up of nine original village buildings situated on 500 acres of land, still only a remnant of the 6,000-acre plantation that once boasted over 200 buildings.
In 1989, Shaker Museum board member Linda Reynolds and her sister, Leslie Corder, created an event that invited visitors to
experience the historic Centre House decorated for Christmas, where they could purchase the hand work of local craftspeople and continue th
e practice of helping those less fortunate. The "Christmas at Shakertown Holiday Market" celebrates its 29th anniversary this year, but now, instead of six artists selling their wares, the event has grown to 30 dealers who specialize in hand-made crafts and regional antiques. The early 20th century Christmas tree is still the centerpiece of the show, and on Saturday the only admission charged is a canned food item that is distributed to area needy.
There is no better place to buy unique and original Christmas gifts than the "Christmas at Shakertown Holiday Market." On Friday evening, December 1, a preview party is held from 6 to 9 p.m. for those who want an early opportunity to shop. Coffee and dessert is served and the South Union Shaker Quartet performs traditional Christmas carols. Reservations are suggested and the fee for admission is $10 per person. Call 1-800-811-8379 or 270-542-4167 for reservations.
On Saturday, December 2, from 9 a.m. until 4 p.m., the "Christmas at Shakertown Holiday Market" is open to the public at no charge, although we do ask that you bring a canned food item for admission. South Union Shaker Village is located on US 68-80, 10 miles west of Bowling Green or three miles east of Auburn. For additional information visit www.southunionshakervillage.com.