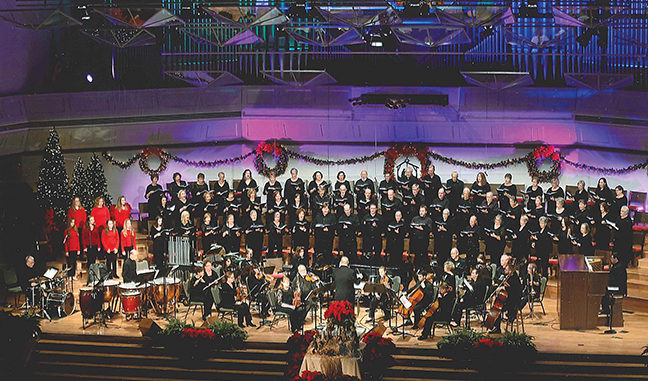 It's beginning to look a lot like Christmas…or should we say "it's beginning to sound a lot like Christmas?" Certainly everywhere you go you hear the music and the many sounds we associate with the Christmas season. That music is a part of not only our celebration of Christmas but also our culture as we participate in various expressions of the season. For all of us at First Baptist Church, Bowling Green, we love to commemorate Christmas in a variety of ways. Through numerous musical presentations and times of worship, the church family at 12th Avenue and Chestnut in downtown Bowling Green has a heart for telling the story of the birth of Jesus Christ. We would love for our entire community to be a part of that celebration with us.
That is why we are inviting you to be a part of our presentation of GLORIA (Our Savior Found Us). This powerful concert and worship time will take place Sunday night, December 9, at 6 p.m. in the sanctuary of First Baptist Church, 621 East 12th Avenue. Presented by the 70-voice sanctuary choir and accompanied by a 20-piece orchestra, we will focus on God's great gift to our world, His Son, Jesus Christ. Familiar carols such as Dan Forrest's setting of "Angels from the Realms of Glory" and Rene Clausen's arrangement of "O Holy Night" will be featured along with John Rutter's "Angels' Carol." A new version of "Silent Night" set to the tune of the English melody, Scarborough Fair, will be a highlight of the evening along with newer songs like "Little Baby Boy," "Sanctuary," and "Gloriacappella." The title song for the presentation is "GLORIA (Our Savior Found Us)" by Michael Farren, Travis Ryan and Krissy Nordhoff, arranged by Cliff Duren. It is a reminder of the scripture verse found in Luke 19:10, "For the Son of Man came to seek and to save what was lost." A part of the text of the title song says:
For all of the seeking, through valleys and hills, of shepherds and Wise Men for glory revealed,
Seems like the greatest journey of all was Heaven now searching for the hearts of the lost.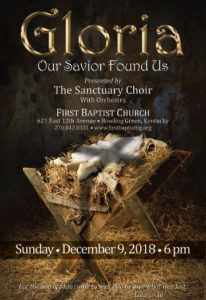 For all of the riches laid at His feet, the best we could offer to honor a King,
Seems like the greatest Treasure of all was found in a manger; God come to us!
Gloria! Our Savior found us. Gloria! O night divine!
Through the darkness He won't relent Mercy so great will find a way. Gloria!
This is the essence of the Christmas story – Jesus, God's Son, has come to us to bring hope and salvation to the world.
Please join us at 6 p.m., Sunday night, December 9, for GLORIA (Our Savior Found Us)!
 Special avenues for worship this Christmas at First Baptist
 Sunday, December 2 – The Gift of Advent – A musical program celebrating the season of Advent and the birth of Jesus – presented by our Preschool Choir, Music Makers, Young Musicians, Children's HandChimes and the Youth Choir – 6 p.m. in the church sanctuary
Sunday, December 9 – GLORIA (Our Savior Found Us) – 6 p.m. in the church sanctuary
Sunday, December 16 – Church Family Christmas Celebration – Featuring First Baptist members past and present sharing their musical gifts – 6 p.m. in the church sanctuary
Monday, December 24 – Christmas Eve Candlelight Communion – An intimate time of worship and reflection led by our pastor, Dr. Jeff Reynolds, focusing on the meaning of Christmas and sharing of the Lord's Supper.
First Baptist Church Mission Statement:"We are a community of believers in Jesus Christ as Lord and Savior who are seeking to advance God's Kingdom through Worship, Bible study, missions, evangelism, fellowship, and prayer." To share the good news of the gospel story of Jesus Christ with all who will hear is our highest aim and to live our lives demonstrating the grace of God is our daily goal.
First Baptist Pastoral Staff
Dr. Jeff Reynolds – Senior Pastor
David Tooley – Executive Pastor
Ricky Clark – Minister of Music
John Beach – Minister to Students
Vicky Donelson – Minister of Childhood Development
Michelle Price – Director of Children's Ministries
David Garrett – Minister of Christian Life Activities and Church on Main Pastor
Bible Study for all ages is held every Sunday morning at 9:45 a.m. and the church gathers for worship at 11 a.m. It would be an honor to have you visit us in person on Sunday morning or for any of our Christmas gathering times or you can join us by live television broadcast on Sunday mornings at 11 a.m. on WBKO Television in Bowling Green. More information about the church can be found online at www.firstbaptistbg.org or by calling the church office at 270-842-0331.