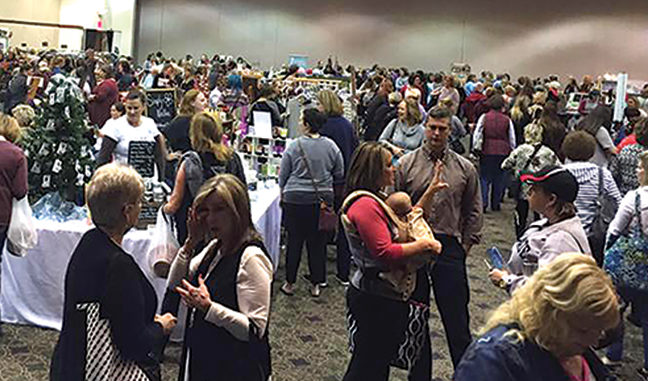 by Tina J. Comer
The excitement has been building for months as both vendors and customers have been anticipating the upcoming Fall 2017 session of Girls Day Out in Bowling Green! Come join us on November 18, 2017, between the hours of 10 a.m. and 4 p.m. at the Sloan Convention Center located at 1021 Wilkinson Trace in Bowling Green.
For more information, please contact Tina at GirlsDayOutBG@yahoo.com or visit our Facebook page at www.facebook.com/GirlsDayOutBG, and be sure to visit the event page so you can invite your friends as well.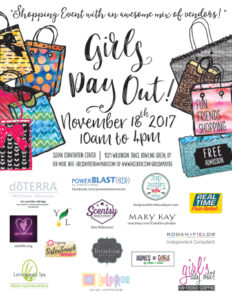 Admission is FREE to the public and those who come early have a chance to pick up some SWAG! The first 100 shoppers in line will pick up one of the Girls Day Out Swag Bags. Inside these shopping bags are some gifts from our vendors and sponsors as well as some other promos and information. If you miss out on the Swag Bags, there will be some other opportunities for free samples and items from some of the vendors. Door prizes will be given out frequently throughout the day, but you do have to be present to win so stick around! Just remember to register when you arrive to be eligible for these amazing door prizes. We also will be doing some "like & share" contests on our event page so be sure to watch for those.
Parking
The Girls Day Out events draw large crowds, so why not make plans with a few friends to carpool to the event and shop together. The lot is sizable, but if you can't find a spot, keep trying, or other parking can be found in the area.
Excitement
So, you have parked and made it inside, and the excitement is building as a crowd has gathered awaiting the opening of the doors. You can anticipate the great items and services just inside those doors. Music is already drifting out of the ballrooms as Scott and Jerilyn of Power Blast Events feed the enthusiasm. Once the doors open you will see row after row of awesome vendors just waiting to meet you and share their products with you. Many vendors have handcrafted items, like jewelry, bath products, wreaths, wooden décor items, plus much more! Don't miss out on the elegant clothing items from the great boutiques that will be there. You will have the opportunity to order personalized items, but if you do that, please get their business card or contact information to follow up with them about your item. There will also be some direct sales vendors where you can purchase or order things like essential oils, make-up, items for the home, etc. Don't forget to treat yourself to a chair massage to ease those sore muscles from all the shopping.
Make your rounds and enjoy visiting with all our terrific vendors. We have almost 100 vendors setting up, so there should be something for everyone. As you browse these vendors, you might be able to pick up samples or test some products. This is also a great chance to chat with the vendors and learn more about their products or company. You might even find a business you want to join. The vendors have worked hard preparing for this day, from gathering or making items to loading/unloading, to getting an eye-catching display ready for you to be able to see what they have to offer. Supporting Girls Day Out and the local vendors puts money back into the local economy… and nets you some fantastic items!
Need a break? Grab some lunch at the hotel restaurant and come back for some more shopping. You don't want to miss this opportunity to get some shopping done before the busy season!
Family experience
Girls Day Out isn't just for the girls… remember there will be items the entire family can enjoy. Men can find some great gifts for their ladies, or just enjoy shopping with their ladies. There really are things here for everyone.
GDO Event Sponsors
 Please visit the websites of our event sponsors. Without the sponsors, this event would not be as successful.
 Shop Southern Boutique – www.shopsouthernboutique.com
Younique by Diane Gresham – www.lashlife.org
Power Blast Events – www.facebook.com/powerblastevents
Mary Kay by Candice Phelps – www.marykay.com/candice.phelps
 dōTERRA, Eric & Ellen Aldridge – www.mydoterra.com/thewanutspringsfarm
 Don't Miss This Thrilling Event!
 Girls Day Out is an event that is highly anticipated and very well attended, so join the fun and browse our magnificent vendors on November 18 at the Sloan Convention Center.