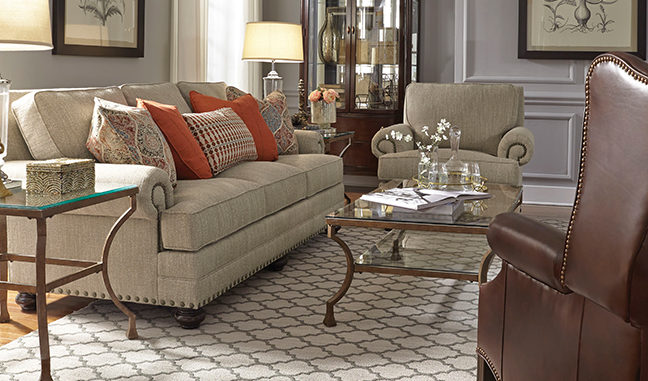 How does it happen? A year gone, and furniture is another year older. Wow! Let's start this New Year with a new look.
When it comes to choosing a sofa or chair, fabrics are an important part of the decision making. The color and pattern of a sofa or chair can make a strong impact in any room. Texture is another important consideration when choosing a sofa or chair. Many companies now offer furniture in several different colors in a variety of styles and fabrics. King Hickory, England and Klaussner are all great companies to explore your options with. A great rule of thumb is to get a solid color and then if you choose to change out pillows with the seasons you can have a great new look at a budgeted price.
As you consider new furniture, be sure to measure your room to get the proper size pieces to accommodate your needs and to have adequate seating for family and friends. Several companies now allow you to add by the inch to a sofa to help you get everything from a large chair size to a sectional size.
We at Ford's Furniture love to help you find your new look for the upcoming year. Stop in and speak with our knowledgeable sales staff or set an appointment with me (Clarissa) to discuss great new ideas for your home!
-by Clarissa Smith
About the Author: Clarissa Smith received her education from David Lipscomb University and Western Kentucky University in the field of design. A former visual merchandiser for Castner-Knott, she decorated on the side. She has decorated Parade homes in Fountain Trace and Covington Grove plus a wide variety of commercial buildings including Chandler Park, Chandler Assisted Living and Hospice along with several banks and doctors' offices. She has been employed as a buyer of accessories and the on-staff designer at Ford's Furniture for 16 years.