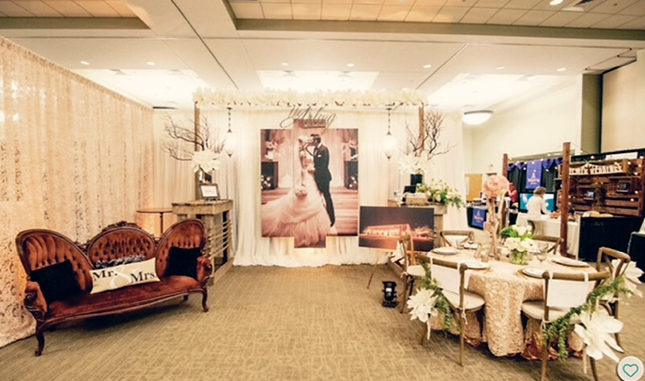 Being engaged is an exciting time in one's life, and it's a time when many decisions must be made. That's why attending the 2019 Southern Kentucky Bridal Expo on Saturday, January 19, at the Knicely Center in Bowling Green from 11a.m. to 4 p.m is so important. There will be no shortage of inspiration and ideas at the Southern Kentucky Bridal Expo with amazing vendors ready to help you plan the wedding of your dreams, floral designers showcasing beautiful bouquets, caterers serving up delicious food and photographers ready to capture your big day. To see a complete list of vendors visit the event website at www.sokybridalexpo.com. The Bridal Expo will also include a fashion show featuring the latest wedding dress designs and menswear styles. Door prize drawings will take place throughout the day and include beautiful jewelry, a wedding cake, health and beauty packages and much more.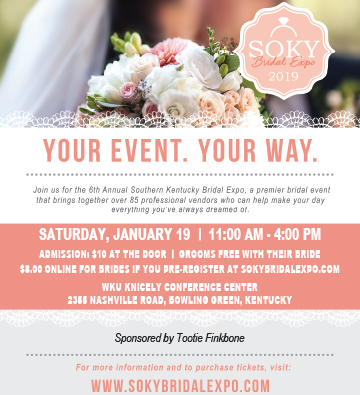 As you plan your trip to the Southern Kentucky Bridal Expo, here are some of the 2019 wedding trends you can look forward to learning more about.
1. Rethinking Barn Weddings – Burlap, baby's breath and Mason jars are out but you can create a more refined look in a rustic setting. Terrariums with vibrant colored flowers, greenery or herbs or modern vessels made of pewter or ceramics create a more contemporary look overall. You can literally take any space, whether it's a barn or warehouse setting, and create the look you want.
2. Bridal Bouquets – Greenery is still on the rise, but brides want quality over quantity, often choosing to add only a few (two or three) statement flowers in bouquets such as peonies, dahlias or proteas with an abundance of lush greenery. This is a budget friendly choice as well.
3. Silver and Gold accents are making a comeback over metallics. Imagine a long beautiful harvest table lined with gold candlesticks from end to end with lush green garland flanking the tables. This is a great alternative in a rustic setting. Pictured here are harvest tables provided by A Family Affair Rentals and gold candlesticks by Dafnel Wedding Designs, both vendors in the SOKY Bridal Expo.
4. Late night snacks – Instead of providing favors at a wedding reception, couples are opting for late night snacks such as hot pretzels with delicious sauces, doughnuts displayed creatively, mini taco stations or a charcuterie board. The one pictured here is by Mission Catering, a vendor in the SOKY Bridal Expo.
5. Lounge Areas at Receptions – Couples today want to make their guests as comfortable as possible by providing a lounge area for their wedding guests. Pictured here is a vintage blue sofa provided by Blue Grass Gatherings, a vendor in the SOKY Bridal Expo.

Whatever you're looking for complete the vision you have for your wedding, it can be found at the 2019 Southern Kentucky Bridal Expo on SATURDAY, JANUARY 19, at the Knicely Center in Bowling Green. Admission is $10 per person at the door but $8 if you pre-register. Go to www.sokybridalexpo.com to pre-register today!! EXPECT TO BE AMAZED!!