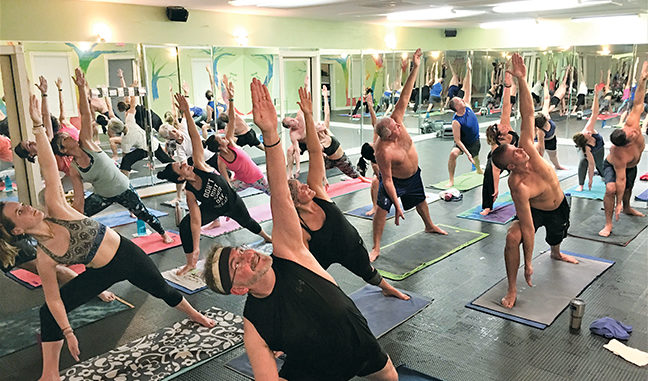 What is the best resolution solution? Keep it simple, and love yourself in the process!  You are important, and you are so much more than worth the effort to get better physically and emotionally.
A few years ago, I lost 45 pounds of body fat, primarily doing three basic things – drinking more water, eating less sugar, and practicing (as well as teaching) Hot Yoga. I went from a weight of 205 to 160. Clean and simple! Before losing all that weight and after both of my parents passed away within the past few years, I became addicted to comfort foods. I have allowed myself to slip back into that diet scenario of late… but here comes 2019! I am resolving to lose 15 pounds over the next two to three months as I get back to my ideal body mass ratio.
After trying dozens of exercise regimens and consuming almost as many supplements – which were supposedly the latest and greatest "new discovery" at the time – I made the discovery that really mattered. Water, clean food, and Hot Yoga were the sum total, purest and best combination all along! And that base methodology dates back 5,000 years or more.
To get past the first hurdle of becoming healthier as the New Year progresses and through January with a determination to continue, choose a program that is fun, makes you feel better, motivates you, is healing without hurting, and makes you happy.
You've found it! Yoga. We endorse all methods of yoga which use good form in asana practice and which place the safety, well-being and happiness of its respective practitioners above all other goals, but we have emphasized the accelerated benefits of Hot Yoga within this article to illustrate just how exciting your results from experiencing it can be!
Hot Yoga is the only activity I have ever experienced which actually has ALL of the good things about "exercise" without the bad things. Really! That's why you will see many popular, trendy exercise venues using yoga techniques with variations and catchy names, and why so many are adding stretching, balance, and controlled breathing to their practice.
So slow it down, stop for a glorious moment, breathe… and check out why, as we begin our 13th year in Bowling Green, we still call Hot Yoga your "resolution solution"…
A. Hot Yoga burns fat by calorie expenditure second to none! It's up to you as an individual how much you scorch those unwanted pounds by choosing your classes and your personal intensity levels. We have regular reports of 200 calories burned in lower power and restorative classes to more than 2,000 in the pure power varieties. We can advise you depending upon your goals.
B. Low or no impact on your knees, hips, ankles, tendons and ligaments. Great for healing injuries while preventing future ones.
C. Hot Yoga works the whole body, breath, and mind. For a comparison, consider running: Running normally uses around 10% of your muscles through about 15% to 25% of their range of motion. Hot Yoga utilizes virtually 100% of your muscles, through nearly 100% of their range of motion… with no adverse effects.
D. Hot Yoga creates greater lung capacity and even lung function.
E. Hot Yoga improves balance for daily activities, more restful sleep, detoxification through sweat and inside/out engagement of total physiology, greater concentration, awareness, de-stressing and calming, better hydration, better skin, and improved eating habits. The list could go on for many pages, but one more to note:
F. Hot Yoga builds lean muscle, tones the body, and strengthens bones and internal organs while improving flexibility and creating a long, lean, beautifully natural physique. It's equally awesome for men and women, boys and girls of every age group! It isn't scary at all. It's perfect for new mothers, post-physical therapy exercise (talk with your healthcare professional), folks new to exercise in general, and anyone wanting to get into perfect shape.
We welcome you to try our unparalleled method for shaping a new "you" while keeping your time fun and motivating. Let's do this together! We feature a carefully ergonomic-minded and designed, super-clean, state of the art studio with highly trained and experienced teachers and the coolest music on the planet. We greet you with open arms and thankful hearts as God leads us forward into 2019. Let us know what you need, and we will share what we're doing personally and for you, our yoga family. Quick-Start Packages are available as well as newbie first-week specials, 30-day Hot Yoga Challenge, and private or semi-private sessions customized for you and yours! Are you trying to think of something to buy with that money you received for Christmas? Give yourself a gift all year with Hot Yoga Bowling Green. Be the change, and thus encourage others to follow…
And now, here it is… Your January 2019 "Pause for a Pose" – The original Hatha Triangle (Yoga Daddy's Favorite pose!)
This is an exciting pose for starting the New Year with an empowered attitude. Begin in mountain pose with feet together for a balance challenge. You should be at the left end of your yoga mat or towel, facing out to the long side. Inhale with palms together in prayer mudra, then upon the exhale, step the right foot out to the right until the feet are approximately 4 feet apart. Take another inhale, then exhale and pivot on the right heel, lunge into the right knee while floating the arms out horizontally and palms out. Turn your head to the left, gaze at the left thumb and then tilt the torso to the right, allowing the arms to move with the torso until the right elbow is in front of the right knee and the left arm is straight up. Keep the eye-gaze on your left hand and your chin on the left deltoid. Inhale again, and upon your next exhale, pull the navel up and flex the abdominals as well as the entire muscularity of your body. Very powerful! Repeat other side. Enjoy practicing this awesome posture all month, and we will see you tomorrow at Hot Yoga! Happiness and the best health to you in the New Year… God bless and namaste'.
-by Tony Bishop, E-RYT
About the author: Tony Bishop, E-RYT/RYT/CYT, is director and chief instructor with Hot Yoga Bowling Green, Kentucky. He is certified and trained in a myriad of health and fitness disciplines including Hatha Yoga, Yoga Personal Training, Yoga Coaching, Yoga Teacher Training, Sil lum Kung Fu, Tai Chi exercise, spinning/indoor cycling, PowerHouse Pilates instruction, core conditioning, self defense programs and boot camp variations. He has more than 5,000 hours of yoga teaching experience, he is registered through Yoga Alliance and is an avid researcher and proponent of progressive yoga movement and development of more effective, deeper and meaningful training methodology. Contact: 730 Fairview Avenue, C-2, Bowling Green, 270-793-0011, hotyogabg@yahoo.com, www.hotyogabg.com.