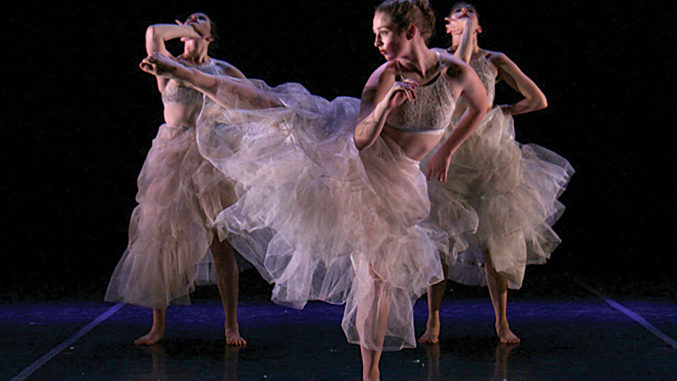 submitted by WKU Department of Theatre & Dance
Our mission in the Dance Program of Western Kentucky University is to provide an environment conducive to comprehensive training in performance within the framework of a liberal arts education at the Bachelor of Arts level. By integrating dance and general studies, we strive to create "Thinking Artists," individuals who work to achieve their highest potential as artists/technicians and scholars.
The Dance Project Opens Season
The Western Kentucky Department of Theatre & Dance kicks off its spring season with The Dance Project February 9-11 at Gordon Wilson Hall. This annual student-produced concert features work created by dance majors who have been chosen by dance faculty to present their work.
The student choreographers go through an adjudication process to improve, refine, and develop their concept under their faculty mentor. Following this feedback and informal showings, faculty members choose student works to perform in the Dance Project Concert. This concert is a favorite among students each year as they enjoy sharing their own work as well as dancing their friends' choreography in the intimate venue.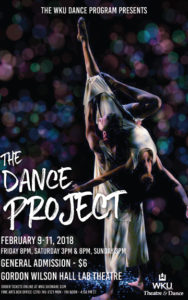 Two students who have been working hard in rehearsals leading up to Dance Project are Bowling Green senior Hannah McCarthy and Glasgow senior Trevor Edwards. Both will be presenting their WKU Fuse grant research through performances designed for this production.
Dance Project runs February 9-11 in the Lab Theatre of WKU's Gordon Wilson Hall. Showtimes are Friday and Saturday at 8 p.m., and Saturday and Sunday at 3 p.m. All tickets are $6 and can be purchased at wku.showare.com or by calling the box office at 270)745-3121.
Over 15,000 people were entertained by the WKU Department of Theatre and Dance last year. The department presents over 20 different productions every year including four Mainstage productions, two Mainstage dance concerts, three student-choreographed dance concerts, a Children's Theatre Series, a Studio Series of student-directed words, and a Next Stage Series of showcases and works in progress.
More information about the WKU Department of Theatre and Dance can be found at www.wku.edu/theatre-and-dance, on Twitter @wkutheatredance or by calling the department at 270-745-5845. You can also like us on Facebook to see upcoming events and department news.
Dance Day
Are you wondering if a dance major may be for you? Curious at what level of technique class you might begin? Dance Day is an opportunity each semester for prospective students to sample the WKU Dance Program and see what it's all about. Participants will take a class with WKU dance faculty, meet with faculty to learn more about the curriculum, have lunch with dance majors, observe a Dance Company warm up class, and attend a mainstage dance concert. Dance Day does not replace the dance placement audition day required for students who have definitely chosen to pursue the BA in dance, nor is it meant for the student with no dance experience. But if you're somewhere between, wondering if the WKU Dance Program could be your new home, come give us a try.
Students should wear conservative dance attire (leotard and tights) and should bring ballet slippers and jazz shoes. Participants will take an intermediate/advanced level ballet, jazz, or modern dance class. Register on-line atWe look forward to seeing you dance at this year's Dance Day!
SEE RELATED VIDEO BY CLICKING HERE