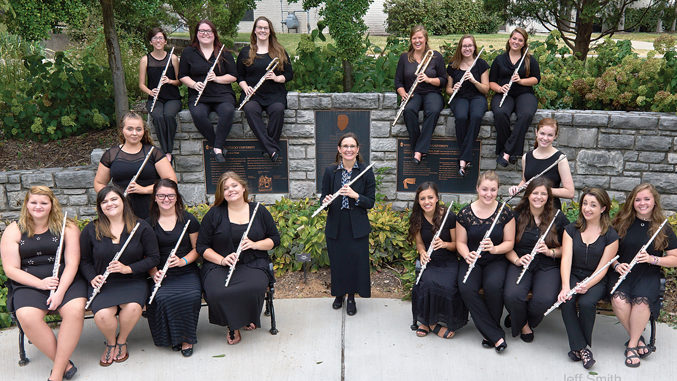 by Scott Harris
The annual PRISM concert is an amazing event and reflects the true spirit of the WKU Department of Music. Featuring almost every performance ensemble in the WKU Department of Music, this single event highlights what studying music is all about. PRISM showcases musical diversity, collaboration, creativity, and the great commitment WKU students make to artistic musicianship. Concertgoers may hear the Wind Ensemble, Steel Drum Band, Jazz Ensemble, Redshirts, Guitar Ensemble, and much, much more – all tightly organized throughout Van Meter Auditorium into a seamless high-energy production that includes special lighting, unique staging, and even a little good humor. Here is just a taste of the groups you may hear from during the evening…
Wind Ensemble – The WKU Wind Ensemble is the premier wind (woodwinds and brass) and percussion ensemble on campus. The Wind Ensemble has performed at the Kentucky Music Educators Association (KMEA) convention six times since 1996 and at the College Band Directors National Association Southern Division Convention, including a featured 2016 performance in Charleston, S.C. The ensemble has travelled abroad to Russia and Costa Rica, and they celebrated Veteran's Day with a special commemorative concert at SKyPAC here in Bowling Green in 2016. Directed by Dr. Gary Schallert (WKU Director of Bands), the ensemble performs traditional band literature as well as commissioning and performing new contemporary works for the medium.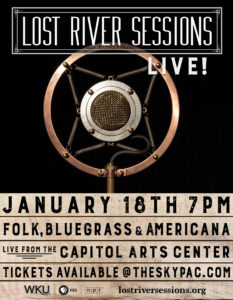 WKU Choirs – The WKU choirs include the a cappella based Chorale, the large Choral Society, the newly formed University Singers, the select Men's and Women's Choruses, and student run a cappella groups the Treblemakers and the Redshirts. Directed by Dr. Paul Hondorp (WKU Director of Choral Activities), the choral program at WKU has a long history of excellence having performed at multiple KMEA conventions and the Southern Division Convention of the American Choral Directors Association. WKU choral ensembles have toured Southern Spain, take frequent regional recruiting tours, and are planning a trip to Costa Rica in the spring. Performing for many university, alumni, and community events, the Treblemaker
s and Redshirts are also very popular across campus and in the region with their highly energetic renditions of popular rock, jazz, and gospel works.
Jazz Band – The WKU Jazz Band performs a wide repertoire of jazz music, including swing standards, Latin favorites, and cutting-edge selections from the present. The band is a traditional big band that features a full rhythm section (piano, guitar, bass, drums) and a 15-piece horn section (saxes, trumpets and trombones). Under the direction of Dr. Doug Harris, students learn and demonstrate the art of improvisation through working with a rhythm section, ensemble interaction, and chord/harmonization study.
Steel Drum Band – Under the direction of Dr. Mark Berry, the WKU Steel Band is one of the most energetic ensembles on campus! Using 55-gallon oil drums this group performs traditional music from the Caribbean, Latin and Brazilian music, popular arrangements, and contemporary originals. The audience is invited to cheer, laugh, toss beach-balls, and imagine life on the beach with the WKU Steel Band.
Guitar Ensemble – The WKU Guitar Ensemble is a performance group designed to improve reading and playing ability, widen knowledge of the guitar and related literature, and expose each student to live performance. The ensemble performs music from the renaissance period through the 20th century, is directed by Mr. John Martin, and typically includes 10-12 guitarists from across campus.
Chamber Ensembles – These ensembles are small groups of students and faculty who typically perform on similar instruments like the Trumpet Ensemble, Trombone Choir, woodwind and brass quintets, string ensembles, Tuba and Euphonium Ensemble, and the Percussion Ensemble. Generally working without a conductor, these ensembles require students to be highly aware and sensitive to each other's parts as they present a more intimate performance setting for both our students and the audience.
This year we celebrate 23 years of PRISM. If you would like a taste of everything the WKU Department of Music has to offer then this is the perfect concert for you. I invite students, adults, families, and friends of all ages to attend on Friday night, January 19 at 8 p.m. in Van Meter Auditorium. Tickets are $15 for adult general admission (student discounts apply) and all proceeds go towards music scholarships. Tickets are available at Royal Music (830 Fairview Avenue) or at the door.
In addition to PRISM be sure to visit www.wku.edu/music for a full calendar of Department of Music events throughout the Spring 2018 semester including:
WKU Bands – February 27, March 1, April 19 and 20
WKU Choirs – March 8 and April 22 (3 p.m.)
The WKU Symphony – February 23 and April 27
WKU Musical 9 to 5 – April 6-7 (8 p.m.); April 8 (3 p.m.)
(all events are in Van Meter Auditorium at 7:30pm unless noted)
I look forward to sharing the 23rd Annual WKU PRISM Concert with the entire Southern Kentucky community and I hope you can join us for multiple events throughout the Spring 2018 semester!
WKU Department of Music: 270-745-3751 or visit .