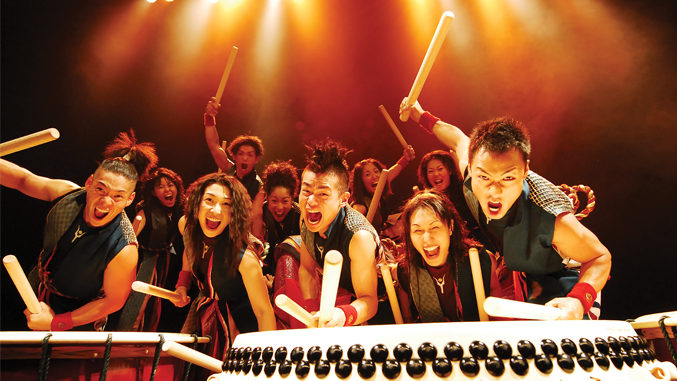 by Jessica McCormick
Western Kentucky University's long-standing Cultural Enhancement Series continues this February in Van Meter Hall to bring the community epic musical entertainment by the Yamato drummers, as well as two fascinating speakers, Roxane Gay and Paul Alan Cox, to entertain and inform. Created to spark conversation and widen horizons, the Cultural Enhancement Series encourages students and all members of the community to open their minds to new voices and perspectives.
 Yamato
On Feb. 2, 2018, Yamato, the Drummers of Japan, will take the stage in Van Meter Hall at 7:30 p.m. Employing pin-point precision, ferocious skill, and high-energy creativity, this modern troupe of young male and female musician-athletes creates an unforgettable spectacle. The group of a dozen-plus players starts their performance by hitting a Japanese Taiko drum weighing half a ton, made from a single piece of wood from a tree that has aged more than 400 years. They move their whole bodies to strike the drum, creating a powerful surge of energy.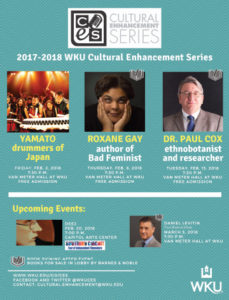 Yamato's live performances are full of intensity and exhibit great originality and innovation through this traditional Japanese musical instrument, with the belief that the drumbeat, like the heartbeat, is the very pulse of life, and the epitome of the Japanese spirit. The Challengers, or "Chousensha," is a new program created by Yamato meant to challenge the possibilities of Taiko drumming. The Challengers is created to reflect the members' own lives and their experiences of challenging their own limits.
No tickets will be required for this free event. Seating will be on a first-come, first-serve basis.
Roxane Gay
The season will continue with acclaimed author and New York Times opinion writer Roxane Gay on Feb. 8, 2018, at 7:30 p.m. Her work, which features prominent LGBTQ characters and themes of sexual assault, feminism, and body image, has been published in many mediums – novels, essay collections, short story collections, and even a memoir, Hunger, which was published in June 2017. Her New York Times bestselling essay collection, Bad Feminist, was published in 2014 and is, to Gay, more about humanity and empathy than feminism.
No tickets will be required for this free event co-sponsored by WKU's Gender and Women's Studies program, which focuses on the ways in which gender affects people personally, socially, and culturally.
Paul Alan Cox, Ph.D.
A native of Utah and Wyoming, Paul Alan Cox graduated from Brigham Young University with a degree in botany and philosophy. He has published over 200 scientific papers and four books. His current ethnobotanical research is focused on neurodegenerative illness with the goal of discovering new therapies for ALS and Alzheimer's disease.
In 1997, Time magazine named Cox one of 11 "Heroes of Medicine" for his work in ethnobotanical drug discovery. Cox founded and is chairman of Seacology, an environmental organization headquartered in Berkeley, Calif., which has preserved 98,000 acres of rain forest and 1.7 million acres of coral reef on islands throughout the world. He is also chairman of the Advisory Committee for the National Park of American Samoa, a park which he was instrumental in establishing.
Cox will speak on Feb. 13, 2018, at 7:30 p.m. As with the other events, there will be no tickets necessary, and seating will be on a first-come, first-serve basis.
SEE RELATED VIDEO HERE
Making Note
Yamoto, the Drummers of Japan, will take the stage in Van Meter Hall on Feb. 2, 2018, at 7:30 p.m.
Roxane Gay will be speaking on Feb. 8, 2018, at 7:30 p.m. in Van Meter Hall.
Paul Alan Cox will be in Van Meter to speak about his work with the environment on Feb. 13, 2018, at 7:30 p.m.
All events are free of charge to anyone who wishes to attend. There are no tickets or reservations for either event; seats are filled on a first-come, first-serve basis. Doors open at 6:30 p.m. Limited disability parking is available next to Van Meter Hall and in Potter Lot.
Information about the current Cultural Enhancement Series can be found online at wku.edu/culturalenhancement or on Facebook and Twitter.
For questions specific to the individual events, please email cultural.enhancement@wku.edu at least three weeks prior to the event or call the WKU Fine Arts Box Office at 270-745-2497.
Southern Circuit Tour of Independent Filmmakers
Southern Circuit will be touring the southern part of the country, bringing new independent films to audiences' towns. This spring, they will be coming to the Capitol Arts Center, 416 East Main Street, in downtown Bowling Green where they will take audiences away from their phones and televisions by showing independent films – live.
Deej
Abandoned by his birth parents and presumed incompetent, DJ Savarese ("Deej") found not only a loving family but also a life in words, which he types on a text-to-voice synthesizer. As he makes his way through high school and dreams of college, he confronts the terrors of his past, society's obstacles to inclusion, and the sometimes-paralyzing beauty of his own senses. In his advocacy on behalf of other nonspeaking autistics, he embraces filmmaking and poetry and discovers what having a voice can truly mean. See the film at the Capitol Arts Center on Feb. 20, 2018, at 7 p.m.
Admission to all of the films is free; no tickets are necessary. As with the Cultural Enhancement Series, seating is on a first-come, first-serve basi