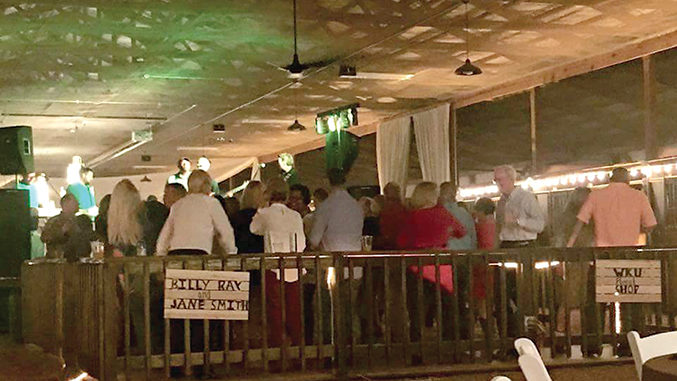 by Jennifer Brashear
Make a date before the ghosts and goblins fill the streets to dance the night away in support of Hospice of Southern Kentucky.
Highland Stables presents the return of HSK's Light up the Night the evening of Thursday, October 26. Be ready to dance off the delicious dinner with the exceptional entertainment of Tyrone Dunn and Kin-Foke under the chandelier-adorned wood beams of the beautiful "rustic, yet refined Southern Kentucky Barn" (www.highlandstablesbg.com) located at 1301B Hunts Lane in Bowling Green.
Before the real party begins, our guests will enjoy a moment to mingle while the drinks are poured. The good times will continue as they take part in a custom dinner by Dianne Thurmond Catering. With a menu of pork with chutney and sides to fill your palette with the delights of fall, guests will savor each bite of the autumn-inspired night.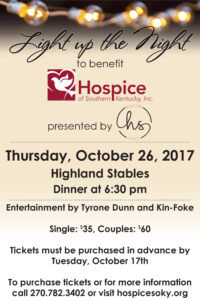 During dinner or after the music has begun, we will feature a Message in the Bottle. Guests may purchase a bottle to receive wonderful donated items. The items have been donated from local businesses and range from handcrafted jewelry to restaurant gift cards to cleaning services. Pick your bottle from the bucket, and go home a little happier.
This relaxed evening event will be Thursday, October 26, with dinner beginning at 6:30 p.m. and Tyrone Dunn and Kin-Foke as the featured entertainment for the night. Tickets must be purchased in advance by Wednesday, October 18.
Tickets prices are single $35, and couple $60. To purchase tickets or for more information, please contact HSK at 270-782-3402 or www.hospicesoky.org.
Hospice of Southern Kentucky is a nonprofit hospice agency that serves a nine-county area in Southern Kentucky, and has been providing care to terminally ill patients in our service area since 1981. We offer a professional staff that provides skilled and compassionate care. We are also home to the Hospice House, a beautiful 10-suite facility with state-of-the-art equipment as well as our home care. Events like Light up the Night help raise funds for end-of-life care regardless of the patients' ability to pay, so patients and families receive care and support when it's needed most.