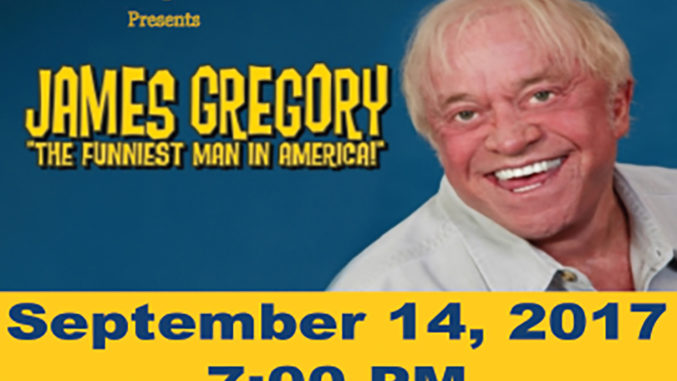 by Brownie Bennett
"THE FUNNIEST MAN IN AMERICA" is coming to Franklin! That's right – The Franklin-Simpson Community Arts Council is bringing James Gregory, the well-known comedian, to perform in Franklin on Thursday, September 14 at 7 p.m. at the Goodnight Auditorium. Tickets are available at the Gallery on the Square, 110 N. Main St., Franklin, 270-586-8055, or online at www.franklinsimpsonarts.org. Cost for reserved tickets are $25 and balcony seating is $18. Sponsors are Franklin Rotary Club, Franklin Pallet/Lighthouse Storage, Susan Layne/Legacy Group Properties, Deweese Construction, Dan Coates/Franklin Coatings and David Akins Construction.
James Gregory creates an evening of non-stop laughter with a wry sense of the absurd, a Southern accent and universal storytelling. The ridiculous, the common and sometimes even the simplest events all become hilarious in the hands of this master storyteller and world-class comedian. However, Gregory is not your typical comedian. He was not the class clown in high school, did not grow up planning to go into the entertainment business, and did not start his comedic career right out of college. His material is G-rated, and if he veers into the political realm at all, it is in a non-offensive way. He doesn't bombard the audience with one-liners but is more of a storyteller. Gregory has never been a TV or movie star, preferring radio appearances on both syndicated (John Boy and Billy, Rick and Bubba and others) and shows.
Gregory is a Georgia native now living in Woodstock, Ga. He found his way into comedy purely by accident. A salesman by profession (who also worked stints with the U.S. Postal Service and Defense Department), he and his buddies used to frequent The Punchline in Atlanta, which in 1982 became the first stand-up comedy club in the Southeast. One Tuesday night, which was open mic night, Gregory's pals talked him into getting onstage. He tried it again the next week and, oddly to him, became an instant hit. A month or so later, the club asked him to become the regular emcee, and, voila, a career was born.
"Not in my wildest dreams did I ever think of getting in the entertainment business," he said. "I'd never given it a single thought. Then it became something to do for fun, but in a matter of months, I realized that possibly I could make money doing it."
The early and mid-80s was the era of the comedy club boom with hundreds of clubs springing up nationwide, seemingly overnight, and Gregory broke in at just the right time to ride that wave until it crested. By early 1983, many comedy clubs were opening in the area, and he was not only working all over the Southeast; soon it got to be nationwide. He would even drive to Oklahoma, work six nights a week and make $400.
His career got a major shot in the arm, again purely by accident, in 1986, when a columnist for the Huntsville (Ala.) Times, happened into one of his shows. In his column a couple of days later, the columnist wrote of Gregory, "In my opinion, he's got to be the funniest man in America." Naturally, Gregory put the quote in his promo kit, and before a show in St. Louis a few weeks later, it showed up in the St. Louis Post-Dispatch. "I got to thinking, 'I may have found something here,' " said Gregory, laughing. "They had said it – I didn't say it – so I decided I'd try to use it as a marketing tool." It must have worked because 30 years later, he's still using it.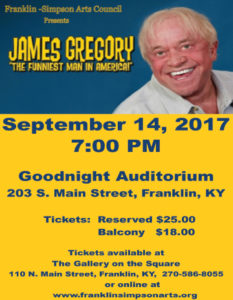 By the mid-1990s, the comedy club phenomenon had worn off, and many comedians fell by the wayside. But the tenacious Gregory didn't just survive, he prospered because of a few changes he made to his act and his business model. Rather than waiting for the phone to ring, he went out and began booking himself into theaters, clubs and special events. He rented the venue, did his own publicity and marketing, named the ticket price, and kept everything over expenses.
He also cleaned up his routine, explaining his reasoning thusly: "When you're doing clubs that sell liquor, it's all adults, and pretty much anything goes. But when I started doing theaters, obviously kids 9 to 13 can come, so it just makes good sense to keep it clean. Say Mr. and Mrs. Jones come and buy two tickets, but if they bring their two kids, you've sold four tickets. You've doubled your audience. Basically, it was just a sound business decision."
So, when James Gregory brings his knee-slapping, front-porch humor into the Goodnight Auditorium on September 14, feel free to bring the kiddies and anyone else who loves to laugh. He's still, after all, the funniest man in America!
DIAMOND STUDS RE-SCHEDULED! Previously scheduled for September, the Dinner Theatre performance of "Diamond Studs," based on the life and death of Jesse James and his band of outlaws has been rescheduled for November 10,11, and 12 at the Roxy Theatre in Franklin. "Diamond Studs" is a saloon musical… a rip roaring country and western rendition of the Jesse James saga that even had New York critics stomping their feet to the music. Jesse James is seen as a frustrated Southerner at the end of the Civil War, hamstrung by Northern limits imposed on the losers' personal freedom. He turns to bank and train robbery, ultimately to be done in by his pal, Bob Ford, for the sake of reward and publicity
The Friday and Saturday performances on the 10 and 11 will begin at 6 p.m. at a cost of $30 for dinner and the play. The Sunday afternoon performance will be $17 for the play and dessert only and will start at 2:30 p.m. Tickets are available at the Gallery on the Square, 110 N. Main St., Franklin, 270-586-8055, or online at www.franklinsimpsonarts.org.
If you have any questions about either of the above-mentioned events, please call the F-S Community Arts Council Director, Brownie Bennett, at 270-776-5783.