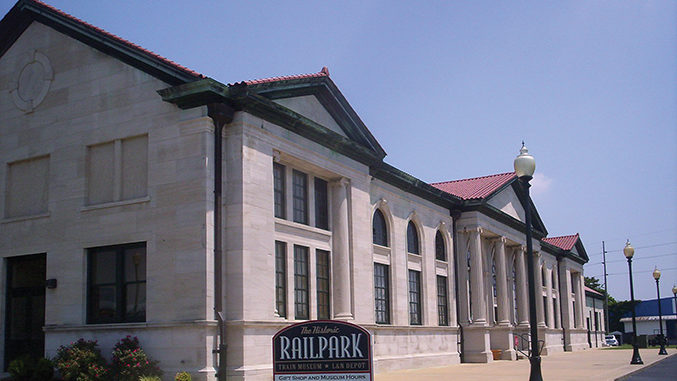 by Jamie Johnson
Ten years ago, September 2007, the Historic RailPark & Train Museum officially opened the doors to the general public as a tourist attraction.
Before we were ready to greet tourists, there were some very important people who would forever change the fate of the grand 1925 L&N Depot. In 1993, a group of concerned citizens banded together to save the depot. Then, in 1994, the first railcar was placed and laid the footing for the beginning of Historic RailPark. And in 1996, the Warren County Public Library opened the first digital library in Kentucky in the Depot.
Friends of the L&N Depot formed in 2003 and began with a mission to facilitate displays and programming which would preserve and present railroad history in the context of its impact locally and nationally. This mission continues to be our focus as we grow.
Today we offer a two-story museum with exhibits and displays featuring information on the Civil War, The Great Train Chase and passenger travel. Our five restored railcars give visitors the opportunity to step back in time and see the cars as they were in their glory days. We have three additional railcars on site – a red caboose that is used for escape games and birthday parties, one of the last remaining WWII Hospital Cars that we are currently raising funds to restore, and a "Jim Crow" passenger car that is partially restored.
Exciting events give the local community another reason to visit the RailPark. Romance at the RailPark is a Valentine's event that offers dinner aboard our 1946 Duncan Hines Dining Car. Events like Brunch with the Bunny and the Polar Express allow families with children to spend time at the RailPark creating memories.

Everything we do is made possible by our volunteers at the RailPark. As a non-profit, we depend on such resources in order to keep the doors open. Volunteers give nearly 4,000 hours of their time to our mission. Serving as tour guides, maintaining the model train display, helping with special events and maintenance of the building and trains are just a few of the things accomplished by volunteers.
Like every non-profit in existence, we depend on financial support. Through various grants, local agencies and businesses, we have received so much support over the years. Individuals with a love for history and trains have given generously to help us get to where we are today. We count on that generosity to keep going.
We are amazed at the progress we have made in 10 years, and we are excited for what the future holds. We invite the community to our 10-Year Anniversary Celebration & Fundraiser at the L&N Depot on Saturday, September 9, 5 to 9 p.m. Enjoy an evening of making memories and taking a look back at our accomplishments.
The evening will be filled with photographs that will tell the story of the L&N Depo, along with food, beverages, live music by BandZazzy and a silent action! Tickets are $25 per person. Four or more guests can reserve a table. For tickets, call us at 270-745-7317 or stop by and see us at 401 Kentucky Street in Downtown Bowling Green.
 About the Author:
Jamie Johnson is Executive Director of Historic RailPark & Train Museum/L&N Depot in Bowling Green.