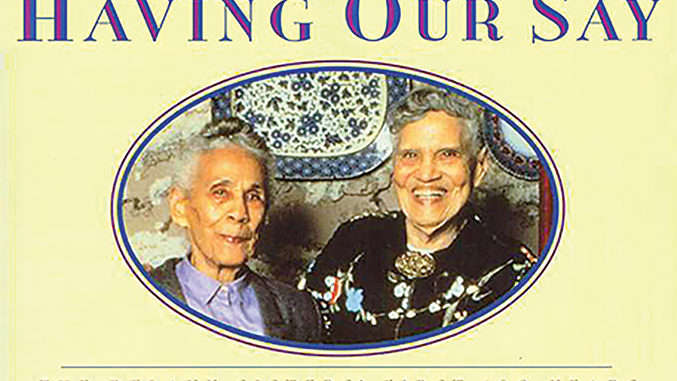 Submitted by Brownie Bennett
The history part begins in February with the dinner theatre production of Having Our Say… the Delaney Sisters' First 100 Years. Starring NANCY UHLS as 103-year-old Sadie Delany and MAXINE CARTER as 101-year-old Bessie Delany, the F-S Arts Council is pleased to present this play based on a true story about sisters who take us on a remarkable journey through the last hundred years of our nation's history, recounting a fascinating series of events and anecdotes drawn from their rich family history and careers as pioneering African-American professionals.
Sarah Louise (Sadie) and Dr. Annie Elizabeth (Bessie) extend an invitation for you to come and visit them in their home. They will enjoy sharing with you their experiences, which have spanned over a century. They will tell it like it was, giving a historically accurate, nonfiction account of the trials and tribulations they faced during their life. Some tales are good, some are sad, some will just warm your heart, but all tales are always told with wit and wisdom.
Sadie and Bessie are daughters of Henry Beard Delany and Nannie James Logan. Henry was born into slavery and was just 7 years old when the Civil War ended. He was fortunate in the fact that he had been taught to read and write at his young age. After the war, he was able to attend school, and in 1881, Rev. Owen Thackera funded a scholarship that allowed Henry to attend St. Augustine's College in Raleigh, N.C. He studied theology, music and other subjects and eventually became the first African-American to be elected Bishop of the Episcopal Church in the U.S. He met and eventually married Miss Logan, and they stayed in Raleigh, where he worked and taught at a college where he became the vice principal. They raised ten children who all went on to achieve advanced degrees and became successful professionals.
Sadie followed in her parent's footsteps and became an educator. She moved to New York City where she attended Pratt Institute in Brooklyn, then transferred to Columbia University where she earned a bachelor's degree in education in 1920 and a master's of education in 1925. She became the first African-American to teach domestic science on the high school level in New York City. After graduating from St Augustine's College, Bessie followed her sister to New York. There she also attended Columbia University and earned a Doctor of Dental Surgery (DDS) degree in 1923. She was the second black woman licensed to practice dentistry in New York State.
The Delany sisters lived together in Harlem, N.Y., for many years, eventually moving to the Bronx while it was still rural, and finally to Mt. Vernon, N.Y., where they bought a house with a garden on a quiet street. Neither ever married, and the two lived together all of their lives.
Please come and join Sadie and Bessie. They say having you will enrich their lives. And you just may find that the visit will enrich your life as well. Their story is not simply African-American history or women's history, it is our history, told through the eyes of two unforgettable women as they look not only into the past but also ahead into the twenty-first century.
The play will be directed by Barbara Shriver who directed Raisin in the Sun, Barefoot in the Park, and Witness for the Prosecution. The performances will be held at the Roxy Theatre in Franklin on February 23, 24 and 25, 2018. Tickets are $30 each for dinner and play on Friday and Saturday, 23 and 24, starting at 6 p.m. Sunday, February 25, the price will be $17 for dessert only and play starting at 2:30 p.m. Tickets are available at the Gallery on the Square in Franklin, 270-586-8055 (Not open on Monday), or online at www.franklinsimpson.org. TICKETS ARE LIMITED SO GET YOUR TICKETS SOON! Deadline to purchase will be Thursday February 22 at noon (for catering purposes). For any questions, please call 270-776-5783.
Upcoming Shows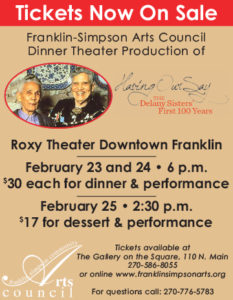 Fantasy is alive and well with the F-S Arts Council's Youth Theatre Production of the musical Willy Wonka Jr. This Roald Dahl musical combines elements of both his 1964 novel, Charlie and the Chocolate Factory, and of the 1971 American musical fantasy film, Willy Wonka & the Chocolate Factory starring Gene Wilder.
The delicious adventures experienced by Charlie Bucket on a visit to Willy Wonka's mysterious chocolate factory will light up the stage in this captivating adaptation of fantastical tale. Featuring the enchanting songs from the 1971 movie in addition to a host of fun new songs, Willy Wonka Jr. is a scrumdidilyumptious musical guaranteed to delight everyone's sweet tooth. This musical follows enigmatic candy manufacturer Willy Wonka as he stages a contest by hiding golden tickets in five of his scrumptious candy bars. Whoever comes up with these tickets will win a free tour of the Wonka factory, as well as a lifetime supply of candy. Four of the five winning children are insufferable brats, but the fifth is a likeable youngster named Charlie Bucket, who takes the tour in the company of his equally amiable grandfather. The children must learn to follow Mr. Wonka's rules in the factory – or suffer the consequences.
Willy Wonka Jr. will be directed by Elizabeth Cook. With a cast of approximately 60 talented youth between first and eigth grades, this will be a performance that will be enjoyed by the whole family. It will be held in the Goodnight Auditorium in Franklin and tickets will go on sale the first of February.
In April, the Arts Council will once again touch on some history….a little area history, about one of most famous historical characters of all….. Jesse James, the famous outlaw. Postponed from a previous date, we will be presenting a musical based on the life and death of James and his band of outlaws.
Diamond Studs is a saloon musical… a rip roaring country and western rendition of the Jesse James saga that even had New York critics stomping their feet to the music. James is seen as a frustrated Southerner at the end of the Civil War, hamstrung by Northern limits imposed on the losers' personal freedom. He turns to bank and train robbery, ultimately to be done in by his pal, Bob Ford, for the sake of reward and publicity. This will be performed as a dinner theatre at the Roxy Theatre. More details and ticket information will be coming soon.
For more information on any of the above-mentioned events, please call Brownie Bennett, executive director of the Franklin-Simpson Arts Council, at 270-776-5783.