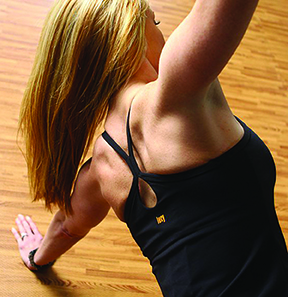 Meet me at the barre
 by Samantha Pennella
It's quite common that you'll hear other clients and myself say, "I can't… I have barre." This statement is almost always followed by a puzzled look and a response of, "What is barre?" Contradictory to what you may have heard, barre is a hybrid fitness routine designed for EVERYONE. Often, people are clueless to what barre exactly is or have this negative preconception and are never willing to give it a try. Barre Co. is a local, homegrown barre studio in Bowling Green that has been providing south central Kentucky with its expertise in barre for over seven years. The founders, Jennifer Travelsted and Danielle Smith, have created a method of barre to target any client's needs. The classes are full of modifications and advancements so you are able to tailor the perfect workout for yourself. Barre is a full body workout that is broken down into sections that focus on toning your core, sculpting your arms, lifting your glutes, and tightening your thighs. Don't be intimidated by or underestimate the two-pound weights. Barre Co. has designed a method to successfully strengthen your muscles while creating a nice, long, lean look to prevent bulk.
While I may be partially biased, I have found barre to be a phenomenal cross-train for several other activities. I have spent many hours on the yoga mat and in the gym but reaped the most benefits by adding barre to my regiment. With the hectic flow of life, you may be convinced you do not have time for a fitness class. However Barre Co. has made it easy for you to fit their classes into your schedule by offering their total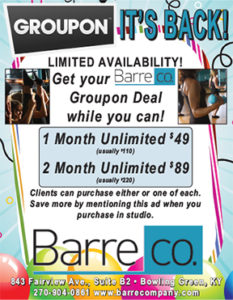 body workouts, in 30 minutes or 55 minutes, with a variety of class times spread throughout the day. For me, Barre Co. is more than a fitness class, it is an experience. With welcoming spirits and fun music, Barre Co. provides a positive atmosphere to grow and discover your health and fitness potential.
No matter your age or fitness level, I challenge you try a class at Barre Co. The first class is always FREE so you have NOTHING to lose. The hardest part is walking through the doors, and from there we'll take care of you. Our mission at Barre Co. is more than just providing you with a satisfying workout, we are helping you create a stronger, healthier you. Be sure to keep an eye out for our Groupon special releasing in July. We are offering our one-month unlimited for $49 (originally $110) and our two-month unlimited for $89 (originally $220). Be sure to take advantage of these discounted prices because we can't promise you won't become addicted. So, fall into fitness this month and meet me at the barre!
About the Author:
Samantha Pennella joined the Barre Company team in 2016. With over 20 years of dance experience, she graduated from Western Kentucky University with a B.A. in Dance along with taking many courses in exercise science. She has studied at the American Academy of Ballet in New York and has internationally performed in Italy. She is a certified personal trainer and loves helping people reach their fitness goals!