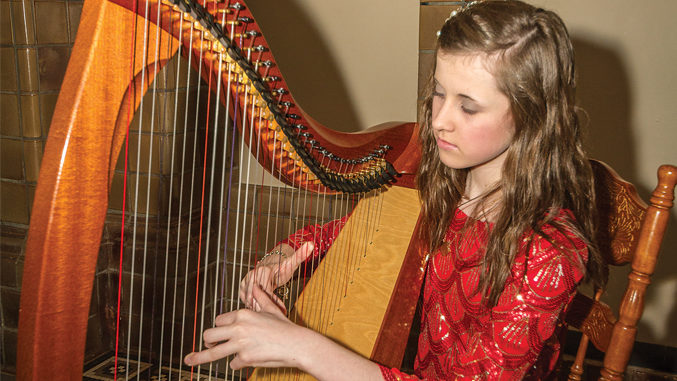 by Jamie Johnson
Romance will soon fill the air at the Historic RailPark & Train Museum. Back for a fourth year, this fundraising event is a wonderfully unique dining experience for Valentine's Day. Romance at the RailPark, a romantic dinner on the Duncan Hines Dining Car, is a perfect way to show that special someone just how much they mean to you.
The evening will start with an opportunity to sip wine while enjoying the sounds of live music in our grand L&N Depot Lobby. A variety of wines will be available at our cash wine bar hosted by Reid's Livery Winery. The winery offers unique wines made from grapes grown right here in Kentucky. Many of their wines boast international awards and will pair perfectly with your dinner.

New this year will be a preview of women's fashions on display from Kenzie Parker Boutique. The new boutique has just opened in historic downtown Franklin, Ky. Owner Jamie Lee Tuck is excited to share her boutique offerings during the event. A limited selection will also be available for purchase at the event. Then whisk your sweetie away to cozy up together for a movie.
Make your way to our private theater located on the second floor of the museum for a romantic movie about a Harvey Girl. Our very own "Harvey Girl" will be your movie attendant. As westward expansion spread across the United States, so followed the railroads. Passengers often spent days on board as they traveled. Staying fed was an issue during the days of early passenger service. Being left to fend for oneself for a meal during a station stop opened the door for exploitation. Riders were often the victims of poor food and high prices, if anything to eat was even available. This was the inspiration that resulted in the Harvey Girls. The Harvey Girls cemented their legend in 1946 with the release of the movie by the same name directed by George Sidney and starring Judy Garland. Finally, dinner is served.
Climb aboard our fully restored 1949 Duncan Hines Dining Car and enjoy a fantastic meal created by Tiffany Prince and her staff at BG Catering. When making your reservation, you will be able to select from a variety of dinner options for $119 per couple…
French inspired Beef Bourguignon, a slow roasted beef in a burgundy wine sauce with mushrooms and carrots served atop mashed potatoes and a side of roasted almond green beans,
Champagne Chicken baked in a white cream sauce with mushrooms and carrots served atop mashed potatoes and a side of roasted almond green beans, or
Shrimp Scampi with garlic Parmesan Alfredo sauce on fettuccine noodles and topped with sautéed shrimp in butter and garlic.
All dinners include a dinner salad, croissants with honey butter drizzle and dessert choice of Chocolate Opera Cake or Fresh Strawberry Cake.
This truly unique dining experience will be one you will never forget. We will provide you with a keepsake photograph that will capture the essence of the evening.
Want to do something a little more special? We offer additional options to have several items waiting on your table upon your arrival. Add appetizers, roses or even a bottle of wine. We will be glad to talk with you about ways to make your experience extra special.
Reservations are required and can be made by visiting our website at www.historicrailpark.com. We can assist you in making your reservation by phone or for questions please call 270-745-7317.
Dinner Times:
Saturday, February 10: Noon, 4 p.m., 6 p.m. & 8 p.m.
Sunday, February 11: 1 p.m. & 4 p.m.
Wednesday, February 14: 4 p.m., 6 p.m., & 8 p.m.
Movie Times:
Saturday, February 10: 2 p.m., 4 p.m. & 6 p.m.
Sunday, February 11: 2:15 p.m.
Wednesday, February 14: 4 p.m. & 6 p.m.
This year we are pleased to have Kenzie Parker Boutique as a sponsor and Media Partner WNKY.
The Duncan Hines Dining Car is available for any special event imaginable. It is perfect for private parties, corporate outings, employee appreciation dinners, and birthday parties with a maximum seating of 48 people. This unique dining car is a perfect setting for rehearsal dinners or a bridal shower. Imagine being surrounded in warmth, history and charm. We specialize in distinctive and unforgettable events, an escape from the ordinary. Let your imagination and our venue create the perfect event.
About the Author:
Jamie Johnson is Executive Director of Historic RailPark & Train Musuem.