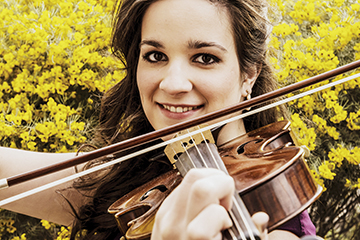 submitted by Katherine Messer
Playing the viola is rewarding and fun
While the violin is a more recognizable instrument, learning to play the less common viola can be a fun alternative. After just a few lessons you will be able to play recognizable melodies. By learning some basic viola skills, you will be rewarded with a variety of repertoire that is fun to play. From jazz to pop, or classical to contemporary, many styles of music can be played on the viola. Did you know that a quartet NEEDS a violist? Playing music together is often more fun than playing alone!
The viola register is similar to the human voice
Every instrument has its own register and tone quality. If that were not the case, a symphony would be incredibly monotone, music of different cultures would fall flat, and the sonic world we live in would be the equivalent to seeing the world in black and white; not without beauty, but missing an element that can enhance quality of life. The viola's register is within the range of the human voice. While your dog may be a bit more inclined to sing along with a violin, you might find you have a deeper connection to the rich, mellow voice of the viola.
Your friends will be impressed
Playing a stringed instrument is not only a highly specialized skill, it is also a great hobby for any age. If you put the time and work into learning to play the viola and share your talents with others, they will, without a doubt, be impressed.
Scholarship money for college
Viola players are much more rare than a violinist, cellist or flautist. This puts universities at a deficit when putting together a symphony. Whether or not you ever attend college as a music student, there is often scholarship money or a stipend available to any student proficient on the viola and willing to play in th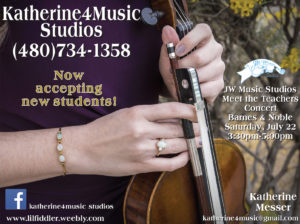 e school orchestra. (Of course, there is even more money available for those attending a music school as a viola major in performance or music education!)
Improves cognitive function and can make you smarter!
Studies have consistently revealed that music can have a measurable impact on the mind. Music has even been shown to help alleviate some of the symptoms of brain degenerative diseases. Whether you have a child you think would benefit from an alternative learning environment, or you're a young person trying to improve your test scores, or even an adult looking for a new way to keep your mind sharp, adding music lessons can help. Come to Barnes and Noble on July 22 at 3:30 p.m. to Meet the Teachers from JW Music Studios and see if viola or one of the other instruments offered might be just right for you or someone in your family.
Performance opportunities
So, you've put in all the hard work. You have practiced consistently, learned the music assigned, and arrived at your lessons prepared, but now what? Now, you could show all of your family and friends what you've learned at a recital! Performance opportunities like recitals are a great way to increase self-confidence, meet other students at different skill levels, and become inspired by other musicians.
Gives you a confidence boost to prepare you for other situations in life!
Learning to play the viola and perform for enjoyment can prepare you for other situations in life. Recitals, group classes and playing with other musicians can help you build confidence and address performance anxiety. These experiences can improve your public speaking, presentation skills, focus, and stage presence. The groundwork that goes into being prepared for weekly lessons also teaches diligence, patience, and other valuable personal attributes like assertiveness and poise.
About the Author:
Katherine Messer has recently relocated to Bowling Green to work as a professional musician. She holds a Bachelor's of Music Degree from Belmont University in Nashville, Tenn. She has also completed the training as a certified Suzuki violin/viola teacher, attended the Tuttle Workshop in New York and participated in the Rolland Pedagogy Conference in Tempe, Ariz. Currently, Katherine is an intern teacher at JW Music Studios and will begin taking viola, violin, fiddle, and piano students this summer. Julianna Waller and Katherine are collaborating as dynamic and eclectic performers featuring violin/fiddle, viola, mandolin, and guitar. Katherine began studying the violin with the Suzuki method when she was five years old. At age eight, she began fiddling, and in early high school, she picked up a viola and fell in love. With her collection of instruments in hand, she landed a scholarship to a prestigious university. She has performed on national television and with artists such as Kathy Mattea, Michael W. Smith, Ricky Skaggs, and Denyce Graves.
Katherine is not only an accomplished violist, but also a champion fiddler ranked nationally in the top 10. She is well versed in world styles and has opened for world artists such as The Fretless, Harald Haugaard, and Alistair Fraser with Natalie Haas.