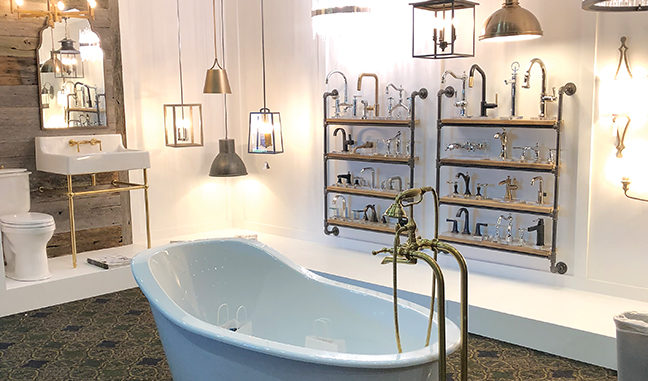 What if I told you there was a place where you could get advice on that next home project you were working on or find the answers to what products and materials you needed…a place where you can get ideas and inspiration from quality companies without driving all over town?
Well you can find all that and more at Home Expo 2019, March 1-3, at Sloan Convention Center. Advice, ideas, experts and inspiration all under one roof. Whether you are interested in a new home, remodeling, or just looking for a few ideas to spruce up your home, this is the place to be.
Many of our exhibitors display products as you would use them in your home. You can touch and feel a finished product, rather than just view it on a computer screen.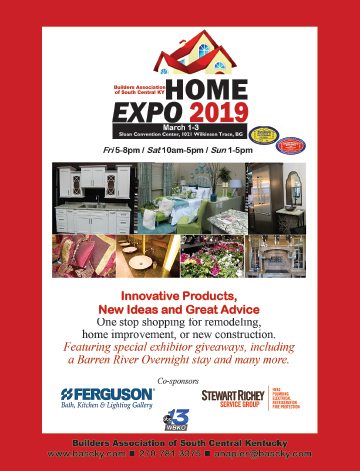 We'll have experts in interior design, new construction and remodeling, outdoor landscaping, pool and spa, kitchens and cabinets, financial advice, furnishings and much, much more. And you might just find out some insider secrets to achieving your best results.
Home Expo 2019 also offers a great chance to win one or more prize giveaways directly from the exhibitors. This year's prizes already include a $100 gift certificate from Barbara Stewart Interiors Corner Studio; a "Welcome" sign made out of metal and barnwood valued at $100 from new exhibitor Wildfire Metalworks; and a special overnight Barren River Lake State Resort Park from Friends of Barren River Lake. And there will be even more!
Some of the fun includes a special March of the Penguins. Junior Achievement Penguin Plunge volunteers will leap into a freezing pool of water to raise money for school programs. Baker Arboretum will once again have a beautiful display. And we'll also have the return of TriStar Greenview Hospital.
Home Expo 2019 runs March 1-3 at the Sloan Convention Center. Hours are Friday 5-8 p.m., Saturday 10 a.m.-5 p.m., and Sunday 1-5 p.m. Tickets are one for $10 or 2 for $15. Children are free when accompanied by an adult. Tickets are for sale at the door the days of the event. A portion of ticket proceeds will go to the Gary Raymer Scholarship Fund.
Home Expo 2019 is brought to you by the Builders Association of South Central Kentucky, a non-profit trade association, chartered in 1967, dedicated to quality, ethics and education in the building industry for the benefit of both members and consumers. Home Expo 2019 is presented in partnership with our co-sponsors Ferguson Bath, Kitchen, & Lighting Gallery and Stewart Richey Service Group, as well as returning media sponsor WBKO.
For more info, call the Builders Association of South Central Kentucky at 270-781-3375or visit our website at www.bascky.com or facebook at Builders Association of South Central Kentucky. You'll find information on professional builders and remodelers and all those who help with new construction, remodeling or home improvement.
-by Anita Napier
About the Author: Anita Napier is Chief Executive Officer of Builders Association of South Central Kentucky