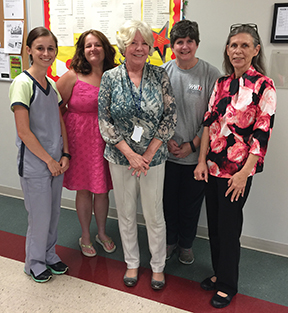 How many C's in expert?
 by Shannon Gottke
How many C's in Kara Beth Pedigo? Ten! Kara Beth Pedigo, CPC, CEMC, CPCD, CPMA, CCC. Let's break that down. She's a CPC (Certified Professional Coder), a CEMC (Certified Evaluation and Management Coder) who can code everyday office visits, a CPCD (Certified Professional Dermatology) who knows her way around an epidermis, a CPMA (Certified Professional Medical Auditor) who can make sure that everyone else is doing it correctly and that Medicare standards of documentation are met, a CCC (Certified Cardiology Coder) who can code, if not the affairs, the treatment of the heart and, finally, a CRC (Certified Risk Adjustment Coder) who can answer the question, "Just how sick IS this patient?" from the data recorded in his chart.
One of the first questions most children hear is "What do you want to be when you grow up?" Most don't have a ready answer. Kara Beth Pedigo was not unusual in that way. What was unusual about Kara Beth was that though she didn't know what she wanted to do, she knew where she wanted to do it. Both her mother and her grandmother worked at Graves Gilbert Clinic in Bowling Green, and she knew that she wanted to be a third-generation employee.
Kara Beth was very active throughout her childhood and on into high school; she played softball, basketball, and golf, and even gave gymnastics an abbreviated whirl. She recalls that she counted on her mother always being in the stands or on the sideline and she was rarely disappointed. Kara Beth sped through high school and didn't slow down. She graduated from Edmonson County High School in May of 2007 and enrolled at Daymar College in June. In July, she added the first of what you can see are many letters to her name, "Mrs."
Kara Beth is a self-professed introvert who has never felt at ease in large groups. She knew that she wanted to continue her education, and she knew that she wanted to do it in a place where the classes were small and she could develop relationships. On her initial visit to Daymar, her only other criterion was that whatever she studied had to prepare her to work at Graves Gilbert Clinic. "What program do you have that will allow me to work there?" she wanted to know. She met Mollie Banks, program director for the Billing & Coding Specialist program, who explained what the program entailed, and it all came together.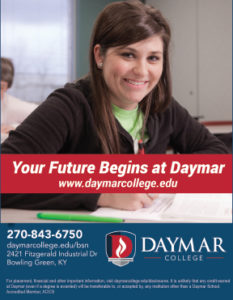 Soon, Kara Beth was immersed in classes and homework and realized she had embarked on a journey that would be difficult but well worth it. "It's time consuming, but if you follow the steps, it's not hard. You just have to know where to look for the information. It's problem solving with guidance." She enjoyed having someone to "push" her and a group with whom she could measure her progress.
In her last quarter, Kara Beth was able to secure an internship at Graves Gilbert Clinic, and by the time her 90 hours were complete, she had been hired. She transitioned smoothly from intern to employee and soon added a few more letters to her name: CPC-A or Certified Professional Coder Apprentice. She found her job to be very compatible with young family life after her daughter was born. Her workday usually begins at 7 a.m., and this gives her evening hours and weekends to enjoy watching and coaching her daughter's softball team and weekends to pursue other hobbies – college softball tournaments (an acquired taste for her husband), board games, races of all types and any activity pursued by her daughter.
One of the attractions of billing and coding is that after one has gained enough experience it is often (but not always) possible to work from home. However, Kara Beth enjoys the structure provided by going to work outside the home and the interaction with her coworkers.
Kara Beth has continued to evolve along with her field. "Change is always happening in this field. You can never be settled because Medicare doesn't settle. You can never know everything about billing and coding because there are too many changes." She loves the strategy of the field and loves her job. "They will have to carry me out kicking and screaming!"
What has inspired her to keep adding credentials? In short, it's a love of credibility – the desire to give people confidence that billers and coders know what they're doing because it affects everyone who receives healthcare.
Billing & Coding Specialist is just one of the programs offered by Daymar College. For more than 50 years, Daymar has been serving communities and providing skilled education to its students. Daymar operates nine campuses in Kentucky, Tennessee and Ohio, along with its online course programming. Daymar is accredited by the Accrediting Council for Independent Colleges and Schools, and offer programs in business, health care, health and wellness, criminal justice, and technology and design. For placement, financial and other important information, visit daymarcollege.edu/disclosures.