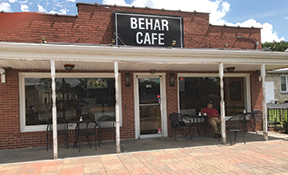 Remembering neighborhood groceries
by Mary Alice Oliver
Bowling Green's history is as intriguing as a beautifully woven tapestry. The warp and woof of a fabric are woven together to create a variety of designs to stimulate our appreciation. Likewise, the people and events of our past have intermingled to develop a society worthy of our deepest admiration and enjoyment. Each phase of our history spawned new threads of ideas and conveniences to make our lifestyle more productive and comfortable. One facet of this progress was the appearance of neighborhood groceries.
As the town grew and new neighborhoods began to appear, resourceful individuals realized the need for basic supplies to be easily accessible. Most homeowners did not have private carriages for transportation to the city's center of commerce. In addition, most houses did not have electricity or regular means of preventing food spoilage. Therefore, having a store within walking distance of their home was a blessing. Rapidly the neighborhood stores began to appear throughout the settlement.
These stores were usually small enterprises managed by "mom and pop" owners. The business was often housed in an extension of or next to their residence. They were individuals who knew the neighborhood and could call their customers by name. They adjusted their stock to match the needs and demands of those nearby. This made the stores not only useful but also a place where people felt comfortable and felt their needs were addressed. Since the economy at the time was not stable, many local groceries allowed their customers to charge their orders and the patron would return at a later time to pay their bills. This loaning of credit was an important help to the growing community and enabled many families to become economically secure. In this way, the friendly store served like a bank and played an important role in our city's history.
The groceries were small in size. Items were usually stacked high where the grocer could retrieve them. The customer would hand their list of items to the owner who would fill the order, especially since self-service was not a usual pattern in these intimate settings. In this situation, customers found time to visit and relate with others. This made these stores important not only for the service they provided but because they help build community and friendships by bringing neighbors together.
The normal daily visit would bring the resident to the grocery to retrieve fresh vegetables, meat or routine essentials. Canned goods were available but not in large quantities since successful canning was not fashionable until after World War I. Jars of peanut butter were common. Interestingly, the owner would make sure the jars were turned over each evening and turned back over each morning to allow the oils to penetrate the peanut paste, since the production of peanut butter at this time was not a homogenized process.
An example of the neighborhood grocery was the Gunnells' store at 7th and College Street (where the Chamber of Commerce is located today).
The main feature of the business was the meat counter. Behind the counter was the large wooden butcher block used to slice bread and meats. (Sliced bread was not available until Wonder Bread company first marketed it in 1930.) In front was the meat display case that contained all kinds of cold cuts in long cubes or square loafs. There were several kinds of cheese, American and Swiss, plus bologna, pickle loaf, liverwurst, olive loaf and salami, to name a few selections. According to the ethnic background of the local people, there may even have been items like English "bangers" and Jadgwurst. These deli meats would be sliced as the customers ordered and wrapped in the brown paper from the large roll on the counter. One could even get sausage-on-a-roll (hot dogs) in most neighborhood groceries once the deli item became famous in America in the later 1800s.
One item sold in the stores was new following World War II. Butter became scarce and expensive after the war. Businesses were running low on vegetable fat source because the demand for soaps was so popular fats and oils supplies were not always available. By accident, a chemist named Michael Chevreul formed a pearl of animal fat and he called it margarine. Since it was so cheap, it became a substitute for butter. It did, however, have an unusual look, so a pack of yellow food coloring was provided to give the margarine a resemblance to butter. Corrine Meeks tells of an interesting experience one family had with this pack of coloring when it exploded in their kitchen requiring them to repaint the kitchen. Today, margarine is still chosen over butter by shoppers because of its low cost and better health benefits.
Neighborhood groceries were popular all over the city. They were equally plentiful. For example, in 1922 with a population of 9,757 residents, the city had 82 neighborhood groceries. In some areas, (on Broadway where Kentucky Fried Chicken is today) there were two groceries side-by-side with another a half block away. This sounds strange, but one must realize each catered to a certain group of people and were not always that competitive with each other. From the tollbooth to the square on College Street there were 11 establishments serving the nearby residents. That's eight blocks with 11 stores and certainly illustrates the abundance and importance of these individual enterprises. It is true that some of these stores did not last for a long time. Even those existing would change ownership often but the service to the area continued. A few of these stores were like those of the Kister family who had several small stores around town or like Kroger, which later became a chain. Kroger, like A&P, Safeway, National Tea, America Store, and Houchens, were all part of the chain store explosion in the 1920s.
Bowling Green old-time residents (the mid-life and older individuals that grew up in this city) will always relate their stories about their favorite neighborhood grocery in Bowling Green. Lawyer Tom Poole harbors many memories of the family owned Pac-A-Sac grocery on Russellville Road. While working for his father one evening, young Tommy Poole was robbed. The impression of that evening is still fresh in his mind, along with many delightful experiences of the business and their clientele. Lawyer David Price tells how he always stopped for a five-cent Popsicle at the Page neighborhood store on Morgantown Road when he went home from school. He and Publisher Tim Hurst both remember the large wheel in the Page Grocery. You could spin the wheel and if it landed on the number of your purchase, you got the items free. Most groceries used interesting features like the wheel to entice the customers and to make a visit to the neighborhood store a pleasant event.
In our society, we have commercial businesses that are similar to neighborhood groceries of the late 1800s and the first half of the 20th century. They are efficient and convenient, but they do not possess the intimate and personal touch that the early groceries obsessed. The fabric of our society was strengthened and blessed by the ingenuity and dedication of these early owners and their contribution will forever be remembered in the history of our community.
About the Author:
 Mary Alice Oliver is a Bowling Green native who is a 1950 graduate of Bowling Green High School. She retired from Warren County Schools after 40 years in education. Visiting familiar sites, researching historical records and sharing memories with friends are her passions.