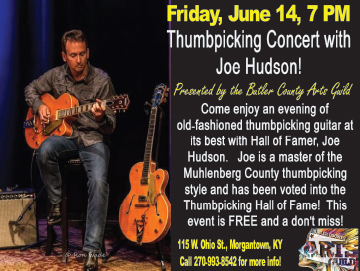 The Butler County Arts Guild was founded in 2013 by a group of citizens with the goal of promoting the arts while also improving the community. One of the Guild's first projects was painting murals in Morgantown, including one designed and overseen by artist Andee Rudloff on the side of a courthouse square building that became the site of the summer series Music at the Mural.
Just five years later, in May 2018, and following a two-year remodeling project funded by donations and volunteer labor, the Guild opened its own offices, gallery and event space on Ohio Street, across from the Butler County Library, and began offering a year-round schedule of events.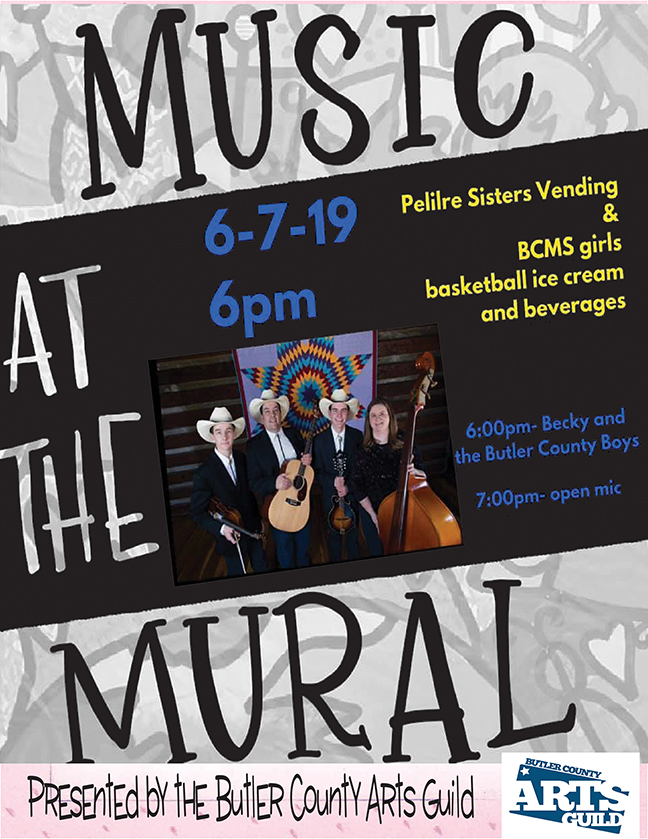 The Music at the Mural series continues to be part of the annual programming, but musical events have expanded to include classes and additional performances.
Dr. Sherri Phelps, a voice instructor at Eastern Kentucky University with a master's degree from Julliard and a Ph.D. from the University of Kentucky, returned to her Butler County roots in May, 2018, to give a concert at Aberdeen Baptist Church. Guild President Roger Givens said the program was not only a wonderful evening of music, but it also provided an example to the youth of Butler County of a local person with a successful career in the arts.
Other musical programming during the year included a concert by banjo player Sue Massek, formerly of The Reel World String Band, and a series of free guitar lessons that concluded with two recitals. The lessons were under the tutelage of Frank Hobbs, who was a member of the '50s band the Exiles and later a steamboat pilot.
Another continuing event has been the Butler County Historic Bus Tour, hosted each year by Givens.
In 2016, a new event was the all-day West Ohio Street Chalk Art Festival on Ohio Street in front of the Guild building. Scheduled each September, this year's event will be expanded to include a juried crafts show in addition to refreshments and music.
Exhibits during the past year at the Guild's gallery have included The Makings of a Master, a touring exhibit from the Kentucky Arts Council promoting its apprenticeship program; Butler County Handmade Quilt Show; Stained Glass by Adrianna Exhibit; and a Christmas Village Display. These were in addition to the ongoing exhibition of works in a variety of mediums by local artists. Additionally, local writer Linda J. Hawkins conducted a writing workshop in conjunction with the quilt exhibit.
Last but not least, member Nick Greenman wrote and directed our first-ever play, "Fair-Minded Favor," a children's play which was successfully presented at the Good News Community Center. More plays for children and adults are planned.
FUTURE EVENTS
The Guild has been selected to participate in the VSA Kentucky Side by Side program that was created to help children and young adults with special needs realize their creative potential. Side by Side classes are scheduled for June 10 through 14 from 2 to 3 p.m. daily. Students in grades one through twelve are eligible to apply, whether they attend a public or private school or are home schooled.
Students will work one-on-one with a local artist. Lead artist is local potter Suzanne Renfrow. Other artists participating will be muralist and painter Gail Smrtic and woodcarver Sam Gentry.
Registration forms are due by June 3 and are available at the Guild office at 115 West Ohio Street during gallery hours, Fridays 3 to 7 p.m. and Saturdays 10 a.m. to 2 p.m. To obtain a form outside those hours, contact Renfrow at: csrenfrow@yahoo.com or 270-526-2740.
Other scheduled events and activities include:
Music at the Mural returns June 7, continuing the first Friday of each month through October.
Hall of Fame bluegrass thumb picker Joe Hudson FREE performance, June 14 at 7 p.m.
Events still in the planning stage are:
"Art with Andy," an evening with local actor Andy Stahl.
Workshop and free fiddle lessons by Wendell Snodgrass.
A writers' group is also forming. For more information contact Karen Harper Lain at 270-993-8542.
HOW TO GET INVOLVED
Officers and boards members are President Roger Givens, Vice President Karen Harper Lain, Secretary Jo Bright, Treasurer Don Lindsey, and board members Nicholas Greenman and Dakota Hayse. Founding president was Josh Hampton, succeeded by Gary Smrtic and Karen Harper Lain.
To suggest future programming, to join or to obtain more information contact The Butler County Arts Guild, 115 W. Ohio St., Morgantown KY 42261, follow them on Facebook at facebook.com/ButlerCountyArtsGuild or email rggivens@att.net. Monthly meetings are held the last Tuesday of each month at 6 p.m. All are welcome to attend and be a part of the Art Guild's vision for our community!