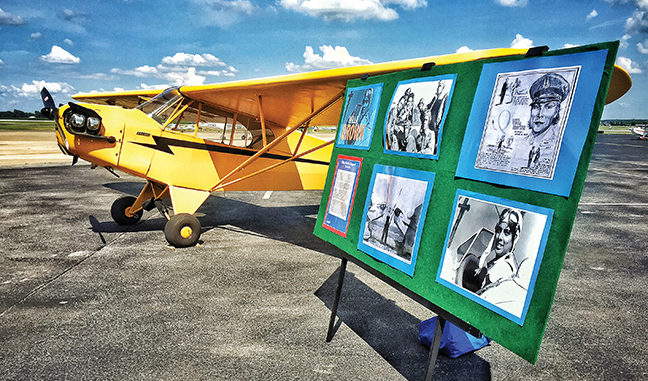 Kick the summer season into high gear with Aviation Heritage Park's June line-up of family-friendly events.
Vacation takes off with the CAF Red Tail Squadron's Rise Above exhibit sponsored by PPG Aerospace. You'll find this free exhibit in the old Sear's parking lot area of Greenwood Mall June 12-13, 9 a.m to 7 p.m., and June 14, 9 a.m to noon. This exhibit travels in a customized 53′ trailer that expands into a 160-degree curved movie screen and seating for 30 in climate-controlled comfort. A 14-minute original movie called "RISE ABOVE" focuses on what the Tuskegee Airmen – pilots and their support personnel – had to overcome to be allowed to fly and fight for their country during World War II. It also features some great flying footage of a rare P-51C Mustang that is enhanced by the wrap-around screen.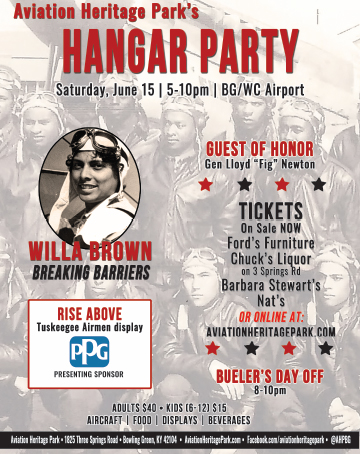 Interested in some high flying? Hangar Party weekend you can hop a ride on a DC-3 or a Stearman at the Bowling Green airport. Rides on the DC-3 are offered three days… Friday, June 14, 3-6 p.m.; Saturday, June 15, 10 a.m.-2 p.m.; and Sunday, June 16, 11 a.m.-2 p.m. The price to ride is the cost of a membership to their Flagship Detroit Foundation benefitting the preservation of the airplane – $100. The Stearman will offer rides one day only, Saturday, June 15, with a cost of $120 to be paid in cash only.
There will be additional information on the Aviation Heritage Park website and social media.
You know your family doesn't want to miss AHP's annual Hangar Party. This year's event is Saturday, June 15, from 5 to 10 p.m., at the Bowling Green/Warren County Regional Airport.
Your ticket is ALL-INCLUSIVE giving you full access to a barbeque dinner, free drinks (including adult beverages), aircraft displays, and local favorite Bueler's Day Off providing popular dancing music at 8 p.m. The Tuskegee Airmen exhibit Rise Above, sponsored by PPG Aerospace, will also be open at the Hangar Party, free to party goers.
Air Force Gen. Lloyd W. "Fig" Newton, the Thunderbird's first African American pilot and a retired 4-star general, will be a special guest at this year's Hangar Party. General Newton flew in the Thunderbirds with General Dan Cherry, a local Air Force veteran whose story is told at Aviation Heritage Park through the display of Phantom 550, the park's first artifact.
The highlight of the 2019 Hangar Party will be the big "reveal" of Aviation Heritage Park's recently restored Piper J-3 Cub honoring Glasgow native Willa Brown Chappell, a woman influential in breaking through racial barriers in the aviation field through her achievements as pilot, instructor, and activist. Chappell was the first African American woman in the US to hold both a mechanic's license and a commercial pilot's license and went on to train many of the men who became the famed Tuskegee Airmen. Several of her descendants will be on hand for the event.
Party gates open at 5 p.m. Tickets are on sale now and available at Ford's Furniture, Nat's Outdoor Sports, Chuck's Liquor on Three Springs Road, and Barbara Stewart Interiors, or can be purchased on the Aviation Heritage Park website, AviationHeritagePark.com. Tickets are $40/adults, $15/children age 6-12, five and under are free. Any remaining tickets will be available at the door.
If you or your organization is interested in sponsoring a table, please contact AHP at 270-421-4885.