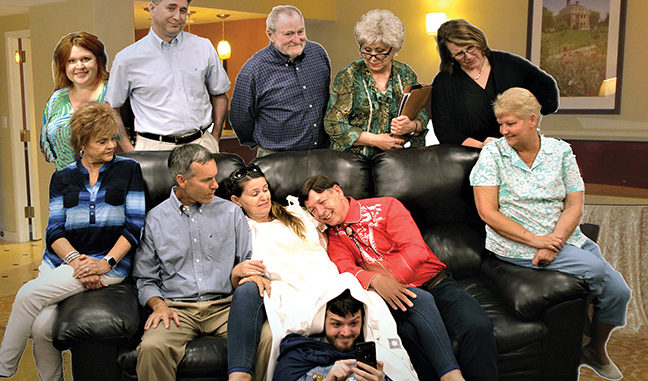 Summer is in full swing, and the Far Off Broadway Players are busy working on not one, but two shows for you this July! As part of their effort to provide top-notch, entertaining shows for everyone, they are offering both a dinner theatre production and, for the first time, a musical for young audiences!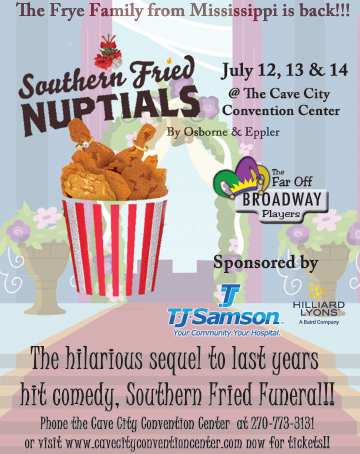 Last summer audiences had a fantastic time laughing at our hit comedy Southern Fried Funeral at the Cave City Convention Center. If you enjoyed that, you'll be happy to know that Frye family is back! This time however, there is a wedding in the future! In Southern Fried Nuptials, it's a year after the action ended in the original play, and the newly widowed Dorothy Frye (Sandy Roberts Dunn) is adapting to her new life, rather tentatively, while preparing for the pending wedding of her oldest daughter, Harlene (Carla Bush), to her childhood sweetheart Atticus Van Leer (John Botts). All manner of hilarity ensues during the play's two acts, what with Dorothy's other daughter, Sammi Jo (Sheila Waddle Atwell), working hard to keep her own baggage neatly stored out of sight, and wacky young son Dewey Jr. (Allen Hogan) riding herd over the passel of wedding gifts that are arriving daily at the Fryes' front door. In addition to the family, we have Martha Ann (Leigh Witty), Fairy June (Julie Adkins), wedding coordinator Ozella Meeks (Peggy Goodman), Carter Canfield (Randy Chapman) and a local businessman named Vester Pickens (Phil Patton) who has obvious romantic designs on the Widow Frye, meaning you are surely in for a night of laughs!
Once again, the delicious buffet dinner will be catered by Diane White. A cash bar will be available. Doors open at 5:30 p.m. with dinner at 6 p.m. and show at 7 p.m. Call the Cave City Convention Center 270-773-3131 or go to www.cavecityconventioncenter.com for reservations. Tickets are $35 for dinner theater on July 12 and 13 and $15 for matinee show only on July 14 at 2 p.m. Dinner reservations are encouraged by July 5. After July 5, please call for ticket availability. Don't miss Southern Fried Nuptials by Osborne and Eppler at the Cave City Convention Center, July 12, 13 and 14!
Two weeks after all your laughter and a great dinner, make plans to set sail to the beautiful Plaza Theatre for the Far Off Broadway Players production of How I Became A Pirate with book, music, and lyrics by Janet Yates Vogt and Mark Friedman. Director Paul Glodfelter, music director Raeanne Brown and choreographer Sara Just present a swashbuckling, fun and snappy production that is sure to please both young people and adults! Join the adventure as young Jeremy Jacob (Creedence Cross) dreams of a life on the high seas, far away from his parents and his baby sister. When Captain Braid Beard (Bruce Brown) notices Jeremy's skill at building a sand castle, he decides Jeremy is just the right person to dig in the sand and help him bury his treasure! Jeremy Jacob joins the pirate crew and learns how to become a pirate while teaching these scallywags a thing or two of his own! You'll love all the pirates including Sharktooth (Jeff Moore), Maxine (Renee Schuler), Pierre (Jamie McKinley), Swill (Mary Todd Simpson), Scurvy Dog (Hope Alyson Deckard), Seymour (Noah Smith) and our Pirate Crew (Tracy Martin, Liz McFarland, Sarah Thurman, Maggie Ballard and Deann Slinker-Phelps).
Audiences may be familiar with this story, which is based on the award-winning picture book How I Became a Pirate by Melinda Long and illustrated by David Shannon. And although there are plenty of things for the kids to enjoy, there is a lot for adults as well! Make sure to bring your family to see How I Became A Pirate at the Plaza Theatre July 26, 27 and 28. Tickets are $5 for children 12 and under and $10 for 13 and older. Contact the Plaza Theatre Box Office at 270-361-2101 or visit www.historicplaza.com for your tickets!
It will be a wonderful July with the Far Off Broadway Players! Make sure to attend both fantastic shows and support the arts in South Central Kentucky!