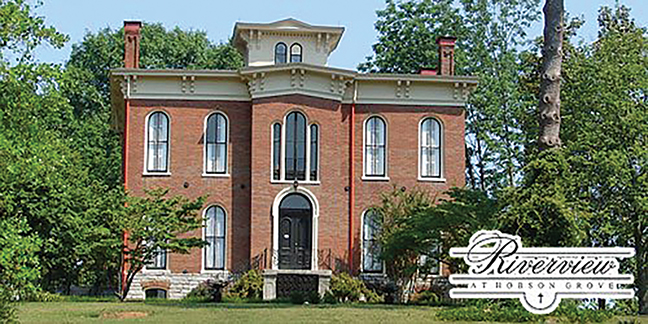 On the night of February 20, 1966, friends congregated in the ladies' powder room at the Bowling Green Country Club. Their topic of conversation was the old Hobson House. The 19th century mansion had fallen into disrepair since the Hobson family sold it in 1950. The ladies knew this piece of Bowling Green history must be preserved for future generations to enjoy and so they leapt into action. The City of Bowling Green had purchased the property in October 1965 for $1. Jane Hines Morningstar, Gertrude Hines, and other prominent Bowling Green ladies met with local civic groups and politicians to secure the funding that would once again make the Italianate home a showplace in Bowling Green. What followed was six years of hard work, including structural and masonry repairs, acquiring furnishings, and the restoration of the beautifully painted parlor ceilings. The dedication of the ladies who met that night in the powder room culminated in the newly restored building's dedication on October 16, 1972, with Governor Wendell Ford, Senator John Sherman Cooper, Senator Thurston B. Morton, and Representative William Natcher in attendance.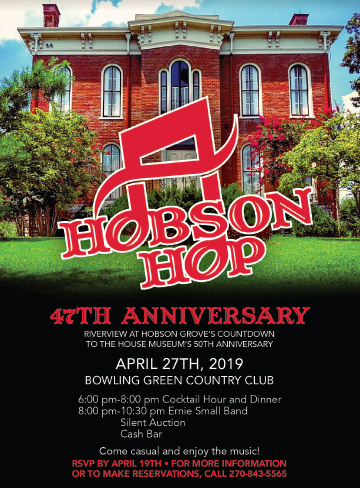 As the first building to be added to the National Register of Historic Places in Warren County on February 23, 1972, Riverview at Hobson Grove has been providing public tours for 47 years. The home is interpreted as a Victorian house typical of a prosperous family in South Central Kentucky post-Civil War. Throughout the years, with the City of Bowling Green as a faithful steward of the home and the help of dedicated friends and volunteers, Riverview at Hobson Grove welcomes visitors from throughout Kentucky, the United States, and the world. The home attracts history buffs, architectural enthusiasts, and those looking for a place to relax in beautiful gardens. Riverview has also become a favorite spot for professional and amateur photographers alike. Throughout the year, there are many opportunities for the public to enjoy special tours and enrichment programs in a beautiful historical setting. Riverview is available to rent for weddings, meetings, and other special occasions.
As the 50th anniversary of the house museum opening approaches, the Friends of Riverview are proud to announce an evening of fun where it all began. Please join us for the Hobson Hop on Saturday, April 27, at the Bowling Green Country Club. Cocktails begin at 6 p.m., and starting at 8 p.m., enjoy the Ernie Small Blues Band, a cash bar, and silent auction. All proceeds benefit Riverview at Hobson Grove.