Grandest Ole Opry Variety Show
Friday, April 26 & Saturday, April 27 – 7 p.m. Allen County Scottsville High School Auditorium 1545 Bowling Green Road
Sponsored by the Scottsville-Allen County Chamber of Commerce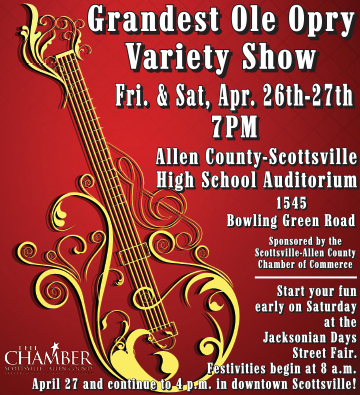 Join the Chamber as we present talented guests, over 30 Opry regulars and some new faces, as they will portray many famous artists that we all know and love. The Grandest Ole Opry has been around for many years, and it only gets better and better. This 3½-hour show is packed full of comedy and music and will bring back memories from long ago. Don't miss this opportunity to hear country music as you've never heard it before.
Jacksonian Days Street Fair
Saturday, April 27 – 8 a.m. to 4 p.m.
Sponsored by the Scottsville Woman's Club
The city square and sidewalks will be the setting for the Street Fair, which will include unique shopping, hand-crafted treasures, collectibles, antiques and more. While you're browsing, try out a new taste from the many bake sale booths and food vendors. Bring your children and let them enjoy the mini-carnival rides and games for all ages! Limited booth space is available for a fee. For more information, contact Arts, Crafts, Etc. Rogerlynn Briddon 270-237-4073 or rbriddon@nctc.com, Gail Benett 270-237-5299 or arlabennett@juno.com/Food Court and Kiddie Carnival Malinda Jones 270-622-5125 or mjones@nctc.com.