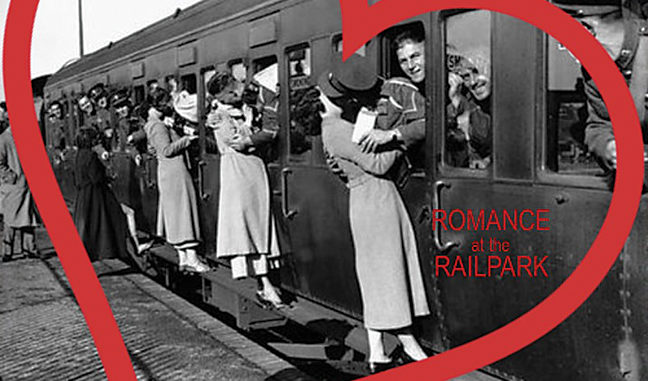 Romance will soon fill the air at the Historic RailPark & Train Museum. Back for a fifth year, this fundraising event is the most unique dining experience around this Valentine's Day. Enjoy a romantic evening with a 1940's flair in celebration of our USO Save the Depot campaign. Dinner on the Duncan Hines Dining Car is a perfect way to show that special someone just how much they mean to you.
The evening will start with an opportunity to sip wine while enjoying the sounds of live music in our grand L&N Depot Lobby. A variety of wines will be available at our cash wine bar hosted by Reid's Livery Winery. The winery offers unique wines made from grapes grown right here in Kentucky. Many of their wines boast international awards and will pair perfectly with your dinner.

New this year will be an opportunity to learn more about one of Bowling Green's newest businesses, Waxing the City. Their Bowling Green studio offers services for both men and women. We are excited to showcase their offerings during the event.
Then whisk your sweetie away to cozy up together for a movie. Guests will make their way to our private theater located on the second floor of our museum to enjoy a true Hollywood classic, Casablanca, the story of Rick Blaine, a cynical world-weary expatriate who runs a nightclub in Casablanca, Morocco, during the early stages of WWII. Despite the pressure he constantly receives from the local authorities, Rick's cafe has become a kind of haven for refugees seeking to obtain illicit letters that will help them escape to America.
And finally, dinner is served. Climb aboard our fully restored 1949 Duncan Hines Dining Car and enjoy a fantastic meal created by local favorite Cambridge Market & Cafe. When making your reservation, you will be able to select from a variety of dinner options for $125 plus tax per couple.
On the Menu
Marinated Flank Steak – The combination of sweet brown sugar, soy sauce, ginger, garlic, and apple juice will have you smiling. The steak is marinated for two days and grilled medium rare.
Bourbon Chicken – A true taste of Kentucky! Chicken breast dipped in house bourbon sauce, grilled, and garnished with green onion.
Roasted Salmon – A classic dish. Salmon fillet topped with a savory house made honey dill glaze and roasted to perfection.
All meals include arugula mandarin dinner salad, fresh baked rolls, and lemon pepper bacon wrapped asparagus, roasted sweet red radish potatoes, and roasted balsamic honey carrots for sides.
Dessert Selections include…
Caramel Pecan Cheesecake – A creamy style cheesecake with homemade graham cracker crust and caramel made from scratch.
Chocolate Seduction Pie – A delectable rich fudge pie with thick dark chocolate.
This truly unique dining experience will be one that you will never forget. We will provide you with a keepsake photograph that will capture the essence of the evening.
Want to do something a little more special? We offer additional options to have several items waiting on your table upon your arrive. Add appetizers, roses or even a bottle of wine. Call us to talk about ways to make your experience extra special.
Reservations are required and can be made by visiting our website at www.historicrailpark.com. We can assist you in making your reservation by phone or for questions please call 270-745-7317.
Dinner Times:
Thursday, February 14, 5:30 & 6:45 p.m.
Friday, February 15, 5:30 & 6:45 p.m.
Saturday, February 16, 5:30 & 6:45 p.m.
Movie Times:
Thursday, February 14, 4:45 & 6:30 p.m.
Friday, February 15, 4:45 & 6:30 p.m.
Saturday, February 16, 4:45 & 6:30 p.m.
This year we are pleased to have Waxing the City Bowling Green as a sponsor and Media Partner WNKY.
The Duncan Hines Dining Car is available for any special event imaginable. It is perfect for private parties, corporate outings, employee appreciation dinners, and birthday parties with a maximum seating of 48 people. This unique dining car is a perfect setting for rehearsal dinners or a bridal shower. Imagine being surrounded in warmth, history and charm. We specialize in distinctive and unforgettable events, an escape from the ordinary. Let your imagination and our venue create the "Perfect Event."
-by Jamie Johnson
About the Author: Jamie Johnson is Executive Director, Historic RailPark & Train Museum