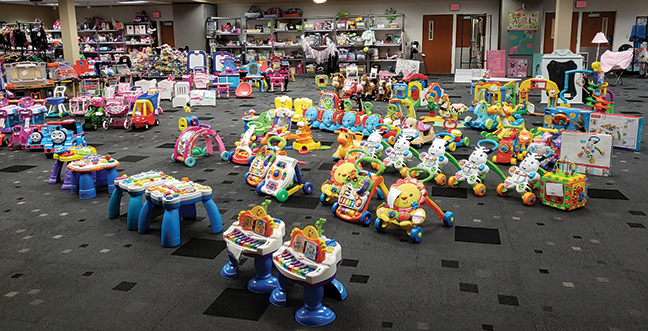 Consign
1. Make it a family activity and tag with your kids! Little ones enjoy helping out, and they can be great at highlighting your cards, pinning items to hangers, or passing supplies as you go. Let your kids tag their own toys and then shop on half-price day for something new and exciting! Teach your older children the concept of selling clothes they can't wear anymore and using the cash to purchase what they need for the next season. This can help them learn resale value, and may encourage them to take care of their clothes to maintain that value.
New to consigning?
– Earn 70% of your sales (you prep, price, and tag your own items).
– It only takes 25 items to consign and there is no maximum limit!!
– Pick up or donate your unsold items.
– Cash your check!
Volunteer
2. Want to shop earlier than the consignor's private sale on Tuesday but have a busy life? Double your volunteer efforts by inviting Dad or Grandma to work a shift with you and their hours can count toward your earlier shopping time! Alternatively, by working a shift with you, they can earn a companion wristband to shop with you when you go.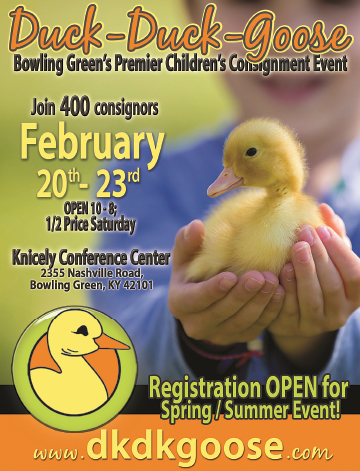 3.Didn't think Duck-Duck-Goose was for teens? Think again! Not only do we have an exclusive teen section with top name brands like Under Armor, Miss Me, and Aeropostale, your teen can also volunteer with you and earn Beta points! Just let us know before the end of your shift and we'll be sure you have the documentation you need. Unloading, loading, and scanning shifts are great for teen guys, as well as helping customers carry items to their cars on busy days like Tuesday, Wednesday, and Saturday. And if your teen daughter prefers working with kids instead of working a sale, we have a few select childcare shifts available.
4.Not sure what to do with the kiddos while you volunteer? Make it a special Date with Dad! Plan some activities and surprises in advance that will make their time together more than just a, "Honey, can you watch the kids for me?" occasion. Order a trial subscription box and save it, buy a new game for them to try out, or plan to order pizza and rent a movie. You get a break from the norm while you volunteer with other moms, and the kids get some special time with Dad!
Shop
5.Friday is for fundraising! Support your favorite non-profit by planning to shop together as a group. Or maybe more practically, create a Facebook event or host an online party where supporters can post pictures of their finds and earn prizes for participating in your fundraiser. Ten percent of every purchase made with a Fundraiser Friday form goes to that organization.
6.Anyone can shop before the public! Here's how: Volunteer one four-hour shift and shop with consignors at 5 p.m. Volunteer two shifts and shop at 3 p.m. Volunteer three shifts and shop at 1 p.m. Volunteer four shifts and shop first at 11 a.m! Volunteer five shifts, shop first at 11.a.m., AND shop before the public on Saturday Half-Price Day!!
Sponsor
7.Get the word out! Sponsor a meal for our volunteers and get a thank you shout out on our Facebook page with over 6,000 followers. In our post, we can promote your business or services, announce your event, link to your website or facebook page, or host a giveaway for you. We love sharing opportunities in our community with our Duck-Duck-Goose family. It's a win for our volunteers, a win for our followers, and a win for you! Email ComePlay@dkdkgoose.com for details.