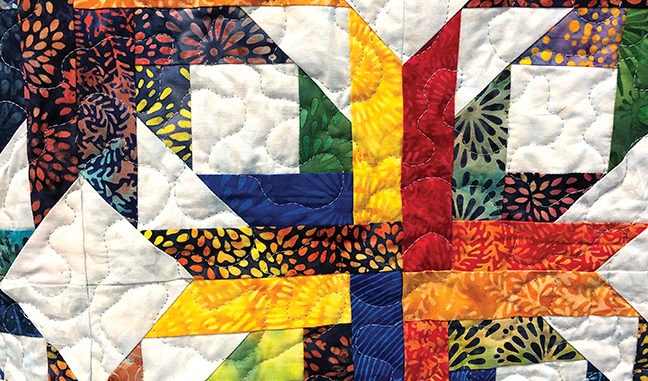 March is National Quilting Month, and Saturday, March 16, is Quilter's Day Out. Quilter's Day Out was first celebrated in Kentucky in March 1990 by the Kentucky Heritage Quilt Society. The following year, the National Quilting Association passed a resolution to take the celebration nationwide. Today, Quilter's Day Out is a well-established celebration in the quilting community. Local guilds and quilting groups offer various activities on the third Saturday in March to celebrate the art of quilting. In our area, Quilting Friends in Barren County and Creative Quilters of Southern Kentucky trade years in sponsoring Quilter's Day Out. This year, Creative Quilters will be hosting a quilt show on Saturday, March 16, from 9 a.m. to 3 p.m. at Calvary Baptist Church, 311 Elrod Road, in Bowling Green. There is no admission fee, but a donation of a canned good for the food bank is welcomed.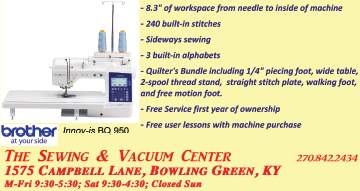 Quilting continues to be a popular activity although our great-grandmothers might not recognize many of the tools we use today. I do think, though, they would marvel at the aids we have today, and I am sure they would have used the tools had they been available.
One tool that has greatly changed is the sewing machine. Many older quilts were, of course, hand stitched and hand quilted. There are still many quilters who produce quilts this way, but many other quilters have embraced using the sewing machine for both piecing and quilting. Today, most sewing machine companies sell models with features that the quilter will use. Models can be found in all price ranges.
If you are looking for a sewing machine to use for piecing and quilting, you may want to consider some of the following features:
Extension table: Several machines include an extension table with the machine or one can be purchased separately. The extension table is especially useful for quilting as you can keep a larger area of the quilt flat for stitching. The table can help to reduce drag on the quilt.
Stitches: Decorative stitches that are useful for the quilter include the buttonhole stitch, feather stitch, and satin stitch. These are used to applique quilt pieces to a background.
Feet: Quilters need a quarter-inch piecing foot, walking or even feed foot, and free motion foot. Some machines will include these with the machine, but for many models, at least one of these will be an additional purchase.
Weight: If you plan to take the machine with you to classes and workshops, consider the weight of the machine. A smaller machine will be easier to transport but may not have all the features you want. Some quilters have two machines – a small one to take to classes and the larger, full-featured machine that stays at home.
Space inside the machine: Manufacturers have listened to quilters and have increased the "harp" or throat space on machines to accommodate queen and king size quilts. As of this date, the largest throat space on a home sewing machine is 11". Most of these machines will be over $1,000.
Another machine that has become very popular for quilters is the dedicated quilting machine. These machines are available in two configurations: one sits in a table and you move the quilt under the needle much as you do on a home machine while the other set-up is where the quilt is mounted on a frame and the quilter then moves the machine across the quilt. Many of these machines can also be operated by a computer so that the quilter sets the pattern and the machine moves itself as it stitches the design.
Come by and see our selection of machines for both quilting and general sewing. We are happy to assist you in choosing the machine that best fits your needs and budget. We also offer one-on-one new owner classes to teach you how to get the most from your machine.
Quilting is creative craft enjoyed by many. If you are interested in learning about quilting or would like to add to your quilting skills, we also offer quilting classes in at The Sewing & Vacuum Center and The Kentucky Quilt Company. Recent offerings have included the Introduction to Free Motion Quilting, Beginning Quilting, and Jellyroll Rugs. A class list is available the store or you can call and be added to our e-mail list.
-submitted by The Sewing and Vacuum Center