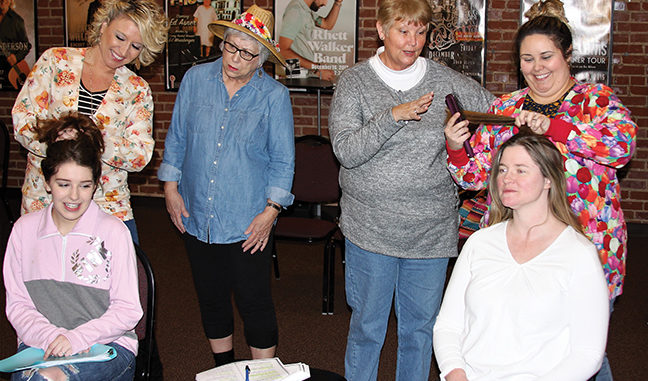 For decades, wonderful theatrical productions have graced the beautiful stage of the Historic Plaza Theatre in Glasgow, Ky., and we at the Far Off Broadway Players are honored to keep that tradition alive in 2019! Usually there are three plays produced each year, but this year, for the first time, we will be presenting five shows, four on the Plaza stage and one at the Cave City Convention Center. Here's a look at what we have coming up this year!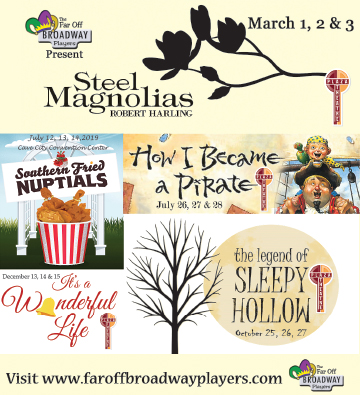 First and foremost, we are bringing back an incredible show Steel Magnolias March 1 through 3 at the Plaza Theatre. This endearing, heartwarming story by Robert Harling is a moving, funny and tragic tale of six unlikely friends who find comfort with each other inside a beauty salon located in northern Louisiana. We are honored to have in our cast Aliea Garner who plays Truvy, Deeann Slinker-Phelps who plays M'Lynn, Julie Adkins as Clairee, Jessica Gilbert portraying Annelle, Leah White playing Shelby, and Peggy Goodman who is playing Ouiser. Please don't miss this show! Get your tickets now by calling the Plaza Theatre at 270-361-2101 or by visiting www.historicplaza.com.
In July we will produce two wonderful shows! Our annual dinner theatre production will take place July 12 through 14 at the Cave City Convention Center. We are so happy to be presenting the sequel to last year's incredibly popular comedy Southern Fried Funeral. Don't miss Southern Fried Nuptials by Osborn and Eppler. Also in July we are proud to announce our very first family musical production, How I Became a Pirate! Based on the best-selling children's book, you and your family will sail off on a fantastic musical excursion when a band of comical pirates' land at North Beach looking for an expert digger to join their crew. Your whole family will fall in love with this delightful and swashbuckling musical adventure! It plays the Plaza Theatre July 26 through 28.
When autumn arrives we will again revisit the spooky, Halloween genre and bring you the classic tale The Legend of Sleepy Hollow. If you loved 2018's Dracula, you won't want to miss this spine-tingling treat! Playwright John Heimbuch spins a lively ghost tale that's deliciously creative. The St. Paul Press says, "The Legend of Sleepy Hollow hews surprisingly close to Washington Irving's nearly 200-year-old tale while adding fresh comic and fantastical elements." It will take the stage at the Plaza Theatre October 25 through the 27.
It seems strange to be talking about the holidays in February, but make plans now to be at the Plaza Theatre December 13 through15. If you're like me, one of your favorite movies is It's a Wonderful Life. And if you're one of those people who can't wait to see it each and every Christmas, then you'll definitely want to be at the Plaza Theatre when it is brought to life on stage! George, Mary, Clarence, all your favorite Frank Capra characters, in this theatrical version of It's A Wonderful Life.
We are so thankful to each and every one of you for coming to see all of our Far Off Broadway Players productions. And if you still haven't been to one of our shows, make 2019 the year! Start it all off with the first show of our 2019 season, Steel Magnolias, March 1 through 3, at the Historic Plaza Theater, 115 East Main Street in Glasgow. Tickets are on sale now at 270-361-2101 or by visiting www.historicplaza.com. Follow us on Facebook and by all means visit our website, www.faroffbroadwayplayers.com. Thank you so much! I know I speak for all our local actors and technical crew when I say we can't do this without you! Come see us in 2019!