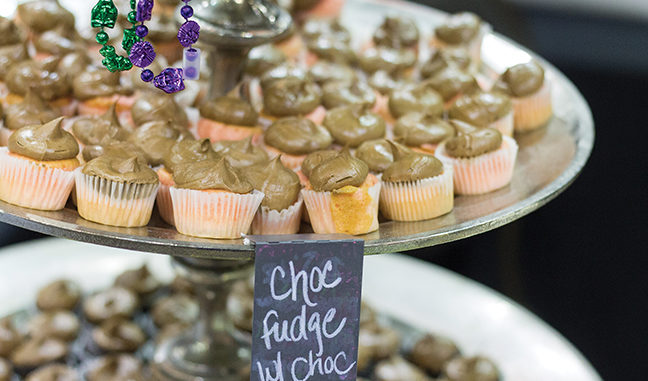 Come one, come all to the 32nd Annual Hospice of Southern Kentucky Chocolate Festival on Sunday, February 17, at Sloan Convention Center in Bowling Green. For one afternoon only, you're invited to indulge in the greatest desserts this town has to offer! Hospice of Southern Kentucky is planning a three-ring spectacle of fun Under the Big Top for this year's festival, where families can enjoy sweet treats and time together, all to benefit a local agency.
Enjoy the expertise and creativity of local bakers, caterers, restaurants, community organizations, and businesses. The Chocolate Festival is a chocolate lover's dreams come true. To gain entrance to the sweetest show on earth, you may purchase tickets at www.hospicesoky.org, visit our office at 5872 Scottsville Road, call 270-782-3402 or tickets may be purchased on the day of the event. Tickets are $15 for ages 13 and up, $7 for ages 6-12, and ages 5 and under are free. The VIP experience is limited to the first 250 guests who purchase tickets at $30 and includes one hour early admission and a free gift. If you're looking to truly get a front row seat to the circus tricks and magic, the VIP experience is where you need to be.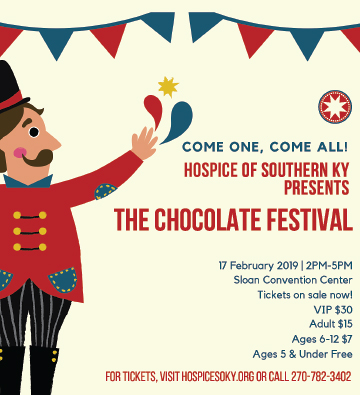 Last year's day of decadence was a huge success for the patients of Hospice of Southern Kentucky and we are ready to bring the magic and deliciousness back. With nearly 30 dessert booths on your path of sweet tooth satisfaction, the day will also host specialty booths where you may find another treat of your liking to purchase. Emcee Tony Rose is back and is gearing up to host another year of event happenings. The festival will also include a "Best Decorated Table" and "Best Dessert" competition, along with our annual local celebrity cookie-eating contest, where competitors stuff themselves for the prized "Champion" status for a year. The silent auction tables will be filled with must haves like gift cards for favorite restaurants, jewelry and much more, so be sure to place your bids throughout the day. Of course, the little chocolate lovers will have plenty to enjoy with their very own Kid's Candy Store where they can fill up their own bag of candy for free. We will also have face painting, games, and much more. The Chocolate Festival is a great day for the whole family to come out to support Hospice of Southern Kentucky.
All proceeds from this event provide support and quality care to terminally ill patients and their families in our community regardless of their ability to pay. The Hospice of Southern Kentucky Chocolate Festival began with a group of hospice volunteers who sought to do just that. For almost 40 years, Hospice of Southern Kentucky has been your local nonprofit leader in hospice care in south central Kentucky. Hospice of Southern Kentucky provides quality care for our patients wherever they call home, whether it be their residence, a nursing home, or assisted living. If additional care is needed, we are also able to offer the only in-patient facility in south central Kentucky, the Hospice House. Our ten private suite facility provides 24-hour a day full medical staff, a chapel, playroom for the kids, and a family kitchen for visitors.
Thank you, south central Kentucky! Because of amazing community support of our events like the Chocolate Festival, we are able to provide Hospice care to those in need.
Whether you're looking to walk the tight rope of treats or juggle chocolate truffles, we encourage you to run away and join the circus on February 17 with Hospice of Southern Kentucky!
-by Mckinze Willard