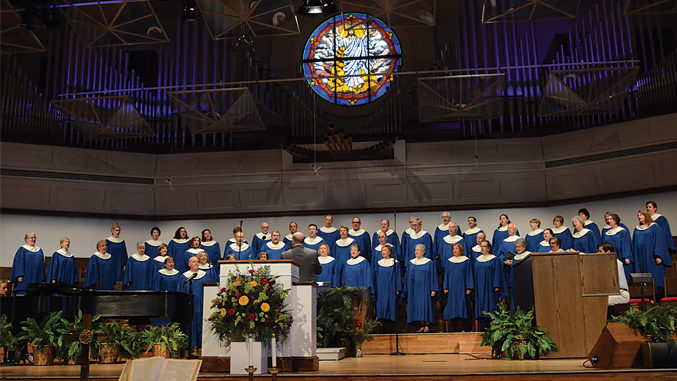 We all love Christmas celebrations, and Bowling Green is filled with opportunities for great celebrations! First Baptist Church of Bowling Green loves being a part of its community and has a long history of contributing to the Christmas season. Through numerous musical presentations and times of worship, the church family at 12th Avenue and Chestnut in downtown Bowling Green has a heart for telling the story of the birth of Jesus Christ. From children's programs and choirs to orchestra and handbells, First Baptist seeks to honor this wonderful and sacred time of year.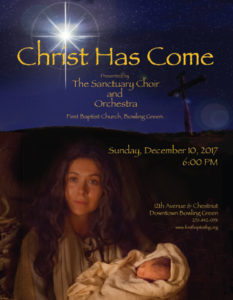 Utilizing both traditional carols as well as new compositions, the 60 voice Sanctuary Choir accompanied by a 20 piece orchestra will tell the story of Jesus' birth in song Sunday night, December 10, at 6 p.m. in the church sanctuary through the work, CHRIST HAS COME. From the familiar "Hark! The Herald Angels Sing" and "O Come, All Ye Faithful" to newer settings "African Noel," "How Glorious the Love of Heaven" and "Gloria," the choir will proclaim the entrance of the Son of God into the world as a little baby born in Bethlehem. This particular performance is a part of the church's gift to the Bowling Green community as we invite all who will to come and worship the Savior with us. The title song for our presentation, "Christ Has Come" written by Phillip Keveren and Kirk Kirkland, emphasizes that thought:
"Mary gazed upon her Child; the Promised One, so meek and mild, and worshiped Him.
Joseph wondered at the sight, God incarnate here tonight, and worshiped Him.
Shepherds heard the angels sing, left their flocks to find the King, and worshiped Him.
Wise men journeyed from afar, seeking Him Who rules the stars, and worshiped Him.
Let ev'ry heart prepare Him room; Ev'ry knee shall bow, ev'ry voice proclaim:
Hallelujah, Christ has come!"
 Please join us at 6 p.m., Sunday night, December 10, for CHRIST HAS COME!
First Baptist has other avenues for worship this Christmas as well:
Sunday, December 3, 6 p.m. – Music and Missions Program present A Night of Wonder featuring First Baptist's Children's Choirs, Chimes and Youth Choir
Sunday, December 10, 6 p.m. – CHRIST HAS COME
Sunday, December 17, 6 p.m. – Church Family Christmas Celebration – featuring First Baptist members past and present sharing their musical gifts
Sunday, December 24, 5 p.m. – Christmas Eve Candlelight Communion – an intimate time of worship utilizing soloists and handbells and sharing Communion
During the coming year, 2018, First Baptist Church will celebrate its 200th anniversary as a congregation here in Bowling Green. It has a rich heritage of worship and faith and has a deep love for this city and region. Being involved in numerous mission endeavors locally provides members of the church an avenue of ministry to peoples' spiritual, emotional and physical needs. The church's mission statement states: "We are a community of believers in Jesus Christ as Lord and Savior who are seeking to advance God's Kingdom through Worship, Bible study, missions, evangelism, fellowship, and prayer." To share the good news of the gospel story of Jesus Christ with all who will hear is our highest aim and to live our lives demonstrating the grace of God is our daily goal.
Dr. Jeff Reynolds serves as the pastor of First Baptist Church having begun his ministry here in January of 2016. The church has five additional pastoral staff ministers in specific areas of work:
David Tooley – Executive Pastor
Ricky Clark – Minister of Music
John Beach – Minister of Students
Vicky Donelson – Minister of Childhood Ministries
David Garrett – Minister of Christian Life Activities and Church on Main Pastor
Bible Study for all ages is held every Sunday morning at 9:45 a.m. and the church gathers for worship at 11 a.m. It would be an honor to have you visit us in person on Sunday morning or for any of our Christmas gathering times or you can join us by live television broadcast on Sunday mornings at 11 a.m. on WBKO Television in Bowling Green. More information about the church can be found online at or by calling the church office at 270-842-0331.