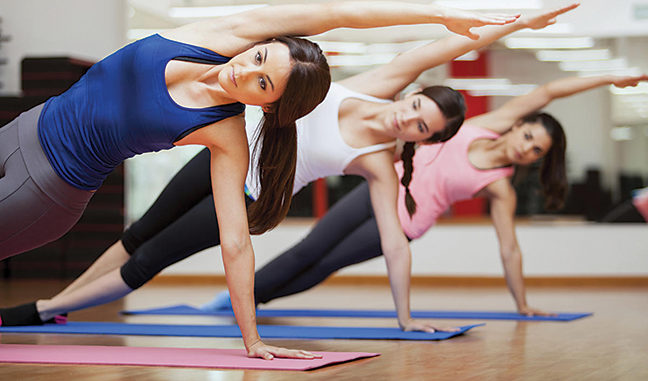 "Breathe, hydrate, and move your body every day." That is the dominant theme that my students at Hot Yoga Bowling Green hear in most every class. The slogan "Breathe always, hydrate often" applies to everyone's life whether you are a yoga practitioner, hardcore athlete, or someone who enjoys a brisk walk as your choice for fitness activity.
First and foremost, the question you may have is "WHAT is Hot Yoga?"
Yoga began centuries ago as a discipline to unite as well as heal the mind, body and spirit – practicing "asana," or postures, and controlling the breath while focusing the mind and taking responsibility for one's actions and well-being. These original core elements have not changed, but our American society has sweetened the pot with some exciting presentations!
Thus "Hot Yoga" was born, partly from a need for an ideal environment for the body to stretch, open and move, and partly from the demands of a sophisticated fitness-savvy public wanting a challenging, calorie-burning and FUN workout that would be second to none while still incorporating the mental focus, relaxation, calmness, and flexibility creation from longtime yoga traditions. If that is what you are looking for, you have FOUND it.
As this author explored many avenues of fitness for a number of years, I experienced team sports (basketball, baseball, and softball), running, weights, martial arts, swimming, outdoor and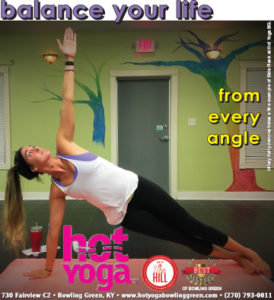 indoor cycling, Pilates, group fitness classes, and … yoga. They were all great and had their own merits, but when my wife and I attended our first Hot Yoga class a few years ago, the total of all things GOOD about fitness activities came together in that one experience.
Hot Yoga has it all, and then some. First of all the room is heated between 95 to 105 degrees and humidified to a controlled percentage, while being filtered to purify the air – removing allergens, germs, viruses, and odors. The heat and humidity will warm and open the muscles and tendons while moisturizing the skin (unlike a sauna, which is very drying) and allowing you to go deeper into movement and stretch without injury. Breathing becomes very deep, ligaments, tendons and internal organs alike will be moved, stimulated and thoroughly affected, your mind will focus and your heart will pump newly oxygenated blood to every part of the anatomy. Muscles become longer, leaner, toned and energized rather than tight and short. Hot Yoga participants will burn 200, 800, and as many as 1,500 or more calories per hour while getting healthy cardio work, which typically does not create an anaerobic state.
Men and women, boys and girls of all ages and physical abilities are enjoying and benefiting from Hot Yoga. Many professional athletes including players from the NFL and the NBA are preventing injuries while getting stronger and more flexible with a Hot Yoga practice.
Don't be concerned about not being flexible, as the classes will help make you more and more flexible. Don't worry about being overweight, because I have lost 45 pounds, and some of my students have lost more than 100 pounds from a regular attendance/practice and responsible eating. And don't worry about a lack of knowledge about yoga and the postures, as we will instruct everyone through each movement with detailed directions. Our goal is not to bend you into a pretzel, but rather to encourage you to do your best, accept yourself, and let your best be good enough. Remember that every day is different, and so are our bodies and our focus each day. Consistency is the big master key. Keep in mind that the things you practice most often and with the highest motivation and dedication are what bring lasting changes and positive results!
Experience Hot Yoga and sweat, laugh, have fun and feel fatigued but greatly energized at the same time. This activity works to de-stress your life and improve your physical and mental well being. We are involved at Hot Yoga Bowling Green with your progress, as we practice together and become happier and healthier. Many of our students have reported lower cholesterol ratios, lowered blood pressure, weight loss, and relief from arthritis pain, as well as improvement with scoliosis, fibromyalgia, and help in recovering from back, hip, and knee surgeries and various injuries. As always, your primary care physician or other trusted healthcare professional is your best guide to what activities are best for your individual needs. With your health care professional's approval, your next step is to simply give Hot Yoga a try. Be patient with yourself and your practice. We feel that you will be happy with the results, while opening a brand new chapter in your healthy life! Join us as we say, "Experience it, love it… Hot Yoga!"
And now, here it is: Your October 2018 "Pause for a Pose" – The Side Plank (dandasana variation)
Begin in standard plank position with engaged core and smooth breathing. Inhale, then slide your left hand along the surface of your mat or towel upon the exhale until it is directly under your face. Inhale, then during your next exhale lift your right arm toward the sky while pivoting the torso to the right and stacking the right leg on top of the left leg. The right foot may be placed on the left foot with ankles together, or you may allow the right foot to drop slightly behind the left foot and lock the right toes to your mat for more stability. Look up at the right hand while reaching upward and breathing through 3 to 5 smooth, slow breaths. Keep your muscles all engaged as much as possible. Keep the breath flowing. Repeat on the opposite side. Variation: Reach the lifted arm past the top of your head with the bicep close to the ear as if trying to touch a side wall to create more shoulder challenge and body length. Advancement: Raise the top leg off the grounded leg and lift to the height that challenges you today. Breathe! Enjoy practicing this great posture all month, and we'll see you tomorrow at Hot Yoga!
-by By Tony Bishop, E-RYT
About the Author:
Tony Bishop, E-RYT/RYT/CYT, is director and chief instructor with Hot Yoga Bowling Green, Kentucky. He has practiced yoga for nearly 20 years, is certified and trained in a myriad of health and fitness disciplines including Hatha Yoga, Yoga Personal Training, Yoga Coaching, Yoga Teacher Training, Sil lum Kung Fu, Tai Chi exercise, spinning/indoor cycling, PowerHouse Pilates instruction, core conditioning, self defense programs and boot camp variations. He has more than 5,000 hours of yoga teaching experience, is registered through Yoga Alliance and is an avid researcher and proponent of progressive yoga movement and development of more effective, deeper and meaningful training methodology. Contact: 730 Fairview Avenue, C-2, Bowling Green. 270-793-0011, email hotyogabg@yahoo.com, website www.hotyogabg.com.