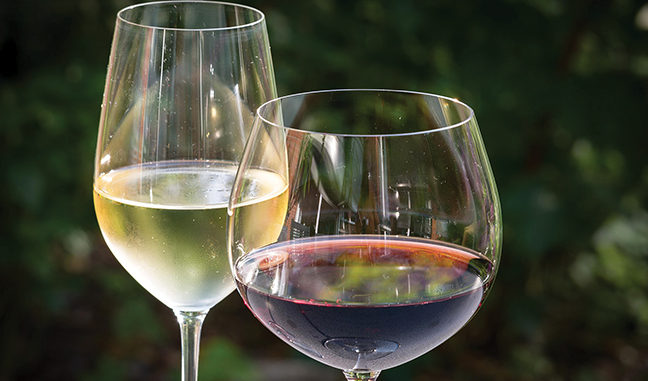 Wine Festival
A new wine festival hits Bowling Green for the summer festival season this year. The festival debuts on Saturday, July 13, and will be held inside the L&N Depot. Kentucky boasts many award-winning wineries and 12 will be featured at the event.

We have teamed up with the Kentucky Wineries Association to bring Bowling Green a premier wine festival to celebrate the wine varieties offered right here in Kentucky. We are creating a first-class wine festival and will take advantage of the natural beauty and historic nostalgia of the L&N Depot.
The Wine Festival is a 21-and-up event. Admission is $20 with advance online purchase and $25 at the door. Tickets include ten one-ounce pours along with a souvenir wine glass for the first 250 ticket holders as well as live music by BandZaZZY. Attendees will also have the option to purchase wine by the glass or bottle to take home. Pop's Street Eats food truck will be onsite. The festival will run from 11 a.m to 6 p.m.
The wine festival is expected to be fun for everyone, from wine novices to connoisseurs. Attendees will have an opportunity to talk with representatives from each of the wineries to learn more about their vineyards, the wine making process and wine varieties.
Wine Lineup
Purple Toad Winery – Paducah
Reid's Livery – Alvaton
Old 502 Winery – Louisville
Forest Edge Winery – Shepherdsville
Crocker Farm Winery – Franklin
Bluegrass Winery – Smiths Grove
1922 House Vineyards & Winery – Nicholasville
Prodigy Vineyards & Winery – Frankfort
Carriage House Vineyards – Auburn
StoneBrook Winery – Melbourne
Rising Sons Home Farm Winery – Lawrenceburg
Traveler's Cellar – Rockfield
For further details or to purchase a Wine Festival ticket, visit HistoricRailPark.com or find us on Facebook, Instagram and Twitter. Call us at 270-745-7317.
Bingo at the Depot
Everybody loves playing games of chance and winning prizes. Would you like a chance to win a vacation package to French Lick, a weekend in Jacksonville, Fla., or even a Micheal Kors handbag while supporting a worthy cause? If so, grab your bingo buddies and venture over to the L&N Depot on Thursday, July 18 for the RailPark's bingo fundraiser.
We have prizes anyone can enjoy! Have you checked out the Bourbon Trail or even considered a staycation in your own town? What about a ride in a corvette a the NCM Motorsports Park? We have prizes for all of these and more!
The night starts at 5:15 p.m. with food by Outback Steakhouse and a cash bar. Bingo games will start at 6 p.m. To play, the cost is $35 per person, which includes all bingo supplies and a card for game one
Additional bingo cards are available for just $5 for each round. The "ALL ABOARD" card is just $25 when you purchase in advance online and $35 that night. This card is good for all games. Bingo tickets are available to purchase online. Doors will open at 5:15 p.m. with limited tickets available at the event.
Max Winitz of WNKY Television is our game host and the WNKY team will be there to cheer you on! This event is possible because of support from our major sponsors, WNKY, Outback Steakhouse, Anytime Fitness, Davenport Co., Trent Bedding and Nina Renee Photography. The fundraiser benefits our SAVE THE DEPOT campaign to allow for the continued preservation of the historic L&N Depot and the eight train cars that are a part of our attraction.
For further details or to purchase a bingo ticket, visit HistoricRailPark.com or find us on Facebook, Instagram and Twitter. The L&N Depot is located at 401 Kentucky Street in downtown Bowling Green. Call us at 270-745-7317.
-by Jamie Johnson
About the Author: Jamie Johnson is the Executive Director of the Historic RailPark & Train Museum.