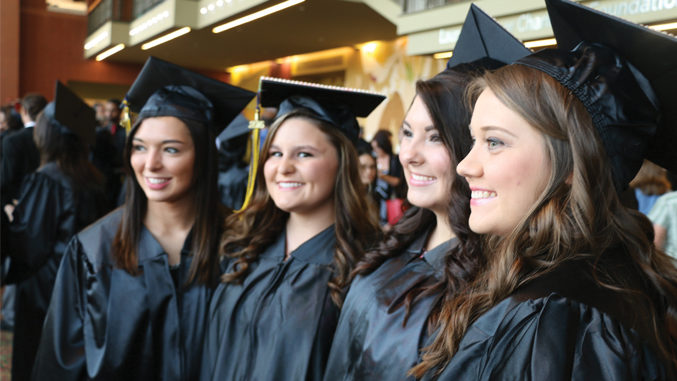 Kentucky's community and technical colleges are key to building a stronger and more competitive workforce and thriving communities. Southcentral Kentucky Community and Technical College (SKYCTC) is making a difference in our community through college and workforce education.
Providing a Head Start on College
Students have a unique opportunity to get a head start on earning their college degree by completing Dual Credit courses while in high school. Dual Credit courses are college level courses that are taught in the student's high school and count as both high school and college credit. Taking Dual Credit courses means students can earn their college degree faster and at a lower cost!
Responding to the Needs of Our Community
Employees with technical skills are in high demand, and graduates of SKYCTC are highly skilled and well prepared to make immediate contributions to their field.  In fact, SKYCTC is recognized as one of the leading community and technical colleges in the Kentucky Community and Technical College System (KCTCS) for enrollment growth, innovative teaching methods, and instilling workplace ethics in its graduates.
"SKYCTC makes a long-term contribution to the regional economy with every graduating class," said SKYCTC President Dr. Phillip Neal. "The skills, work ethic and productivity improvements gained by our graduates are resources that last them throughout their careers."
Blended Learning 
 Recognizing the industry's demand for skilled employees, SKYCTC's new blended learning programs allow students to go to workand go to school at the same time. SKYCTC has always offered high-quality programs with flexible scheduling, but the blended learning format is a breakthrough in technical education that will take material mastery and schedule flexibility to a new level.
Starting fall 2017, SKYCTC began offering two popular Advanced Manufacturing Technologies (AMT) programs – Industrial Maintenance Technology and Engineering and Electronics Technology – in a blended learning format. In this format, a significant portion of traditional face-to-face lecture material is replaced by web-based material. However, the web material is far from static. Material is media rich and includes virtual lab simulators, video/audio recorded lectures and other interactive content that allow students to engage with the material. After a student masters the weekly web-based material in a virtual lab environment, he or she meets with an experienced instructor for a hands-on lab. In a small group, an instructor guides students through real-world application of the material they just learned in the virtual lab environment. The blended-learning format allows students to be on campus less, work more, and master the skills they need to be successful!
Work Ready Kentucky Scholarship 
With the Work Ready Kentucky Scholarship (WRKS), individuals can get trained for a high-paying, in-demand job in four months or less, tuition free! SKYCTC has over 60 certificates and diplomas in Healthcare, Advanced Manufacturing, Construction, Information Technology/Business, and Logistics that qualify for the scholarship. Complete information about the WRKS is available at www.workreadykentucky.com.
 Making Transfer Easy
When a student chooses to transfer to a four-year university, SKYCTC's joint admissions agreements with Western Kentucky University and Lindsey Wilson College make the transition seamless. Transfer scholarships are available for students who transfer after obtaining their associate degree at SKYCTC. The scholarship amount awarded helps students save thousands while completing a bachelor's degree.
 A Smart Choice for College Education
After graduating from SKYCTC, students are well prepared to go into the workforce or transfer to a four-year college or university. Outstanding programs, skilled teachers, affordability, and flexible learning make SKYCTC a smart choice for higher education. For more information or to apply, visit .