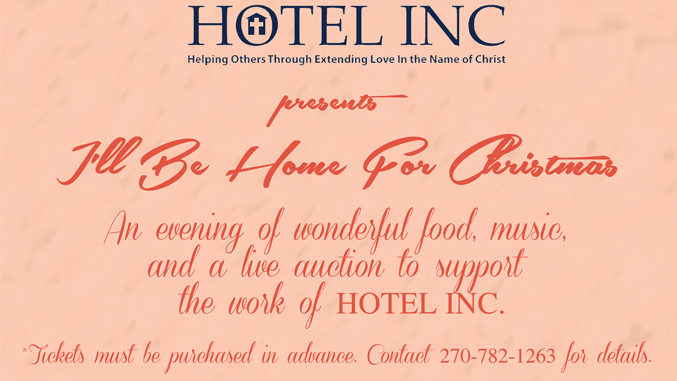 HOTEL INC has been serving the citizens of Warren County since 1981. As a community based nonprofit, the mission of the organization is to provide Warren County citizens with pathways to stable housing, community resources, building relationships, quality food, and serving our neighbors.

As we engage with our neighbors who may be food insecure, struggling to maintain housing, or experiencing homelessness, we work to help identify barriers or challenges they may have in their life. You may have heard the term holistic approach. That is one way to describe the work of HOTEL INC.

We often hear from donors, new volunteers, and neighbors needing our services, "I had no idea HOTEL INC did all of this. HOTEL INC is one of Bowling Green's best kept secrets!"

Together, we can break Bowling Green's best kept secret and help HOTEL INC better serve our neighbors and their various needs.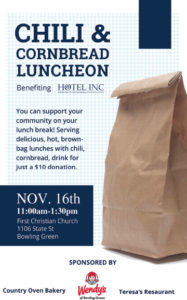 Be Informed
Just visit the Programs page at www.hotelincbg.com and learn more about our Care Giving Financial Assistance where clients reciprocate time with HOTEL INC or other non-profit organizations in return for financial assistance. You'll also learn more about our Drop-In Center which offers laundry, showers, and computer services for people experiencing homelessness.
You'll also learn more about the Food-for-All Community, which provides our Manna Mart with fresh produce while also allowing opportunities for cooking and gardening classes. Our Homeless Outreach meets every Tuesday night to provide relational support and resources to people experiencing homelessness. Outreach provides a hot meal, take-away meal, hygiene products, basic clothing (underwear, socks, coats, gloves, and toboggans), blankets or sleeping bags, basic healthcare, navigation, and Bible study. Four teams of medical volunteers, mental health volunteers and case managers also participate, providing medical care and outreach.
Get Involved
All of this still barely scratches the surface of what HOTEL INC provides to and through our community, and these services come with opportunities to volunteer time or donate items necessary to the successful continuation of these programs. These needs are liste
d through the Programs page of our website, but you can also visit the Volunteer page to become more directly involved.
Supporting HOTEL INC does not have to take extra time and money… you can simply bookmark the Amazon Smile link provided on our website. Just start your usual Amazon shopping through our link instead, and with each purchase, Amazon will donate to HOTEL INC programs. It couldn't be easier!
You can also keep an eye on our events page, or follow HOTEL INC on Facebook, to participate in various community events that raise awareness and funds surrounding various needs.
Chili & Cornbread Luncheon
When: November 16th 11AM – 1 PM
Where: Bowling Green First Christian Church (1106 State Street, Bowling Green, KY 42101)
How Much: Tickets $10
Dine in, take out, or have yours delivered by sending your pre-order to director@hotelincbg.com by November 14th!
"I'll Be Home for Christmas" Dinner & Auction
When: December 7th 6:30 PM (Doors Open at 6 PM)
Where: Ironwood Farm (449 Old Richardsville Road, Bowling Green, KY 42101)
How Much: Tickets $50 (limited seating)
Tickets must be purchased in advance! E-mail director@hotelincbg.com for details while supplies last.
Share
The best way to break any secret is to spread the word. Following HOTEL INC on Facebook is an easy way to do this, but it takes a little more than following… If you see one of our posts, whether it's about an upcoming event or useful information that could open someone eye's to the needs in our community, we ask that you do three simple things to help: like the post, leave a comment, and share the post with your friends with a little personal message with your thoughts.
Not only will this increase the reach of this information, but it makes it personal, because this is personal. It's our community, and we're only as strong as our weakest member. Spread the word…