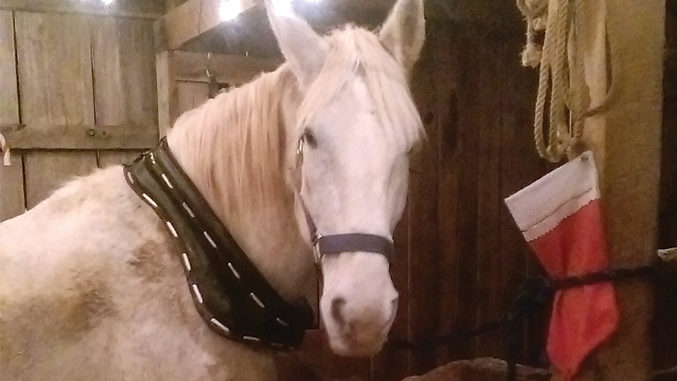 by Robin H. Harden of Rock'n B Horse Carriage Farm & Mammaw's Kitchen
Gift giving season is here, along with the stress that goes with it. Really, we don't know what a person wants anymore because now you can get pretty much anything any time by ordering online and having it delivered to your door. When I began the second part of my life by moving to Bowling Green, I decided to look inside myself and try to discover what gifts I had to give others. Here are some gift giving suggestions from our farm.
Gift of time. You can give of your time to foster kids, hospice kids, Big Brothers Big Sisters organizations, CASA kids or many others by bringing them to our holiday farm. We have a Saturday in November when we all pitch in to put lights up, on Mondays Santa will visit and you can take pictures with him, and we'll have cookie decorating, painting fun, carriage rides, horse rides and much more.
The gift of lending an ear. You might not recognize a lonely person or child, but they are all around us, and sometimes all it takes is a smile and a listening ear to brighten someone's day. Bring them to our bonfires to tell a story, sing a carol or listen to others singing. We are even open on Christmas Eve! Why? Because this can be the loneliest and saddest time of the year for some people, and we offer a place for them to go.
Gifts of food. We specialize in making foods that your grandma made. Our greatest compliment is when someone tells us that a particular dish smells and tastes like it did at home a long time ago. We offer holiday meals and pies, and you can order take out or come eat with us here. Bring back memories with the smells in Mammaw's Kitchen.
Gift of good will. Treat your employees to a night at our farm! We have horse drawn carriage rides through Christmas scenes on our farm, along with home cooked food that can be ordered as a sit down meal or concession style to eat by the bonfire with s'mores.
Gift of good service. Give gift certificates to your boss and their family. The end of the year can be a stressful time in many businesses, and bosses need a break, too. A bonus will be the "feel goods" your employer will have because of your gift.
Gift of kindness. Play secret Santa to a family that you just know doesn't have enough money for all the gifts they would want to buy. A smile can also be a great gift. And taking someone on a wagon ride wrapped tight in blankets through twinkling lights while singing carols can bring lots of laugher and smiles.
Gift of gratitude. We ring up the North Pole every year to ask Santa to visit our barn so that families can enjoy an old fashioned good time. It would be gracious and grand to be able to afford Santa every night, but instead we have 13 times for visits with Santa this year. Contrary to believe, Santa gets paid, too. Please consider being an honored sponsor for Santa, a holiday scene, our bonfire firewood, or other expense.
Gift of forgiveness. Boy, this is a hard one. Challenge yourself this holiday to love all. The old saying Beck reminds me of constantly around here is, "You don't know what they feel until you walk in their shoes; that's what my Daddy always said."
My gift to you is the hard work of putting up over 100,000 lights and building set displays out of nothing. By the Wednesday before Thanksgiving, I am usually completely zonked out and stressed because of my unsettling perfectionism. By the Saturday after Thanksgiving, our grand opening night, I am so happy and so grateful to see the happiness of all the families, especially the kids, who visit. Thanks you for your support of our farm.
Robin, Beck Lacey, four cats, Shorty, PeeWee, General, Geronimo
 Rock'n B Horse Carriage Farm is located at 765 Richpond Rockfield Rd., Hwy. 242, in Rockfield. For more information, visit rocknbhorsecarriage.com or look for Rock'n B Horse Carriage on Facebook.