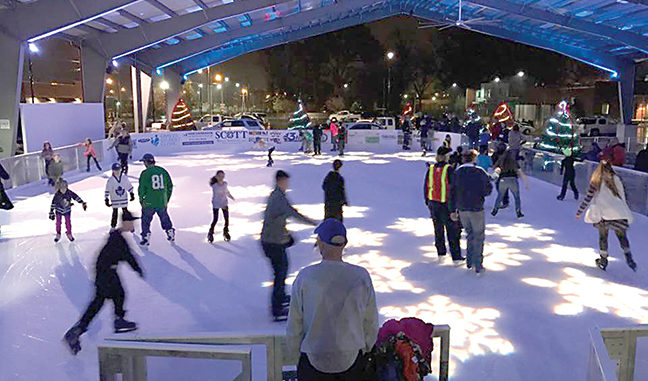 by Stan Reagan
It's going to be cold and icy again downtown this holiday season, and we're sure you're going to love the reason why!
The SoKY Ice Rink returns for the season on November 17 with lots of frozen fun. The 6,000-square-foot rectangular ice rink accommodates 175 skaters and is located at SoKY Marketplace Pavilion at the corner of 6th and Center streets.
Weisemann Orthodontics, as lead sponsor, along with Warren County Government, SoKY Marketplace and volunteers from Warren County Inline Hockey League, all have partnered a second year to install a temporary ice rink downtown this winter.
"The skating rink became a popular idea after people moved to Warren County from northern communities where ice rinks are m
ore prevalent," said Nikki Koller, special project manager for Warren County Public Works. "These people expressed a desire to go ice skating here, too," she said, noting that such interest resulted in last season's ice rink operation being a huge success. Sixteen thousand patrons came
from all around the region, including Tennessee, Koller said.
"It's a big undertaking and a good use of the SoKY Marketplace Pavilion during the dead of winter and when everybody is off during Thanksgiving, Christmas and New Year's breaks," said Warren County Judge/Executive Mike Buchanon. "Other communities saw our success last year and even came to us for advice on how to set up one of their own. It takes a lot of advance planning to pull this o
ff."
There will be 300 sets of skates available for rent at the ice rink, Koller said, and there are double–bladed skates for small children. "We've got milk crates… so that they can hold on to them and push off and skate," she added.
"The skates are like hockey skates in that these are really easy to slip on instead of lacing up like other ice skates. Each pair of skates should be sharpened and ready to go when given to the skater," Koller said, "but you have to keep them in a designated area, which includes some mats that are off of the ice."
All skating is at the participant's own risk, she added. There is some interest in having a Learn to Skate Night.
The ice rink will not be short on atmosphere, according to Warren County Public Works Director Josh Moore.
"The whole place w
ill be lit up again for the season and with even more lights than last season," he said. In addition to colored LED lights already being used at the outdoor, covered pavilion, there will be Christmas decorations and snowflake lighting projecting onto the ice rink. "There also will be holiday music playing the whole time."
For those who aren't skaters, there will be places to sit and relax and enjoy the atmosphere. A viewing platform will be built around the rink, and there will be a concessions stand where people can buy hot chocolate and flavored coffees and things that add to their fun, Moore
said. Whitdogs food truck also will be onsite Fridays and Saturdays.
"Parking is available in the parking structure in nearby Stadium Park Plaza, just a short walk from SoKY Marketplace and the ice rink, which will be open through January 7," Moore said. There are restrooms at the pavilion.
Pricing Information: Free skate rental comes with the price of admission! Skates are given out on a first-come, first-serve basis. If we are out of your size, we will offer you the next most comfortable size, if available, or you can wait until more skates are returned. Note: Child size skates have limited availability. Price per ticket: Adults-$10; Children under 12-$8; Military/Emergency Responders-$8; WKU student (Mon-Thurs with valid ID)-$8; Small Groups of 10 to 24 skaters-$7; Large Groups of 25 or more-$5; Season Pass-Get unlimited skating for only $75. Pre-purchase available. Cash, Credit and Debit all accepted.
Skate rental is included in the admission fee. And private parties also can be booked at the newly renovated Historic Taylor's Chapel next door to the rink.
People can purchase tickets individually or in blocks for groups, and companies or organizations can buy ticket packages. Individual arm bands will be given to skaters, which also will serve as their pass onto the ice for the amount of time allowed, Koller said. There may be some waiting in line to skate on Friday and Saturday nights, depending on how busy things become.
The ice rink was set up with help from Warren County's Division of Stormwater Management and the county's Parks and Recreation Department, Koller said.
"The company that sets up the rink is called Ice Rink Events based in Ohio and Houston," Koller said. "They do rinks all over the country and will come in and construct these rinks in a matter of days. They will come in and take chiller lines and refrigerant and run it the length of the rink, and then they will just add water and slowly let it freeze. They will paint the ice to make it white."
The process of getting ready for the rink has taken about nine months, Buchanon said.
"If interest continues to grow, we'd like to make the rink an annual event," he said. "So, it will be helpful if people will come back more than once."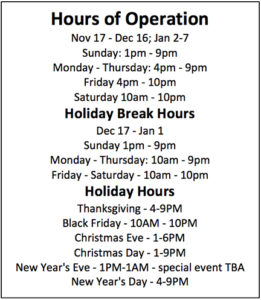 All the funds generated at the ice rink are going toward operational resources, and a number of people and businesses have signed on as sponsors of the ice rink to help reduce the impact of costs. Sponsorships remain available and go as low as $500, and $1,000 comes with a banner. Other packages of $2,000 and $3,000 come with free tickets and a larger banner. Companies can buy more tickets at a reduced rate, Koller said.
"We're just happy to help do something unique and that would draw people into the downtown area," Buchanon said. "We are continuing to do our part to help redevelop the area while creating a unique environment, making it the focus of the whole town again."
Buchanon said if you've not tried ice skating or if it's been a while since you have, it would be something great to do with your family, even if you have small kids.
The website for the ice rink is at .
 About the Author:
 Stan Reagan is the Warren County Public Information Officer