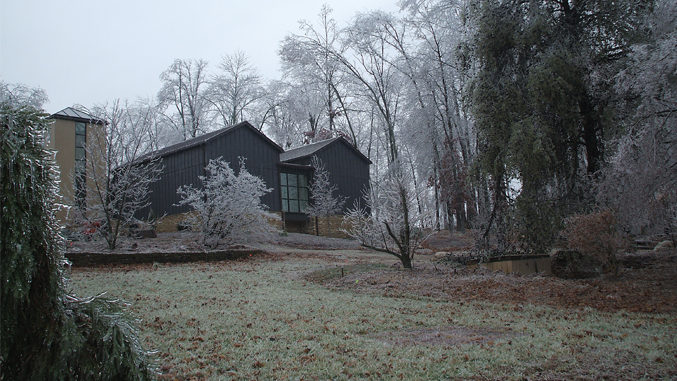 by Jack LeSieur
Founded in 1992, the Baker Arboretum covers nearly 115 acres of rolling hills just outside Bowling Green. Working with tree and art collections, landscape architect Mitchell Leichhardt (1924-2015) designed a tapestry of trees and plants at the arboretum, including many varieties of dogwoods, redbuds, and Asian maples woven among conifers and other plants from around the world. Visitors can explore the sizes, shapes, and colors of trees, plants, and leaves from around the world as well as native flora and art woven into the serene landscape. With over 2,000 accessioned plants, there is always something to see at the arboretum, which also serves as a National Conifer Reference Garden.
Located at the Baker Arboretum, the Downing Museum features artwork by internationally renowned artist and Horse Cave native Joseph Dudley Downing (1925-2007). Construction on the museum began in 1995 and was completed in 2008. Designed by Jerry E. Baker and Joe Downing, the museum houses the largest and most holistic collection of artwork by Downing.
A year-round exhibit relays the story of Downing's life, from his humble beginnings in Horse Cave to his illustrious career as an internationally-recognized artist. The museum allows visitors to explore Downing's diverse range of media and appreciate the beauty of his work. The Downing Museum also exhibits work by local, regional, national, and international contemporary artists.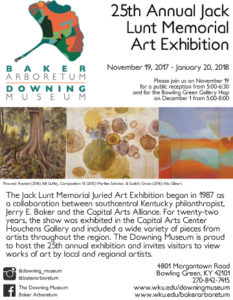 2017 has been an exciting year for both the arboretum and museum. The museum opened in February with an exhibition of work by Yvonne Petkus titled Arctic Residues – Sightings. We welcomed spring with Liminal, an exhibition of two- and three-dimensional works by Kristina Arnold, which coincided with an outdoor show of her students' work. A total of nine WKU students created installations in the garden, each commenting on the landscape of the Baker Arboretum. Two other contemporaries hailing from Bowling Green and Owensboro exhibited this summer, David Stratton and Kim Jones, who both seek nature as inspiration in their work.
Early spring also welcomed the installation of our newest commissioned outdoor sculpture by local metal artist Chris Radus entitled Ginkgo-Go-Round. Who doesn't love a towering nine-foot metal sculpture with giant gingko leaves that twirl in the wind? Arboretum staff and six WKU student interns worked around the clock preparing to host the American Conifer Society Annual Meeting as well as the Garden Club Botany School this past summer. The gardens were pristine throughout the 2017 season and will be even more developed and beautiful in 2018! The museum and arboretum also hosted a variety of youth activities for several local groups, from Boy Scouts to BG Parks and Recreation summer camps. We hope to continue to offer a variety of classes for adults, as well, from horticulture and pest workshops to adult art classes. In February, we also began a partnership with 4Yoga of Bowling Green to provide monthly yoga and meditation classes at the museum and arboretum. Check out their website for more information!
In September, the museum opened a 20-year retrospective of Print Mafia's work. The local printing duo specialize in hand-designed, hand-screen printed gig posters, art prints, and other merchandise. Some of their clientele over the past 20 years have included Third Man Records, Universal Music, Levi's, Spin Magazine, The Wall Street Journal, Urban Outfitters, KISS, The Shins, and Marilyn Manson, just to name a few! Playing on the Halloween theme, the museum also opened Art of the Macabre, an exhibition showcasing work by local and regional artists who prefer the darker side of the arts.
October was an amazing month outdoors. Late fall foliage continues its brilliance in our maple collection throughout November. The gardens are tranquil and beautiful even into the early winter. We are approaching the time of year when our evergreen plants begin to shine and take the mantel from summer's reign of beauty. Both the arboretum and museum are open throughout most of the winter.
November welcomes back the annual Jack Lunt Memorial Juried Art Exhibition at the Downing Museum. The exhibition began in 1987 as a collaboration between Jerry E. Baker and the Capitol Arts Alliance. For over 20 years, the show was exhibited in the Capitol Arts Center Houchens Gallery and included work from artists throughout the region. Drop off for works is November 1 – 4 and entry forms can be found on our website. An opening reception for the show will be held on November 19 from 5-6:30 p.m. The exhibition will also be featured during the Bowling Green Gallery Hop on December 1 from 5-8 p.m. The Downing Museum welcomes artists working in all tangible media to submit work for jury.
The Downing Museum continues to develop its relationship with the Boys and Girls Club of Bowing Green. In 2017, the museum staff as well as visiting artists worked with the BGCBG art club to provide hands-on art activities at the Downing Museum and the BGCBG. The goal of the project is provide students with the ability to learn a diverse range of contemporary techniques to foster their creativity spirit and talents. As we move into 2018, we hope to offer even more art and horticulture programs to visitors of all ages!
Remember, the museum and arboretum are open year-round and are both free to the public. If you missed the fall foliage in October, remember to mark your calendars for April 2018 as spring will be in full bloom! Don't forget to keep up with what we're doing. Call us at 270-842-7415 or visit www.wku.edu/downingmuseum or www.wku.edu/bakerarboretum. Don't forget, you can also follow us on Instagram (@bakerarboretum/@downing_museum) and Facebook (Baker Arboretum/The Downing Museum).
About the Author:
Jack LeSieur is Director of Downing Museum.