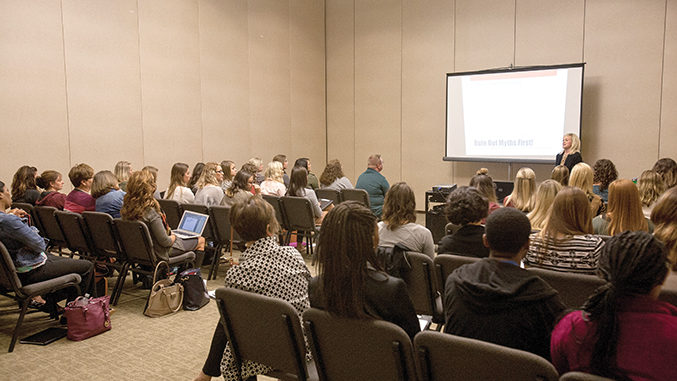 submitted by Shannon Sales
The Suzanne Vitale Clinical Education Complex–Family Resource Program at WKU will host the seventh annual Special Needs Summit on Friday, October 13, 2017 from 9 a.m. to 3 p.m. The event will take place at the Knicely Conference Center. The Summit's theme is "Today's Vision, Tomorrow's Reality." The Special Needs Summit is for parents, caregivers, family members, professionals, staff, and students who work with individuals with special needs. The goal of the conference is to connect members of the special needs community with one another, provide valuable information and strategies on working with individuals and children with special needs, and provide information about community resources and services. We have some phenomenal speakers coming to share their expertise with you!
Participants will gain a better understanding of topics relevant to individuals with special needs. They will learn strategies and interventions to apply when working with individuals with special needs, and they will gain more knowledge of community resources and services available.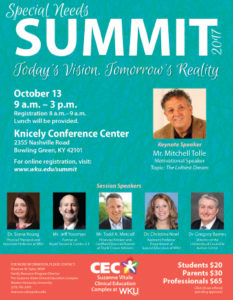 The session speakers illustrate a broad range of disciplines involved in assisting families who have children and adults with special needs.
The topics and speakers are as follows:
Mitchelle Tolle: Keynote speaker – The Loftiest Dream!
Financial Advisor Todd Metcalf: Special Needs Planning.
Christina Noel: Special Education Roundtable Discussion on Behavior in Schools.
Gregory Barnes: Understanding the Brain Better, Sleep Disorders, and Seizures
Dr Sonia Young: Early Intervention to Improve Gross Motor Developmental Delays.
This year's Summit is designed to educate and inspire. The Summit also offers Continuing Education Credits for professionals throughout different disciplines, which include Early Childhood, Social Work, First Steps, Nursing, SLPs, Physical Therapy, Counseling, and EILA (Education).
PLEASE CHECK OUT OUR SUMMIT LINK. You can visit the link to register and receive additional information (). Information provided will include biographies of each speaker and objectives for each session. Those interested in registering can learn more about the speakers and the sessions that will be offered that day. It is going to be an OUTSTANDING conference! YOU DON'T WANT TO MISS IT!
If you have any questions, please feel free to contact Shannon Sales, Family Resource Program Director, at 270-745-2419.