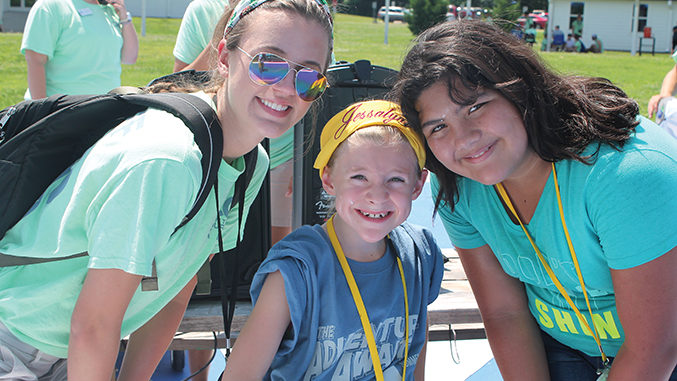 by Sarah Keltner
Nestled in the rolling hills of Scottsville, Kentucky, you will find The Center for Courageous Kids (CCK), a world-class medical camping facility designed exclusively for children living with medical challenges, who could not attend a traditional camp. Anyone who walks onto the 168-acre campus will not see sterile medical rooms or hospital beds, but instead they will see colorful walls, cozy lodge rooms with handmade patchwork quilts, horses grazing in the pasture and a beautiful four-acre lake stocked with endless amounts of fish. CCK is a hidden Bluegrass treasure where campers and their families, whose daily routines consist of hospital visits, medical treatments, surgeries and endless prescriptions, can finally can let go and experience all the joys of camping – most importantly, they experience normalcy.
CCK is a fabulous opportunity for children who are battling an illness or handicap to come out of the shadows of their everyday lives and step into the spotlight with other children coping with the same challenges and simply have fun – FUN is the number one "prescription" at CCK.
Operating as a 501(c)(3) not for profit organization, the camp's mission is inspire, enhance, and empower the lives of children with serious illnesses – all at no cost to the campers and families. The Center for Courageous Kids first opened its doors in February 2008, and since inception, has welcomed over 27,000 seriously ill children and their families from 45 states and 10 foreign countries.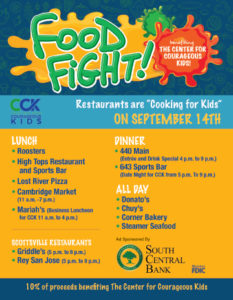 The camp includes plenty of fun-inclusive activities – a therapeutic horseback riding program, indoor swimming pool, six-lane bowling alley, theater, arts and crafts, music therapy, boating, fishing and MORE. In addition to the camp's program areas, the staff also educates the campers while here – giving each child the opportunity to develop new skills and learn self-care. What sets CCK apart from a traditional camp is the fact that each activity area is specifically tailored to fit the campers' individual medical needs. The specialized programs, along with top-notch medical care from a highly trained medical staff, are what make The Center for Courageous Kids a state-of-the-art facility accredited by the American Camp Association.
CCK offers two distinct programs – During the fall and spring, the camp hosts Family Weekend Retreats. During these family weekends, every family is given their own bonding time and the opportunity to take part in the camp activities as a family unit.
The second program is nine week-long summer camp sessions where the child comes without Mom and Dad. The summer camp experience is devoted specifically to the ill child. Each session can accommodate up to 128 children. For one week these children live in a judgment-free world, where they are no longer the only child in the wheelchair or the only child with epilepsy, they are simply children having fun.
The Center for Courageous Kids is funded solely by donations from individuals, foundations, healthcare partners, grants and special fundraising events. Every penny goes to sending a child to camp! To find out how you can donate to The Center for Courageous Kids, volunteer or send a child to camp, please visit  or call the camp office at 270-618-2900.