submitted by Friends of Mammoth Cave
It's time to get ready for America's only cave, hike and bike triathlon – The Third Annual Mammoth-on on Sunday, September 24! The Mammoth-on begins in front of the Lodge at Mammoth Cave with a ranger-led hike of the two-mile historic cave route. Upon leaving the cave, participants will hike two miles on their own through the woods. Next, participants ride their own bikes along the Mammoth Cave Railroad Hike and Bike Trail, about 20 miles round trip to the Grand Victorian Inn in Park City.
Not quite ready to pedal 20 miles? Ride half as far as you feel works for you and turn around. Friends of Mammoth Cave will provide water stations along the way.
Ready to ride more than 20 miles? Experience all the different surfaces the park has to offer in one fondo (long distance ride). Smooth as glass asphalt to coarse gravel, this ride has it all. Check out the alternate mixed surface route at www.strava.com/routes/10141483.
Visit www.facebook.com/events/1468976989834045/ for registration details.
For each event, the registration fee is $25 for individuals or $30 for families. Each registration includes one T-shirt. Nat's Outdoor Sports in Bowling Green is the sponsor of Mammoth-on through a Patagonia Environmental Grant.
Ticket to Ride Grants
The Friends of Mammoth Cave is a private, non-profit organization working in cooperation with the National Park Service to fund projects that protect and preserve natural and cultural resources and help visitors enjoy the park. We honor the memory of ranger Cheryl Messenger through a Me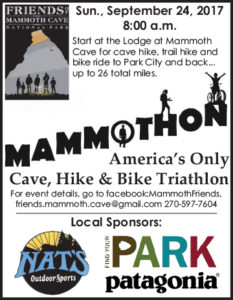 morial Fund that bears her name.
"Cheryl's legacy continues in our work at Mammoth Cave and through the children she influenced," said Ranger Jennifer Shackelford, the Mammoth Cave Environmental Education coordinator. Shackelford was one of those children. "While Cheryl was my professional mentor, I first imagined my career when I came to Mammoth Cave on a school field trip. When a ranger led us through the woods and told us about plants and animals, it opened my eyes to new possibilities – I didn't know there was such a thing as a lady ranger! That's when I found my park."
To accomplish our goals, the Friends seek monetary and volunteer support from individuals and organizations that care about Mammoth Cave. If you are already a Friend, please invite a friend to join us! If you are not a Friend yet, join us at www.friendsofmammothcave.org. All contributions are tax deductible. The Friends seek corporate partners in every county to help fund Ticket to Ride grants in 2018 for schools in every school district near the Park. Do you know a corporate citizen who would love to share a Mammoth Cave experience with school kids? Last year, the Cheryl Messenger Memorial Fund awarded more than 40 Ticket to Ride grants to bring more than 3,000 students to the Park.
For more information, visit or contact event organizer Helen Siewers at 270-758-2152 or friends.mammoth.cave@gmail.com.