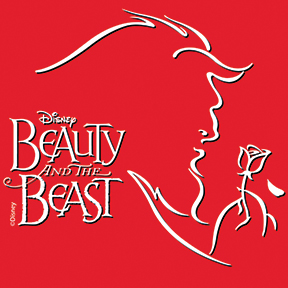 submitted by BG OnStage
Be OUR guest for Disney's classic "Beauty and the Beast" on stage this summer the weekends of July 28-30 and August 4-6. BG OnStage presents its community summer production where talented local actors (teens, WKU students and adults) will grace the stage at beautiful Van Meter Theatre at WKU.
Purchase your tickets in advance at bgonstage.eventbrite.com! Tickets are $6 for kids 6 and under, $10 for ages 7 to 13, and $15 for age 14 and up. Our director is Elise Charny (MA in theatre education from Boston and a BA in theatre from New York), our music director is Patricia Beresford (music director at Bowling Green High School) and our assistant music director is Molly Nance (BA in music from WKU).
You can expect "All the iconic scenes, followed by lots of excellent sets, amazing choreography, impeccable singing and breathtaking costumes," said BG OnStage Assistant Music Director Molly Nance. "This show is a Disney classic, but when you're able to bring a story to life on the stage with the actors and audience members breathing the same air, there's just something that happens. People are going to feel like they are a part of the show!"
"'Beauty and the Beast' is not only a love story, but a story that celebrates the individual," said BG OnStage Director Elise Charny. "I think that is something that kids need to see. They need to know that it is all right to be different, to be flawed. Everyone is human, not perfect. In flaws and imperfections, students can learn more about themselves and forage strong relationships with others. Everyone in their own way is dealing with their own curses like the Beast does; it is important to understand the person first and not jump to judgment."
"This production is going to be a quality performance," Charny said. "The crew is comprised of working professionals who have experience and education under their belts. Our actors genuinely put their hearts into this show. We have actors who live as close as down the street to as far away as Owensboro, but they all show a high level of commitment to the production."
Audiences will be treated to performances from talented local actors who "are entirely committed to what it takes to make this production the best it can be," said Nance.
The cast is wide-ranging. Most bring with them a unique perspective to their roles. Sam Tuggle, who is playing the Beast, is in the WKU Red Shirts, an a cappella group. He stands opposite of Chelsea Payne, an actress from Owensboro who is attending Kentucky Wesleyan College, who is playing the role of Belle. Others include Caitlin Belcher as Mrs. Potts, Steven Charny as Gaston, Derek D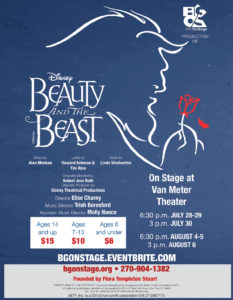 uvall as Maurice, Matt Propst as Lefou and many more.
The actors "bring their characters to life in their own way," said Nance. "They're able to balance staying true to the original characters that everyone loves from the story without being afraid to explore their own unique interpretations."
The crew is just as dedicated as the cast, creating a fantastic set complete with amazing choreography and beautiful costumes. Michelle Hale, the choreographer, poured "blood, sweat and tears into her job," Charny said. "To see Michelle step up and create these beautiful and fun dance numbers is so inspiring as a director."
"Ed and KC Moody are our set/prop designers and they enchant everything they touch!" Charney added. "Olivia Coleman and Amy Vaughan are our costume designers, and they put such heart into the pieces they create. We are renting our enchanted lead costumes and other lead costumes from Harris Costumes. We want to give the audience a performance they will not forget, and to do that, it takes a village."
"We are so excited to be able to bring such a beloved story to our area and we know the kids will love it as much as we do!" said BG OnStage Founder Flora Templeton Stuart.
As many of you know, Disney's "Beauty and the Beast" has made a big splash this year with a major blockbuster film. It was an international sensation with over 35 million people worldwide in 13 countries.
BG OnStage, as the community theatre for Van Meter, is proud to present this summer musical of Disney's "Beauty and the Beast."
Be OUR guest for one of the greatest classic love stories ever told!