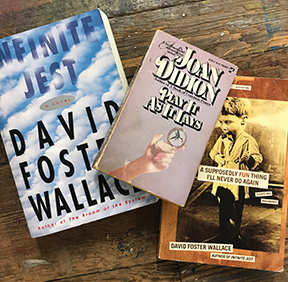 Unintentional invite
 by Sara Volpi
I initially had this "summer reading playlist" idea for July – something along the lines of classifying the recent books I've read into musical categories, but I changed my mind when I found a series of articles online through Electric Literature called "Late to the Party" (also, a "summer playlist" seems a little more destined for 14-year-olds). The premise: one author writes about reading another author for the first time, like Stephen King or Lorrie Moore. I read Deirdre Coyle's recent "Late to the Party" article, "Men Recommend David Foster Wallace to Me," and found the content rang pretty true to my own experience, except that I hadn't read the short story collection she discusses, Brief Interviews with Hideous Men, but have claimed it's "on my list" at a social gathering or two while surrounded by people more broadly-versed in American literature. The gist is this, according to Deirdre Coyle and myself: if you are an English major, someone (usually a male) has suggested you read David Foster Wallace, specifically his 1996 novel Infinite Jest. It's a 1,000-or-so page tome, and if you get through it, people heap respect on you. Gobs of it. It's almost like an English-major-status-measure for Millennials.
For me, the suggestion to read Wallace happened so many times I finally picked up some essays and was like, "Okay, this guy is pretty cool." I do have Infinite Jest on my bookshelf and have yet to crack it because I'd sooner commit to spending 1,000 pages on the dictionary. I found one of his essay collections, Consider the Lobster, a bit tedious. The book was in the mesh catch-all attached to the back of the passenger seat in my car for more than six months. I tried to read it while doing things like getting my oil changed, but I usually found the people seated next to me in the waiting area more intriguing than Wallace's veeeeeery detailed reportage on such things as tennis and county fairs, although the latter essay hit pretty close to home. The point is this: Deirdre Coyle did not like David Foster Wallace. Turns out, the men who suggested she read his work were a certain shade of pretentious from which she should have shaded herself (Coyle seems to have wanted to cogitate more on the types of men making the suggestions than the book itself). So far, he's okay by me, but I haven't read his fiction. Maybe I'll read Infinite Jest or some other novel from Wallace so I can make an apt comparison instead of the apples and oranges contrast that are essays and fiction/short stories. For now, I'll let Foster's magnum opus continue to act as a bottom-shelf-brace sustaining the weight of the books above it.
I'll riff on the "Late to the Party" idea by discussing a faction of Joan Didion's work I've only peeked at so far – her fiction. I was reading Alana Massey's new essay collection, All the Lives I Want, and was happy to see space dedicated to Didion and her influence on Massey's life. Even more interesting was that Massey discussed Didion's fiction, particularly Play It As It Lays (1970). I, like every other 20-something female collegiate, have been told to read or assigned to read or have been gifted the work of Joan Didion. If you're wondering, Alana Massey has just crested her 30s, so she fits right in. And guess what? I happen to own Play It As It Lays, so it was fate for Massey to mention it.
Joan Didion is the seminal female journalistic voice of reason who writes with such a wise-older-woman tone that you can't help listening to her like you would the contemplative voice of someone you admire – mother or sister or aunt or whoever who holds a place of high regard in your list of estimable individuals. I'm kind of surprised when I mention her name (because if I'm not suggesting someone read something, I'm probably not talking) how she's a little more overlooked than she should be. Perhaps it's because they didn't make a movie about her starring Jason Segel as David Foster Wallace (he wouldn't be good casting for Didion). Didion's nephew Griffin Dunne (yes, the unfortunate friend from An American Werewolf in London) is working on a documentary though, so there's hope.
In the trailer for said documentary, played over a clip of the author receiving a National Humanities Medal from President Obama, Dunne calls Didion the "voice of moral authority," a role she's played for decades. In her fiction as in her essays, she's able to deftly turn observing humanity into an exercise in cultural criticism, which is never as easy as it sounds. Although starting my foray into Didion's fiction with Play It As It Lays was happenstance, it was a good place to start. In just over 200 pages, we see the circuitous demise of the main character, Maria (pronounced Mar-eye-a) and watch as she brings people down with her. It's not so much accident as ambivalence that makes her world fall apart. Didion writes about the daring socialites of 1970s California with a dexterity that at once makes you fall in love with and despise the world she describes and those living in it. The characters are all pretty petulant, living in suspended belief that things are better than they seem with blind hope for some sort of fulfillment and a blurry interaction with the world outside their high-class bubble. I was as intrigued by Didion's detailing of the California landscape and lifestyle of the 1970s as I was by the actual plot. It's certainly what I'd call a character-driven novel though; so don't walk into it thinking you're going to solve some big mystery. The main character is reason enough to read this thing.
About the Author:
Sara Volpi is a writer and artist working as the Literary Outreach Coordinator and Southern Kentucky Book Fest Coordinator at Western Kentucky University. She loves hearing and telling stories, traveling, and, of course, reading good books. Know of a cool literary event to share? Have an idea of one you'd like to see happen in Bowling Green? Send Sara an email at sara.volpi@wku.edu.