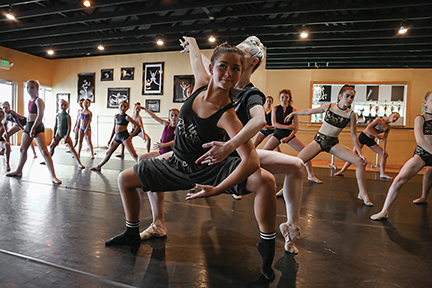 Dancing around the world
by Gabby Larios with introduction by Martha Madison
Dear Readers,
May I introduce you to Gabrielle Larios. Gabby is on of the most dedicated and talented dancers that the Dance Arts School has had the privilege to train. She is on an incredible journey. I have asked her to share her journey with you! –Marth Madison
My name is Gabrielle Larios. I'm 17 years old, and I have been dancing since I was about 18 months old. I started out in a "Mommy and Me" class at Dance Arts of Bowlig Green. Over the last 15 and a half year, I have trained in all styles of dance such as ballet, jazz, pointe, tap, contemporary, pom, ballroom, musical theater, modern and many more! I would have to say, however, that musical theater and ballet are two of my favorites.
In 2013, I was accepted into a pre-professional program through Dance Arts called SOKY Dance Ensemble. Being in this program means I get to train about 15 or more hours a week under Ashleigh Keefer, Clifton Brown, Roshunda Brown, Ginny Primeaux and many more wonderful instructors. Because of SOKY Dance Ensemble, I have had the opportunity to travel around the world doing what I love most – dance.
During the summer of 2014, I went away to my first Summer Intensive to the Nutmeg Ballet School in Connecticut where I spent four weeks training in bellet and also taking classes such as yoga and pilates. The following summer I was able to attend Next Generation Ballet for five weeks training in ballet as well. Last summer, I was fortunate enough to go to two intensives – Joffery Ballet School's Musical Theater Intensive in New York City for two weeks and Boston Ballet for six weeks. This summer, I hope to travel to multiple places to train in both ballet and musical theater.
In May of 2015, I took my first trip overseas to Italy where I was able to spend 11 days training and performing with a group of dancers from the area with one of my instructors, Clifton Brown. Little did I know I would be able to travel overseas with Clifton again to Cuba this past April for 12 days for their International Ballet Festival!
Another way that I have been able to travel with my dancing has been by being a faculty assistant for Bellamoxi Dance Convention for the past two years. With Bellamoxi, I have not only gotten to train with incredible faculty such as Dusty Button, Matthew Prescott, Victor Alexander and many more, but also I have been able to travel to several places such as Chicago, Phoenix, Los Angeles and other cities!
Being a dancer has given me so many opportunities already, and I hope as I continue to grow and train that I am able to continue to travel and work with such amazing people.